Writer: Steve Orlando / Artist: Riley Rossmo / DC Comics
I am always sad after reading an issue of this series. Issue #8 was no exception. It's a good kind of sad, though. If that makes sense. It's the kind of sad that comes after resonating with something. After feeling seen. After falling into moments from the story that remind you about moments from your own life. 
As most of the issues have done so far, this issue utilizes a story from the past to help enlighten some things about the present. A lot of the flashbacks we've gotten– maybe all of them– have been from J'onn's perspective either on Mars or in his early days on Earth. But this time around, we've got a sneak into Meade's past and her relationship to the real John Jones. 
Meade is bisexual, and we find out about a relationship she had at her last precinct that went sour and led to her relocating to Midleton. I'm not sure when this story is exactly supposed to take place, but it doesn't really matter. Meade was subjected to what a lot of people of the LGBTQ+ community have to deal with every day. Her sexuality was something that compromised her livelihood, and she was forced to choose between living authentically or losing her job. You can probably guess what she did. But it was that decision that led her to where she is now, and I think she'd say that it was a good choice to make.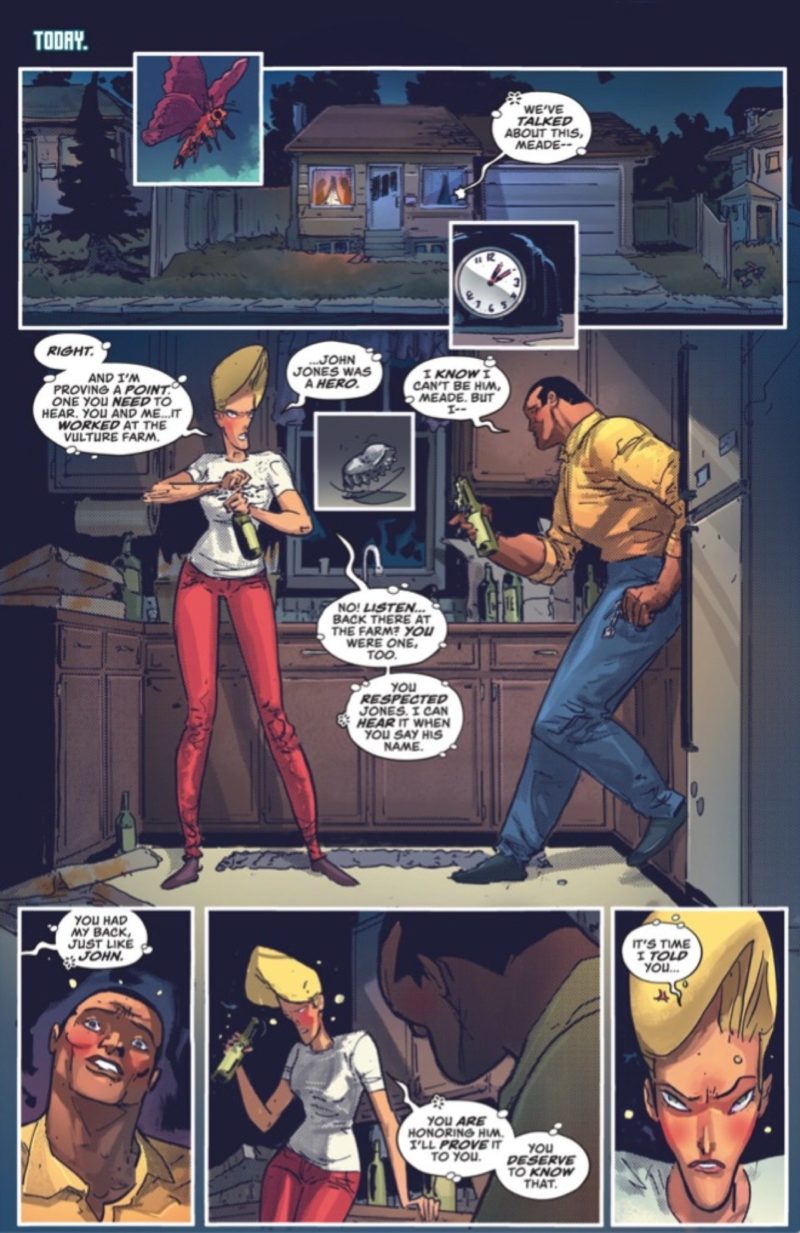 Not only was the flashback such a powerful one that highlights so much about Meade that we didn't know, but I also love the way that the whole thing was framed. It starts with Meade and J'onn in the present. They're tipsy in the kitchen, which means they're a little looser and open than they've allowed themselves to be so far, and it makes it easier for them to bond. That's what triggers Meade's flashback. We all know that alcohol makes things bubble to the surface. That's how we get some moments with the real John Jones. He was a tough guy. Exactly the way you'd expect a black detective in the Midwest to be. But he had morals, and he stuck to them. And he was a powerful role model for Meade. In another moment of raw truth, Meade reveals to J'onn that now that she knows when the real John died, she knows that there was a lot of overlap in her interactions with J'onn. She reveals this in an effort to comfort J'onn and tell him that those memories still feel authentic to her, and she trusts him. Orlando is a master at crafting these heartfelt scenes that hold humanity at their core.
I gotta give a quick shoutout to Andworld Design, who lettered this issue. They did a fantastic job of conveying drunkness in the form of lettering. I haven't quite seen anything like what they did, but I instantly understood what they were trying to do. In the scenes where Meade and J'onn are tipsy, their dialogue bubbles have little bubbles and asterisks in their circumference to indicate that they are inebriated. I'm not sure if this is exactly what they were trying to convey, but to me, those little bubbles and asterisks went a long way in illustrating the words in the bubbles. To me, they felt like hiccups. And stuttered and stinted words. And burps. Lots of burps. Usually, in a situation like this, we'd get some squiggly chat bubbles or some that were maybe out of focus. And don't get me wrong, those are all fine and get the point across just as easily, but I enjoyed how fresh this take was. It really added to the tangibility of the issue. 
Martian Manhunter #8 makes me cry yet again as we delve into Meade's rough past and the early days with her late partner John Jones. 
10 Tipsy Detectives out of 10
Reading Martian Manhunter? Find BNP's other reviews here.
Want to get Black Nerd Problems updates sent directly to you? Sign up here!
Follow us on Twitter, Facebook and Instagram!