The era that was the years of 1990-99 was interesting, to say the least. The video game takeover, the evolution from the golden age of hardcore hip-hop to flashy rap, the explosion of skater culture and the last great generation of kids that hit the playground like we owned it, wrote love letters without a care, went to the library cuz homework, scraped knees cuz youth, and had curfews instead of being glued to a phone screen. Yup, once upon a time it was cooler to be street smart instead of tech-savvy.
No shade, but this movie is tailor-made for 80's babies who know what's really good. Late millennials (born after '89) will get a crash course in what it was like to grow up without instant communication, finding a squad in your hood to call your own, chillin' with the homies sans social media and navigating the deadly ramifications of peer pressure. Written and directed by Jonah Hill, this movie is straight out of the Superbad division of films, but with much more grounded storytelling and honesty. At its heart, Mid90s is a quintessential coming of age story about an abused boy who finally finds his path in life after linking with a crew who help mold him into the teen he never knew he wanted to be.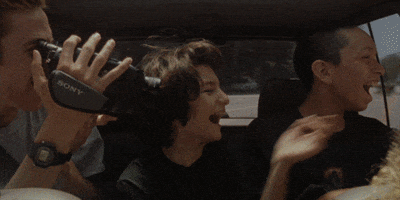 Jonah Hill uses his own upbringing to tell this tale that starts off with the realness. Thirteen-year-old Stevie is our movie's protagonist. He is immediately seen getting the brakes beat off him by his 18-year-old brother. Don't get it twisted…this isn't a playful big bro roughhousing with his lovable kid brother. This is full on black and blues being formed upon impact of said haymakers.
This goes down a few times throughout the short and sweet 84-minute runtime, but what Hill does beautifully is show you how duality plays into nearly all parts of our sometimes shitty lives. Despite the bruises and head trauma, Stevie worships his brother's Eminem inspired swag and revels in every aspect of his 90's nostalgia-filled room. From Jordans to Source magazines, it is clear Stevie has an idea of what being cool is, and we soon see him get wrapped up in a life way cooler than he anticipated, much to his mother's disapproval.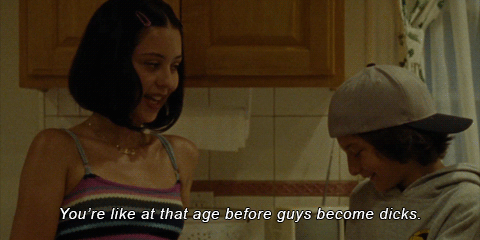 Hill said it best in his GQ interview, "Skating broke me out of a racial and socio-economic bubble. It really opened my world up." This goes to show you how one new development in your life can alter your place in history, and that's what Mid90s is all about. Set in LA, Stevie takes notice of the local disrespectful skater squad and bides his time before infiltrating the ranks and carving out space as the new runt of the litter. What we see from that point on is the true maturation of a boy in the 90's and his evolution from lonely kid to one of the boys, stealing from Mom for the first time to landing his first ollie. Jonah Hill definitely pulls the best out of these young actors, as there's an electric dynamic between the close-knit group of three white boys and two boys of color (one who's skateboarding talents could take him somewhere one day).
The music in the film is extremely well done. The hip-hop of the 90's is on full display as our boys climb fences to create their own makeshift skatepark, hang out with girls with belly shirts and spaghetti straps, cruise through the streets, and fuck shit up like a kid is supposed to. Hill does an impeccable job of nailing the lingo of the 90's, one of the hardest aspects of writing about a specific era. With the 90's come plenty of ni**as and f*gs being dropped along with the classic over use of the word sick. There are also some scenes of heavy underage drinking, and an instance of self-harm that could be a bit triggering but overall it's a kickflipping good time from start to finish. You can see the genuine joy these young men had making this movie, and I became more and more invested the deeper I got.
Mid90s has a very slow pace, developing Stevie's character proper and fleshing out our ragtag crew. Luckily, the movie doesn't act as if the outside world doesn't exist. Although 95% of our action focuses on the small-scale interaction between Ray, Fuckshit, Fourth Grade, Ruben and Stevie, we witness a few moments of quality writing and conversation between the homies.
Easily standing out as the top moment of the film, Stevie has a conversation with one of the guys, and they break down the lesson I wish everyone struggling would remember, "A lot of the time, we feel like our lives are the worst, but I think if you looked in somebody else's closet, you wouldn't trade your shit for their shit." As most of us know, life is kind to no one. We all go through the struggle at one point or another, but we can't let the bad moments keep us down. We have to keep kicking and pushing until we get where we need to be. With a tagline of "Fall. Get back up.", Mid90s is a must see.
Mid90s is playing in select theaters now.
The greatest of all times. Written and directed by @JonahHill, this is #Mid90s — In Theaters October 19 pic.twitter.com/BTlRB7fhdE

— Mid90s (@mid90smovie) September 25, 2018
Want to get Black Nerd Problems updates sent directly to you? Sign up here!
---
Follow us on Twitter, Facebook,Instagram, Tumblr, YouTube and Google+?