Give me T'Challa sippin Rooibos tea in his slides while watching the NBA finals! Give me Jean Grey at the Summers House on the moon as she swaggers from Scott's room to Wolverine's! Give me Stephen Strange playing Operation with Wong while Sgt. Pepper's spins on the record player!
If Fraction and Aja's Hawkeye taught the world anything, it's that an ordinary day in the life of a superhero is all but normal, and extremely entertaining. Tom King dropped Vision, which leaned heavy on the theme of family then one upped himself with a Mister Miracle blessing all about parenting. I will never look at a veggie tray the same way, again.
Now, one doesn't typically go looking for these kinds of stories, myself included, as I relish in action packed comics with eye popping scenes. But the moment a good writer (I'm talkin reallll good) gets their calloused hands on a character that they can go to town on, I find myself hoping the book they produce will be a relatable one.
That is exactly where I found myself when I heard Kelly Thompson would be taking up the challenge of bringing the deadly Black Widow to life in a new and unexpected series. At the same time, I was blissfully unaware of who Fabian Nicieza was. Luckily after a quick Google search and casual read of the 1st issue of his new Juggernaut mini-series, I found myself falling back into the warmth and comfort of toned down stories of powered up heroes.
Nicieza's Juggernaut picks up with Cain Marko doing literal damage control after escaping Limbo and attempting to get his life back on track. Marko is just a dude in a clunky metal suit bussin down dilapidated buildings. And what kind of mundane dopeness does Juggernaut run into while doing this honest work?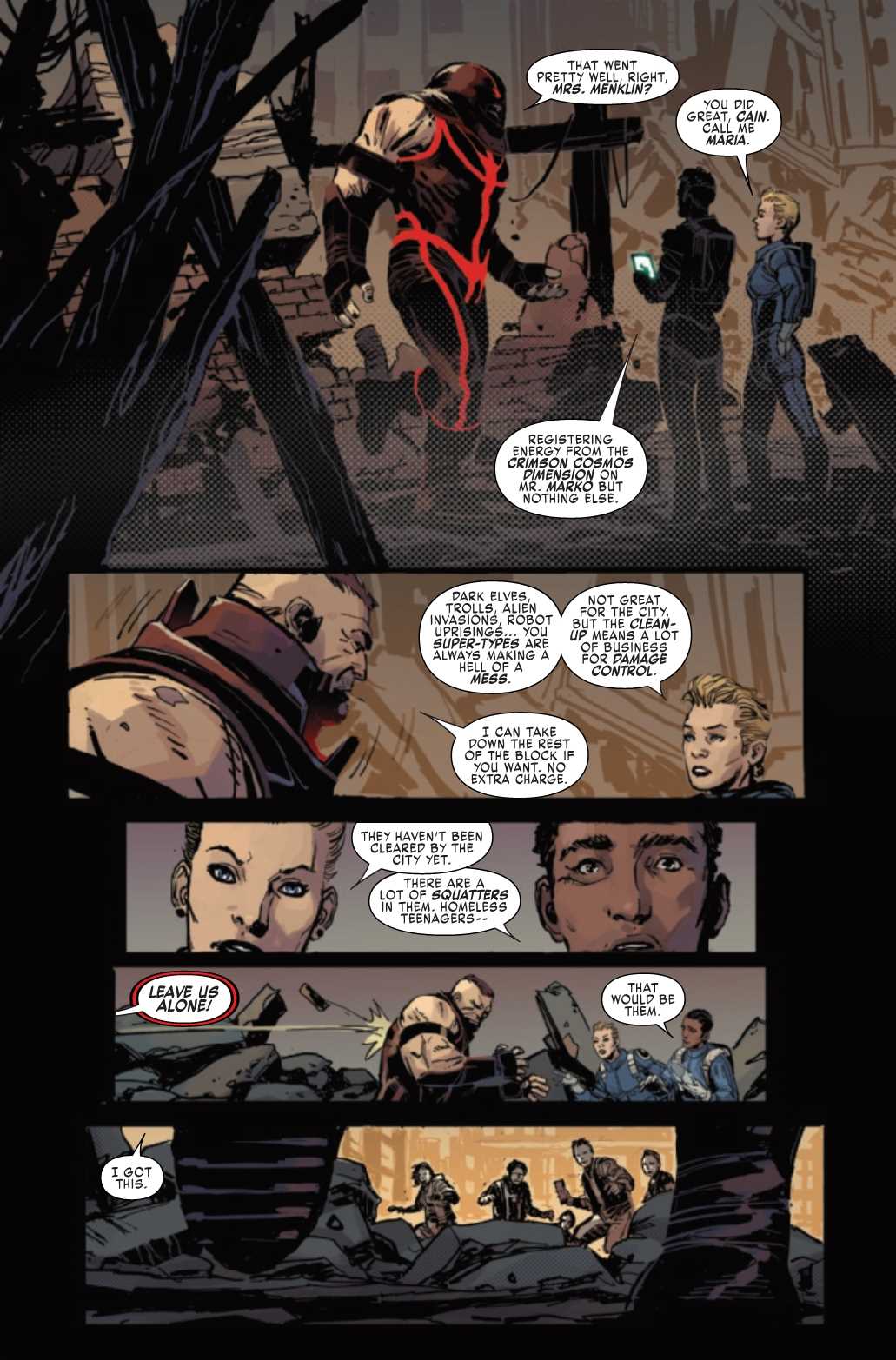 Just corralling some rambunctious, homeless teenagers who are hiding a powerful new mutant in their midst. But it's the fallout that follows their meeting that really bares his ordinary soul. Cain in a hospital room debating the level of coolness of his villain name and that of a millennial. It's real, it's raw, it's all up in this Juggernaut comic I didn't know I needed. Demolition man Marko is another case of a classic hero…or in this case villain, being taken down a bonkers storyline peg and benefitting from the grounding.
Then we have Kelly Thompson's Black Widow. In this take on the Russian spy turned Avenger, Natasha Romanoff has her espionage skills and murderous ways removed from her consciousness and replaced with maternal instincts, construction site plans, raunchy convos with bae, impromptu motorcycle purchases and a preference for Chinese takeout. Although she is somehow conditioned or brainwashed into the suburban San Franciscan lifestyle, this completely ordinary version of "Natalie" is incredibly interesting and something I could rock with for months.
I was particularly enthralled with our first look at her day on the job at a construction site. The level of confidence she exuded and the risks she took while 20 stories up was so enjoyable. The reaction of the men on the job was perfection. Makes me wonder whether Kelly Thompson used to be a Foreman. If I'm being honest, I'd point to Black Widow #1 as the reason why I'd trust Thompson with any character on the Marvel roster.
There are plenty of scaled down and dialed back books out there that do their characters proud. She-Hulk, Daredevil, Captain Marvel and a few of the new X-Men books have represented in the chill, yet interesting story dept. This genre could go a long way, but it is completely reliant on writers stepping their game up and bringing us those fire and relatable tales. Not an easy task, but one that yields dividends every time it's done right. Let's raise a glass to the prospect of Peter Parker, Riri Williams, and Kamala Khan going hard at trivia night. Let's pour one out for Carol and Rhodey on their last date as a couple. Let's put our hope and optimism out into the relaxed hero world, as there will inevitably be more writers who will bring us marvelous mundane stories. For those gems, I cannot wait.
Want to get Black Nerd Problems updates sent directly to you? Sign up here!
Follow us on Twitter, Facebook and Instagram!