My Aquaman was white.
I never really cared for Aquaman. It's not that the character was a joke or anything. I thought the ability to talk to fish was pretty cool and the science made it clear that if you could live in the depth of the oceans, you probably had some serious durability and strength. I watched every episode of Justice League Unlimited and Aquaman stars in some of my favorite episodes. I knew what it was like being the byproduct of two oceanic folks. I knew what it was like to be part of two cultures unsure where you stand either. My Aquaman's story sounded strangely similar to mine, but my Aquaman was white and I was/am decidedly not.
My mother hailed from the Philippines. She grew up on an islander and traverse the Pacific to be a doctor in the States. My New Jersey-born, Texas raised white father was a captain for the Navy. He was a submariner most of my childhood, gone for months at the time, like Odysseus kind of. I was by born by the Pacific Ocean. I grew up on the coasts and islands as well: California, Hawaii, South Carolina, Washington state, Virginia, and Maryland. I too struggled between two cultures that loved the oceans for different reasons. I too have split heritage, a strange dissociation between two different worlds. Arthur Curry, the Aquaman, should have been the character that resonated the most with me the most growing up. In actually, he was a just another character in the DC Animated Universe roster. A badass character no doubt, long flowing hair with a hook with a hand. But still, white first and foremost in my head. And I am Filipino, blessed by blood that traces to an island in the Pacific.
But something strange happened in the last couple years.
DC did something unusual. They went ahead and cast Jason Momoa as Arthur Curry in their DC Cinematic Universe. Now the quality of Justice League and Aquaman aside, there was something oddly comforting about seeing the character portrayed by a mixed actor. Momoa's heritage more closely mirrored my own. He looked… looks like what actual islanders looked like, people who worked on the oceans and in the bright sunlight. He looked familiar, closer to what makes sense to me.
Now, remember, my Aquaman was white. My Aquaman was A.C. in Smallville, a blonde dude on the Justice League, and white even as parody on SpongeBob SquarePants. I had only ever known a white Aquaman. And yes, I still question the fact that Nicole Kidman was the (white) Atlantean in this story. And yes, I still want better representation than one character who fought his white half-brother on behest of his white mentor. Still, this "stunt casting" was a start and meant more than anyone probably knew.
A new fave for a new age
My younger brother for years was a Marvel fan, an even bigger one than me. His favorite hero was Thor and I loved Thor too, especially after Ragnarök, but after Justice League he called me and told me proudly that his favorite hero of all time was now Aquaman. Specifically, Jason Momoa's Aquaman. I think it's because it's the first superhero that looked remotely like his Filipino-American self. I think it's because it's a character unabashedly not-white after years of being blonde haired and blue eyed. I think it's because the person actually matched the narrative of the story that me and my brother lived through.
My Aquaman was white. My brother's Aquaman is decidedly not. Young Justice just promoted Kaldur to Aquaman, so there's going be a generation whose Aquaman is black. I'll gladly claim and proclaim the heroes of the seas and storms to be a person of color because that just makes more sense to me.
Aqualad is now AQUAMAN!#YoungJusticeOutsiders @TheDCUniverse @kharypayton pic.twitter.com/QCw3rR3RDE

— Brandon Vietti (@BrandonVietti) December 20, 2018
I live in the Midwest nowadays. I am landlocked but I am still a child of the oceans. I am the cross product of the Pacific and Atlantic oceans. I finally saw myself in Aquaman, the one character I felt I should have always resonated in. My little brother finally saw himself in Aquaman.
My Aquaman used to be white. And while I didn't have as much fun watching Justice League and Aquaman as I wished, I'm still thankful for the casting. I don't think I'll ever stop being grateful.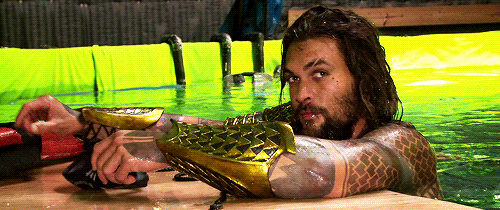 Want to get Black Nerd Problems updates sent directly to you? Sign up here!
Are you following Black Nerd Problems on Twitter, Facebook, Tumblr or Google+?