This is a story that I've told many times, and each time I do I start to understand my mom just a little bit more in her buying habits when I was a little girl. Let me explain.
Last Christmas season I was out shopping with my mom and we were attempting to find gifts for all my many god brothers and sisters. We stumbled upon a bunch of Doc McStuffins dolls. If you're unfamiliar, it's the Disney Junior animated show aimed at children ages 2-5 that features an ADORABLE little brown girl as the titular character who is on a mission to fix broken toys that need her help.
My mom got real quiet as she picked up that Doc McStuffins doll.  I picked up one too and pulled on her pigtails and looked back to my mom who was still as quiet as a church mouse, looking into the face of that doll. We continued shopping and I told her looking back into the store as we exited that IF there were any more laying around after Christmas, I'd buy her one.
THE EXACT DAY AFTER CHRISTMAS, I WENT BACK AND BOUGHT THAT DAMN DOLL. (It was NOT on sale, mind you, but the smile on my momma's face was so worth it. Seriously.)
When my mom was younger, she survived a horrific childhood accident that left her hospitalized for months on end. She remembered the nurses that came to check up on her and that would later inspire her to become a nurse as well. But as a five year old girl, she told her parents that for Christmas she wanted Santa to bring her a doll. But not just any doll, but a nurse doll. One that looked like her, of course.
She remembers waking up on Christmas morning to find that she did get the  nurse doll, like she wanted — but one with blue eyes and blond hair, not one that resembled her. When she questioned her father why Santa didn't bring her a doll that looked like her, he stumbled over his words. Santa couldn't find one. SANTA, good old Chris Kringle, could not find a doll with skin and hair like hers. She still remembers the sheer disappointment 51 years later.
"And skin the same shade as mine. Yes, brown skinned like me. If Storm could do anything, so could I."
Explaining to others why under-represented people need positive representation of themselves gets old fast. Real fast. When you're bombarded with constant images of those who resemble you that are subjected to violence, cast out into stereotypical caricatures, and otherwise shown in a bad light, you tend to see stuff like this widely distributed. Number Seven on that list, the Golliwogs dolls, were created by folks that built an whole empire on racial insensitivity using images that should have been left in the past. (And they're still being sold today, if you can believe it.)
Granted, by the time I was born, there were Black dolls galore.  Christie, noted as Barbie's first African-American friend, entered the toy world in the late 60's and I had several reincarnations of her in the late 80's that shared her color and likeness. I also remember being the first girl in my neighborhood to have a Black Ken doll (R.I.P. to him and the beheading he took from one of my brothers. At least I was a mini celebrity for a week or two). I was even fated to have a Kenya Doll, yes, THOSE KENYA DOLLS. My mom was sure to buy me the African American version of nearly every doll on the market. Why? Why is it important for children of color to have dolls, action figures, and toys that look like them?
It was Mamie and Kenneth Clark, the African-American couple who as a team, put together the famous "Doll Experiments" where children were shown two identical dolls — one Black and one White — and asked questions on which was better and which was worse, with shocking results that would reveal nearly all of the African-American children preferred the White doll. It was instrumental in showing that African-American children carried internalized racism within them and prompted research into self hate and self esteem. These experiments were also instrumental in being used as evidence to help push Brown vs. The Board of Education that did its part in integrating schools. Granted that these experiments took place several decades ago, but it is worth knowing that doll experiments have been done again and again throughout the years and more recent findings are still very problematic.
Recently I came across this: a cherished toy I had during my childhood and lost somewhere along the way. My entry into the comic book world was watching the animated tales of Marvel's X-Men in the 90's. I quickly became enamored with Ororo Munroe, the brown-skinned, weather manipulating brave mutant flying through the skies. I could not get enough.
Easily one of the most recognizable comic book characters, Storm is a mainstay in comic book history. As a woman of color, she remains as perhaps the most famous Black character in comics. She is deeply intricately written and gracefully illustrated (not so much for you Greg Land, you're just barely passing) through the years that commands the respect of readers and the people handling her likeness on the pages she appears.  As a little girl, I saw Ororo as a role model alongside several other girls AND boys who watched the show.
"She is graceful and beautiful. Storm is powerful and good. She also has brown skin like me!"
Those are the exact words I used to describe her in an English assignment eons ago in elementary school. Later in college in a public speaking class, I would use her as the fictional person I admire most because of her resiliency. She survived a childhood where she was orphaned, making her living as a pick pocket on the streets of Cairo, and later enduring levels of discrimination as a mutant, as a woman, and as Black woman, and rose above it victoriously. And then my shopping excursion took another turn when I walked down the aisle and found the likeness of our fellow brown girl tribute from District 11, sweet Rue of the Hunger Games franchise (I will say that this action figure fails to contain the adorableness of the young Amandla Stenberg who was the actress of Rue in the film, but hey, it's something).
While I knew  that The Hunger Games franchise churned out all manner of stuff, I was unaware that that there were action figure like toys of Katniss, Peeta and Rue.  Needless to say that there was some serious ugly crying going on that day. Serious.
If you don't know if this precious child deserves at least an action figure for her part in starting the rebellion, the answer is yes. Her death changed Katniss. Katniss who, at that point in the game, was only trying to survive. Nothing more, nothing less. Rue's death inspired her to kick dirt on the Capital by… oh. I can't get into this today. My feelings.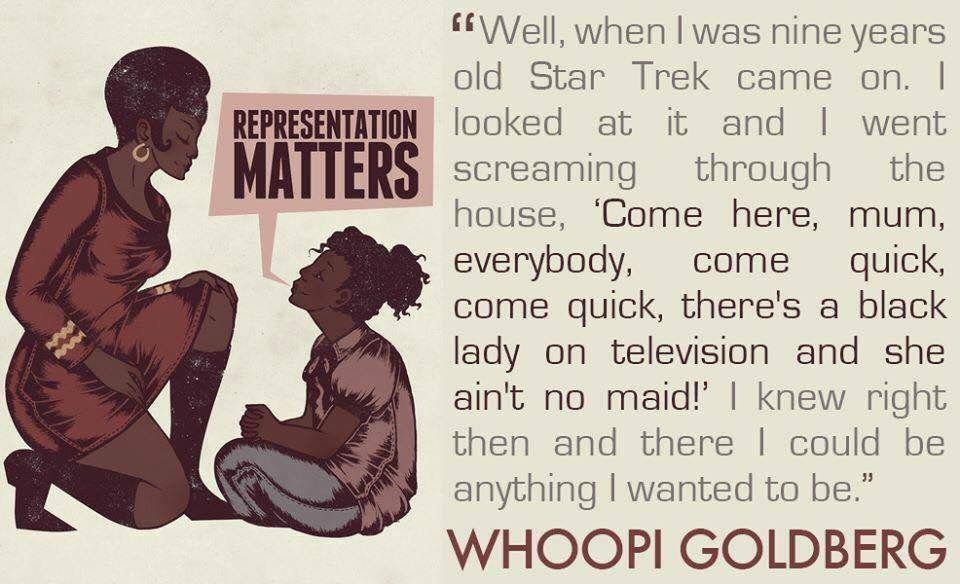 Whoopi Goldberg's story is my all time favorite when it comes to the importance of diverse representation in the media and the true and lasting impact it can leave on the lives of others. She was inspired by the phenomenal Nichelle Nichols who served the USS Enterprise as its communication officer on the original Star Trek television show. I have no clue if  Whoopi had a Mego Uhura doll growing up, (but can we talk about Nichelle getting her own, in mint condition no less–this year?!) but it is very clear that Nichelle was able to leave a big enough impact on a young Whoopi to let her know that the sky — no, not even space and beyond could limit her and where her dreams could take her.
Let's always be sure to acknowledge that diverse representation is needed, and stay fighting for it. It is grossly naive to think that children of color will go through their childhoods and adolescence without encountering negative images and demeaning  depictions of people who look like them. To combat what will likely greet them at the door leaving home is to be sure that there is a toy, something that they love that helps affirm to them that they are loved, worthy, and surely someone that matters.
That can translate to seeking out, speaking out, and investing in a brand or company that creates products that do, and/or otherwise creating something new for what we want to see in the world. What is the importance of seeing yourself in the toys you've played with? For me, that answer is looking back at that elementary school assignment and aligning myself to be like the mutant known to the world as Storm: "Graceful and beautiful. Powerful and good." And skin the same shade as mine. Yes, brown skinned like me. If Storm could do anything, so could I.
On a last note, I came across this picture online:
 I was speechless.
I sat looking at my laptop for several minutes in silence.  If you think moments like this are not worth capturing, we are obviously not on the same page. And that's quite alright because I'm focused on moving forward to a place in time where every child of color has a precious play toy of someone or something that helps make them feel like royalty in their own skin.
Originally published July 2014.
Want to get Black Nerd Problems updates sent directly to you? Sign up here!
Follow us on Twitter, Facebook and Instagram