Now anyone that watches Food Wars knows there's only two ways to watch: either eyes pressed to the television with the volume on the lowest setting or turnt up on 100 to make your neighbors uncomfortable. Shokugeki no Soma is the most uncomfortable educational comedy I have come across in a while. If you love cooking and are looking to learn more, I highly recommend you dive into this delicious anime. But here, I'd like to highlight one of the sickest characters to hit the all-clad.
I'm talking about no other than the Paprika Prince himself Akira Hayama. Tōtsuki be all up under the god tongue and the rest of the Nakiri family, but I truly believe the school was sleeping on the flavor power of Akira Hayama's. First of all, I ain't saying the students at Tōtsuki are afraid of seasoning, but I'm just saying they shouldn't be so shocked when the Cumin King whips out the flavor bombs and eliminates the competition. The minute I knew Akira came equipped with the sauce was when he sat down blindfolded in a chair with plates with different samples of spices and he just started naming whatever spice that was within a few feet radius from his nose. First of all, there were at least eight spices with different scent profiles, and my man was chill naming them off like it was nothing. Akira Hayama probably sniffs turmeric in the gym while he does his pull-ups. He probably be on the treadmill stirring spices and crafting 30 different types of Garam Marsala for his post-workout lettuce wraps.
The Cast-Iron of the Kitchen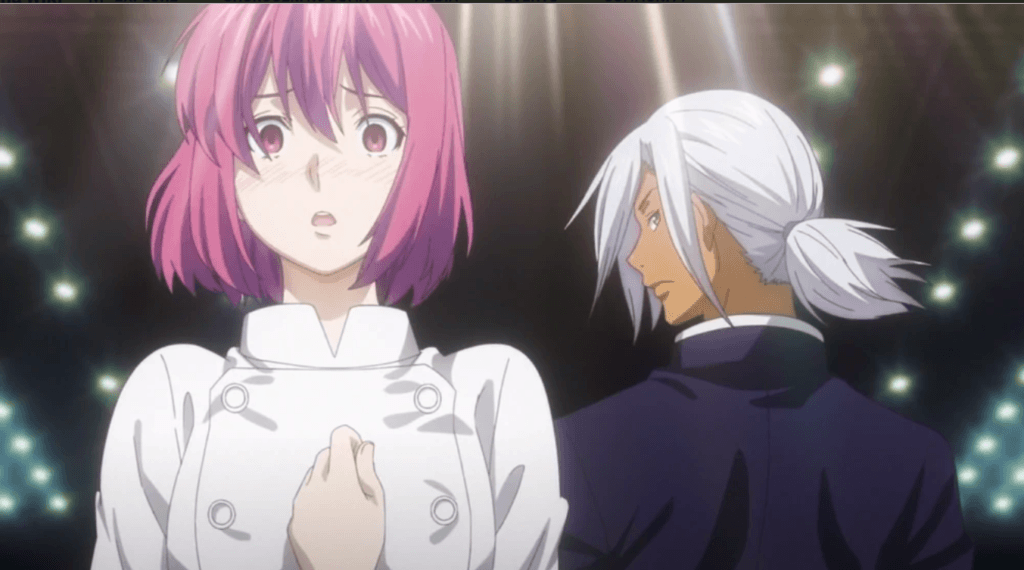 Anyone that knows how to whip around with seasonings are a force to be reckoned with. That means they can kick your ass with flour and vegetable powders without whipping out the actual vegetables. Make a roux on the competition and out curry them. But everyone should've known the business when Akira swept Hisako's dreams with just the mere scent of a kebab. Akira rolled up to Erina's bestie like, "Tell sis to run her seat on the Council of Ten," then proceeded to whoop Hisako's ass with his Kofta Kebab Burger. She was standing there, proud as she presents her food to the judges, then all it took was a little whiff and the whole audience shifted their attention. The aroma deleted her W before their bite and she should've noticed, but you know we all got an ego to uphold.
But to be honest, I don't know yo, if I brought the beef and somebody whooped me with the delectable yet docile lamb, I'd probably call foul on them too. Did you see the glisten of that kofta in-between the luscious pita? He left everyone in the dust during the fall selection. I'd like to elaborate on how intricate it is to be a spice master. Seasonings are a necessity but the pairing of these takes trial and error because flavors can be easily muddied together without the proper ratio. With that being said, Akira Hayama straight-up "Control" versed Soma and Ryo in front of their supporters and he honestly didn't even need to stunt on them like that.
Akira Hayama, Here to Out Spice You at Your Own Game
Akira Hayama came equipped with spices and beat people at their own specialties just by playing with scent. Remember that time he whooped Ryo in his own specialty, Western cuisine? Ryo proclaimed that he was gonna overpower Akira with his little eels and his flashy knife work. All it took was a single sniff, and Ryo knew he got that work. How dare you deny the power of the spices.

By the time it was Soma Yukihira's turn, studying didn't even matter. Soma had to stay up all night, day after day trying to get the flavor profile that would best combat Akira, and yet it wasn't enough. The son of a prodigy couldn't even beat Akira when he only used a SINGLE SPICE to season his whole dish. At this point, you're just a show-off. Didn't even need to pull out his whole cabinet to torment everyone. Considering how strong allspice is, it's the fact he only used that single spice to bring various layers of flavor to an otherwise simple dish?! Wow.
I have many more thoughts for Paprika Prince, but honestly, you'll need to watch it for yourself. Akira Hayama is a calm storm ready to dish out the spice rack at any given moment. If you haven't watched Food Wars yet, I implore you to get into it and watch the masterpieces fly. But you know with the volume turned down low as to not question your neighbors.
Want to get Black Nerd Problems updates sent directly to you? Sign up here! Follow us on Twitter, Facebook, Youtube, and Instagram!