*ahem*
AND YOU SAY CLIPP CITY!!!
It's no secret that we at Black Nerd Problems are big fans of Into the Badlands, AMC's action-adventure/wuxia drama that first premiered at the end of 2015. One of our writers even got a chance to sit down with Madeleine Mantock, the actress who played Veil (the finest woman in the Badlands). As the epic story has unfolded, Into the Badlands remained one of the best realized martial arts television shows that we've had the fortune to watch. Ever since our favorite, impeccably well-dressed Clipper gave his first intimidating look back pilot…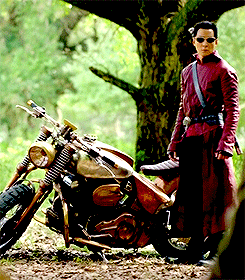 Sunny (Daniel Wu) has led the series through poppy fields and No Man's Land. We're excited to bring you a sneak preview of what's in store for season 3 premiering on Sunday, April 22nd.
Chapter XVII – Enter the Phoenix
Even dreams have a price in the Badlands. That price is always paid in blood.
Months after the season 2 finale, The Widow (Emily Beecham) is out here with a game map all planned out. After rumbling with all of the other Barons, the only one remaining is Baron Chau and she is not willing to go out without the fight.
The uneasy tension in the Badlands from the last two seasons has finally escalated into a full out war. We waste no time getting back to the epic martial art battles that are every bit as bloody and brutal as we remember. But we don't just get to see the skirmish. Nah, we get to see The Widow conduct a full-on job interview before the title card. The Widow lost most of her staff at the end of season 2 and a chunk of her approval rating. She has MK, but he's also powerless-MK, so he's not exactly on his game. The Widow's only interested in Nathaniel Moon (Sherman Augustus), who still only has one good hand after his run-in with Sunny.
I can not tell you much I missed the audible sharpness of swords and the beautiful choreography that accompanies. These are legit some of the best fights scenes you could be watching and the show comes to life in these duels.
After Nathaniel Moon gets the job, we get to see Sunny doing his best wandering warrior and single-dad bit. He's surviving out in the wilds while trying to keep his humanity intact. He's doing his best to take care of Henry (who will be the cutest mixed baby on television) and gets one of the most heart-wrenching moments of character development I've seen in a while. But before the tears start flooding, little Henry comes down with a fever. Sunny needs to switch to full parent gear near immediately.
Then of course we smash cut and get to catch up with Tilda (Ally Ioannides) and Baije (Nick Frost). Tilda has traded her butterfly wings for an iron rabbit mask and Baije is surprisingly chipper as ever after his secret adventure. They meet up with former Baroness Lydia (Orla Brady) at her refuge. Slowly the main cast starts to complicate each other's lives again when Baije decides to head out and see what he might find there.
Yet, the true scope of season 3 only gets hinted at with the introduction of the mysterious Pilgrim (Babou Ceesay), who gets fully fleshed out out in…
Chapter XVIII – Moon Rises, Raven Seeks
That's the problem with silent types. Too many secrets.
But we're going to be the silent types for the rest of the preview and not going to talk too much about the events of Moon Rises, Raven Seeks because you really need to see it with your own eyes.
Nah, we're going to talk about how Into the Badlands has continually grown its mythology. Long past the days of clippers and barons. Nah, that post-apocalypse vibe is resonating with the actions of the main cast and reverberating loudly. The mysterious world of the Badlands keeps opening up new parts and introducing breathtaking new set pieces. It does this while maintaining the high-octane brutality that endeared us to the show. Moon Rises, Raven Seeks is a cryptic history lesson and sign that the show is going to be absolutely bonkers.
Nothing else on TV right now has this level of fight choreography, costume design, sound mixing, and epic story telling.
Look. You got three weekends. Season 1 and Season 2 are available on Netflix right now. There are only 16 episodes to catch up. Or maybe you just need the refresher and BNP's recaps can suffice. Either way, you need to get get ready.
Season 3 of Into the Badlands premieres on April 22nd on AMC. You should clear your Sunday night for it. These #KillaClips live up to the name.
Are you following Black Nerd Problems on Twitter, Facebook,Instagram, Tumblr, YouTube and Google+?