Mankind: The Fall is equal parts defibrillator, first aid kit, a kick in the mouth, and call to action. The whole thing reads like an open letter to an oppressive government. It bubbles with a sense of humanity, the type that is bred when the country is in a state of rebellion.
All poetry aside, this shit is nuts. Easily the most complex concept mixtape I've heard quite some time. Simultaneously, Mankind relays the most relatable subject matter in U.S. public forum right now. "Harlem Heat" has the duo personify that Uptown Swag as Stevie Ray and Booker T, !llumin@te shines: "Even points on a pack/ Ain't enough to keep the oinks off your back/" while Scyril highlights a specific case of police murder: "They had him in a clinch, he ain't get up from that like the finishing move/ I asked about Eric Garner to some kids in a school/ Said, 'one second it's them, the next minute it's you.'"
With deft musicality and lyricism, Sciryl and !llumin@te speak on the condition and politics of black bodies using 80's and 90's professional wrestling as the vehicle. It's the most Hip-Hop thing you can do, outside of a head spin on a police car. "Sweet Chin Music" muses on the shady arrest and murder of Sandra Bland, Scyril implores, "Forced her out her car when she didn't put her cigarette out/ Now she's no longer living to vouch/ Now ain't that a kick in the mouth?"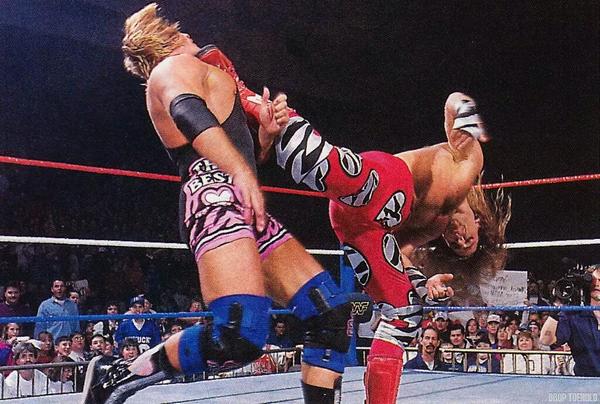 And you know the project vision was clear when every single feature was tight as hell! MC K-Swift goes off on "Papa Shongo": "F—k a 9 to 5 though/ I rather twerk a 9 at Five-0/ Make it thunderclap like Papa Shango." From front to back, Mankind radiates a respect for the craft of MCing while presenting the grimy politics of post-Ferguson America. It delivers every flavor of rap swag that NYC has to offer. Trap flows? Got 'em. Harlem World braggadocio? Bet. Straight punch-you-in-the-face Boom-Bap? Protect your neck, because they got that too.
This collection of breakneck beats, rugged lyrics, and smooth delivery is light years ahead of the competition but right on time for Hip-Hop. Be on the lookout for Mankind: The Fall …Or it'll hit you with an elbow from the top turnbuckle.
You can check out the artists' Facebook pages here: Sciryl Cooper, Illuminate
Are you following Black Nerd Problems on Twitter, Facebook, Tumblr or Google+?