Teen Titans Go! To The Movies? Do y'all really want to go down that route? At first when the series premiered I was jealous, because my steamy adolescent crush for Robin was tarnished by the show. Teen Titans Go! 'Robin' wasn't the same. My teenage angst was not as understood by Raven. My deep appreciation for Starfire was warped. Then when it came down to it, they hit Cyborg and Beast Boy. Where were my serious yet completely lovable Titans?!
Then all of a sudden it started to change
Their low-key jokes started to hit me in my special spots.
From Cyborg "beating his meat" to Raven's legs…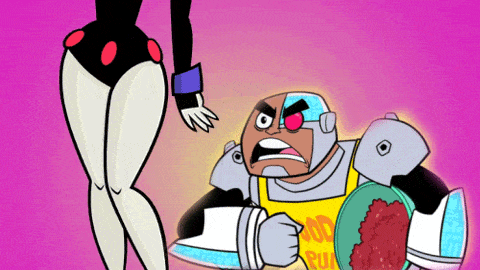 Raven's extremely "evil" plan on how to control the world (the famous Illuminati reference)…
A whole episode dedicated to growing wealth and investments. (That episode was actually extremely insightful because I never learned about that in high school.)…
And of course that time Beast Boy dropped the most fire beat in Teen Titan history.

All of this to say…
Yeah they improved, but a movie? Y'all just started getting decent enough to stretch out a decent plot for 20 minutes. This is a jump. I'm genuinely scared, but also interested for all of the wrong reasons. Teen Titans Go! has proven to be good enough for short bursts. The show is more, "Wow I'm sad. I need something that will temporarily take me out of this existential crisis really fast. Oh look! Teen Titans Go! is on". I want it to succeed, but I don't want it to fall into the trap of becoming the movie where people only go to see it because in their minds they're like, "Well, got nothing else better to do right now".

Recently the franchise has been putting out multiple short burst episodes that stretch out over the course of a few days or a few weeks to keep viewers interested, so in a way it felt like a movie. It worked because they were once again using the short bursts method. 15 minutes today, 15 minutes tomorrow? I have watched a couple of hours of the show back to back but since the content is short-circuited, quick, witty and straight to the point, the room for error is small. I am interested in how they will maneuver since the room for error is much larger now. How will they heighten these characters' best traits to survive on a movie screen? My greatest fear is a flop because I know the main reason behind it will be because fans already started comparing this to Teen Titans: Trouble in Tokyo.
Are you following Black Nerd Problems on Twitter, Facebook,Instagram, Tumblr, YouTube or Google+?