Writer: Lee Bermejo / Artist: James Harvey, Khary Randolph / DC Comics
This issue serves as a stand alone and the shit is incredible. Lee Bermejo reveals that we've lost the first We Are Robin member to the cause (that we know of) with Troy being dead. This issue deals with the fallout. We see Riko in class hallucinating talks with Batgirl (we only hear Riko's side of the conversation), a look at how she is perceived in her high school, dealing with her mother talking about Troy's death and how effective the new Robins are, and then still going out on patrol in Gotham (where she runs into Batgirl).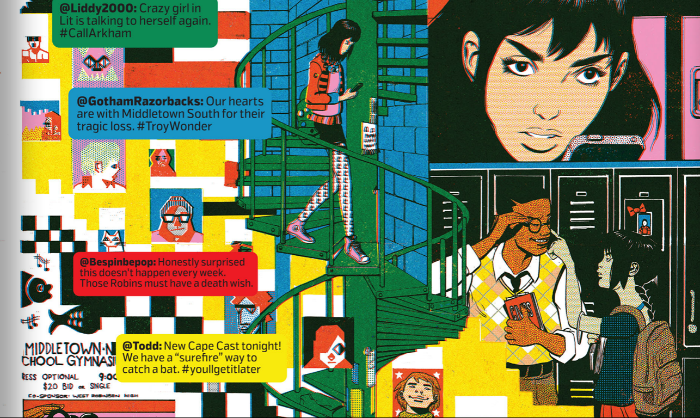 I was taken back by the art at first when I was reading it at night (in bed, dead tired) and I'm so glad I decided to read this issue the following morning. James Harvey is the guest artist on here and the style he brings was colorful and vibrant, which has been a complete deviation from how Gotham and the characters have been depicted previously by the usual team. Not to say one is better than the other — it makes perfect sense that in this stand alone issue where we are so deep into Riko's personal life that it would be colorful contrast to when she is out on patrol.
The depiction of her at school really stands out and the way the captions are tweets/messages of other people talking is fucking brilliant. It really brings a new sense of updating to the usual style of captions done in comics. It's such a small detail but it has made the book stand out amongst numerous titles.
I also love this personal look into Riko's room. The art of this entire issue reminds of the cover of the soundtrack album to the movie "Kids". I also love the nods to how aware Riko is of social issues as we see the homage poster to the Ferguson protests in the background, which stands out from numerous others. We also see that she is knowledgeable in hip-hop as she tags a small eulogy to her fallen partner Troy with a nod to the Pete Rock and C.L. Smooth song, "They Reminisce Over You (T.R.O.Y.)".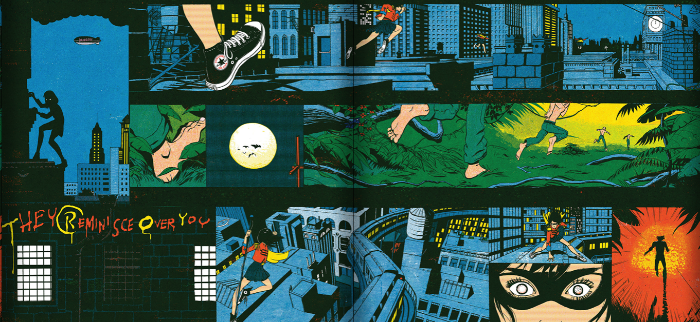 It's nods like this that make this book my shit, straight up. This issue really helps shape Riko out as her own individual amongst so many teens taking up the cause against crime in We Are Robin.
It could be argued that Troy's death is sudden and moves too fast, not giving enough grievance time. And I felt that way too at first, but then you have to realize that when you take up the cause and become a vigilante, especially in Gotham, your life is on the chopping block 24/7, in and out of costume. Bermeejo is keeping it a hunned from jump street as far as I am concerned. These are the mean streets of Gotham, baby. Riko and the crew learned this ain't a game, this is all for keeps.
9.4 Fallen Soldiers out of 10
Are you following Black Nerd Problems on Twitter, Facebook, Tumblr or Google+?