Writer: Mark Russell / Artist: Stephen Byrne / DC Comics
All I've got to say is wow. Mark Russell and Stephen Byrne are masquerading one of the most woke pieces of monthly literature, around as a Wonder Twins comic and I'm here for each and every panel! Issue #4 centers itself around some high school date night dramatics and slips in themes so stealthily you might need to whip out the Sharingan to see it all clearly.
First off, Russell got jokes for days when it comes to high school science fairs. Not only does Jayna get hit on by some cocky jug head with a soul patch resulting in eye roll worthy instant hype, but Zan casually talks about his monkey and not dating much (or at all) which is rewarded with the 7 digits, dinner and a movie! It's all so ass backwards and absurd that you can't help but laugh.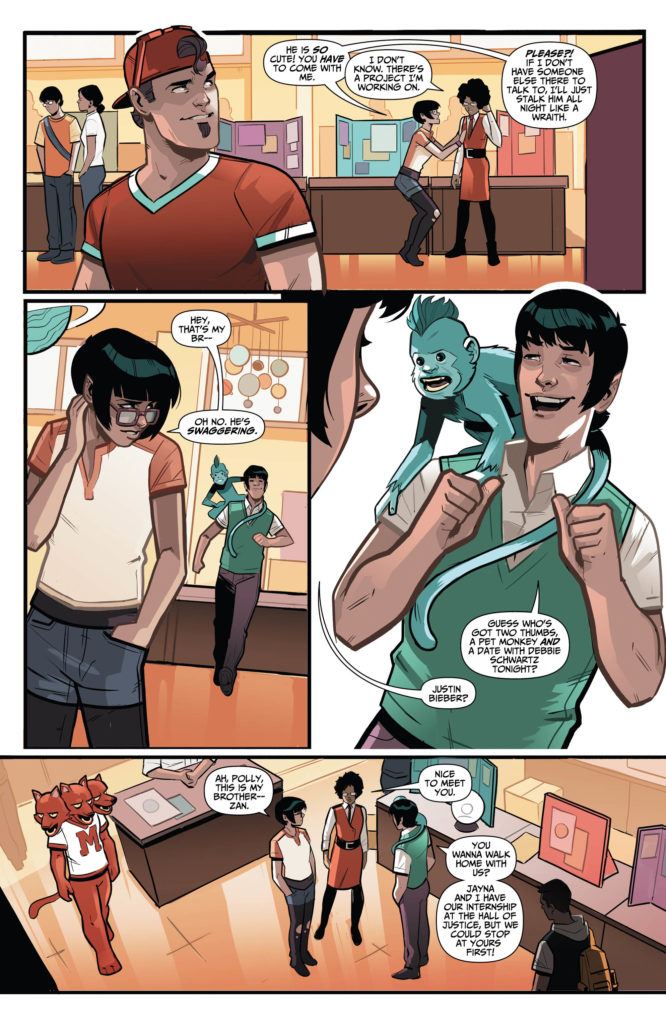 All of the jokes are masked perfectly by things that seem completely ridiculous on the surface, or are more eye catching than the beautifully presented zinger. After crushing the game at the science fair, we see Jayna's POC friend, Polly, go hard for the idea that everyone should be allowed one hour a day, alone with their brain. Then, on her daily hour long walk home she ponders the peculiar aspects of testicular cancer. She goes over the reasons why the cancer occurs in "dude's testicles" and is literally on the cusp of a medical breakthrough when two construction workers go down the path of so many disgustingly chauvinist lonely men in the world, making her lose her train of thought, damning hundreds of thousands of more men to the disease she could have cured if, ya know, men had manners.
While out on the town, Zan and Jayna realize how horrible the teen date night scene is. Using the innocent minds of two aliens, Russell subtly dismantles so many stereotypes of men and women on dates, while at the same time reinforcing this sibling bond between our heroes. This comic is impressing on all fronts. With back to back Eisner award nominations for Best Writer, Mark Russell is making a name for himself and it's only a matter of time before Wonder Twins gets the recognition it deserves. The writing is excellent, the artwork is consistent, and there's such a healthy balance of fun and depth that more people are bound to jump on this bandwagon soon.
9 Useless Sunlight Powered Flashlights out of 10
Reading Wonder Twins? Check out BNP's other reviews here.
Want to get Black Nerd Problems updates sent directly to you? Sign up here!
Follow us on Twitter, Facebook and Instagram!