As much as I enjoy fantastical anime that take me to worlds in space, in feudal Japan, or in dystopian futures, I also love a good slice-of-life anime that finds adventures in the real world—or at least that particular version of the real world. Because as much as the anime purports to take place in the real world, still, things work quite a bit differently than they seem to in reality. So here's my list of seven ways in which you're not living your life quite up to the expectations set in these select slice-of-life anime.
Sports:
Kuroko
The Prince of Tennis
Free! Eternal Summer
I really respect your sport situation—you've got that community soccer team, you meet to play basketball with your friends every so often, and twice a week you do a few laps in the pool at the YMCA. Your game is on point and you've been working those burpees and building up that six pack. But anime has got you beat here. You thought you knew how to play basketball? Thought you had a good handle on your backstroke? Well, the guys of Kuroko's Basketball, The Prince of Tennis, and Free! Eternal Summer have got you beat.
If, when you're on the court, you don't make your opponents fall to their knees in shock at the mere prospect of your superior game, then you need to revisit your training. Think that anti-gravity power moves are only reserved for The Matrix? Well you must just not be training hard enough. We'll talk again once you're done with your next set of squats.
Roommates:
Nana
The Seven Metamorphoses of Yamato Nadeshiko
So you might think harem/reverse harem living situations only come up in sitcoms starring pretty white people, but it comes up a lot in anime—so much, in fact, that you'd think there would be some real-life precedence for this, but instead you're left wondering why, instead of having a bunch of crazy adventures with a group of roommates with which you may share some innocent, playful sexual tension like that in The Seven Metamorphoses of Yamato Nadeshiko, you've got a roommate who leaves their underwear in the kitchen and eats your leftover Thai food.
[divider type="space_thin"]
Then there's the roommate glory of Nana. If only you and your Craigslist roommate shared even a fraction of the intimate, touching friendship that Nana Osaki and Nana Komatsu do in this series. And then there's just the consummate badassery of Osaki. Do you live with a strong-willed, independent rock star who has the capacity to care deeply for those around her but also doesn't take shit from others? No? I didn't think so.
Extracurriculars/Hobbies
Music:
Your Lie in April
K-On!
Remember band class? Or that really bad garage band you had in high school? Or perhaps your parents stuck you with piano lessons. Either way, your musical experience was nothing like the ones you'll find in shows like Your Lie in April and K-On! I'm talking about a full synesthetic experience, wherein every note you play—because your talent is innate and unmatched, by the way—elicits its own feeling, color and visual representation. And your band class or band club definitely was not as dramatic, cute and ridiculous as the music club in K-On! … And you're just going to have to live with that knowledge.

School:
Ouran High School Host Club
Haganai
Hyouka
Haruhi Suzumiya
Let me first say that anime series aren't the only media to misrepresent high school. In fact, high school dramas and comedies are practically their own genre in TV and movies. Case in point: all of the '90s. But still, you'll come across a particular kind of high school situation in a number of anime, in which students will take on bizarre extracurriculars and have unique school adventures in what we're to assume is still a typical high school. There are the mystery-solving students of the classical literature club in Hyoka, the SOS Brigade of Haruhi Suzumiya, the Neighbor's Club of outcasts and rejects in Haganai, and the eponymous club in Ouran High School Host Club.
Seriously—did your school count flirting with students while providing tea and cakes in expensive cosplay as an extracurricular activity? I'm not sure about you, but the extracurriculars in these anime sound a lot cooler than math club or the school newspaper.
Cooking:
Food Wars
Yakitate!! Japan
What'd you eat for dinner last night? Some takeout? Some microwave dinner? Or maybe you pulled out all the stops and composed this beautiful, gourmet dish. I don't care if you're a Michelin-starred chef or an Iron Chef—if you don't have magical baking hands and if your meals don't make people have orgasmic fantasies upon first bite, then your culinary skills just aren't up to snuff. That's right—anime like Yakitate!! Japan and Food Wars make the mundane task of preparing a meal into a feat of the chosen ones—only those who are worthy may step into the sacred space of the kitchen. What'd you say, Ina Garten? Bobby Flay? Wolfgang Puck? I couldn't hear you over the delicate crackle of the crust of this sourdough I made with my magical solar baking hands.
Career:
Shirobako
Working!
Anime like the recent hit Shirobako are judging your job goals. Even the most mundane office tasks become dramatic in this series, which is all about the experiences a group of five friends have while working in the anime industry. Sometimes a job might include a high-speed race (see episode 1), or locking a procrastinating coworker in a cage to get him to finally finish his work on deadline (see episode 5)—and that's just the norm.
[divider type="space_thin"]
Anyone who's worked in the food service industry knows that it's a tough industry that involves a lot of pandering to a wide variety of characters—and while hungry customers can certainly be a handful, sometimes the people you work with can be just as much trouble. Working!! takes that premise and runs with it, as a high school student deals with the odd employees of a family restaurant, including a blackmailing chef and katana-wielding manager. … And you thought that coworker who keeps emailing you weird GIFs of his cat was a problem …
Relationships:
Your Lie in April
Love Hina
5 Centimeters per Second
Sword Art Online
Yes, I'm sure you're in a great relationship, full of love and mutual understanding. Yes, I'm also sure you've found your soulmate. That's all very nice and good, but if we're going to compare your Netflix and chill to the intense, soul-wrenching love in some of these anime, then the anime love is going to win every time. Perhaps your story is one in which you had fallen in love with your childhood friend—well, in that case, Love Hina probably did it better. Or maybe your love grew out of a tough, shared situation that you both overcame together—but I'm pretty sure it wasn't in a dangerous, life-or-death virtual reality MMORPG.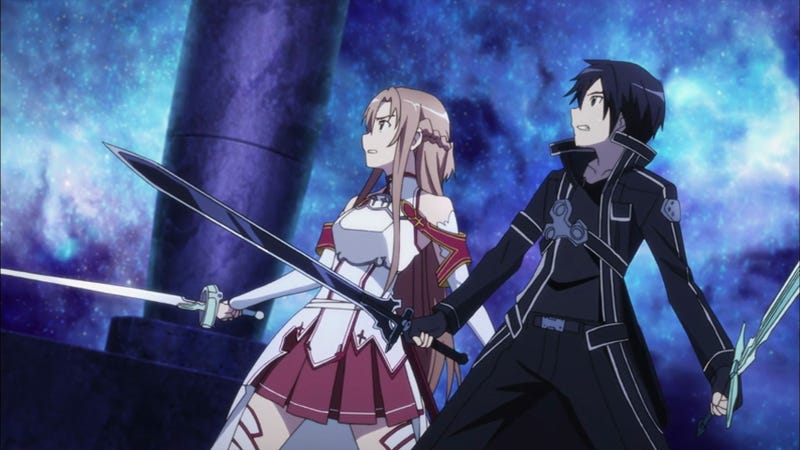 [divider type="space_thin"]
Okay, so maybe your love life doesn't match that of Sword Art Online's Kirito and Asuna (because, let's be honest, though they're just teenagers, the amount of maturity and affection they show in their relationship is pretty unmatched), but you've had your own intense romantic experiences, right? Wrong. Because the makers behind 5 Centimeters Per Second, with its story of the painful, aching love of Takaki and Akari, are questioning your past heartaches.
Even if you have felt heartache of this magnitude, it probably wasn't as beautiful as this. Where else but in books, movies and TV can pain be made to look so beautiful?
Speaking of beautiful heartache, I'd be remiss not to mention Your Lie in April again in this category, because if you want a relationship full of passion and heartbreak (and breathtaking music and visuals), then you need to take a step into the world of Kosei and Kaori—but let me warn you, you're going to need some tissues to wipe up your tears afterward.
[divider type="space_thin"]
What other ridiculous slice-of-life anime do you love? Add yours in the comments.
Are you following Black Nerd Problems on Twitter, Facebook, Tumblr or Google+?