Marvel
Marvel has does something really cool post-New Agents of Atlas. I am excited that I get to review not one, but two different stories in Aero #1. This double-sized issue features Aero, a Marvel hero originally created for a predominantly Chinese audience, in an original story translated for English audiences and an origin story for my personal new favorite character, Wave. It's a great move and a format that holds promise for the future.
Protector of the City
Writer: Zhou Liefen, adaptation by Greg Pak / Artist: Keng
The first of the two stories is a standard origin story that gives us a peek into the "simple" life of Lei Ling. We get a chance to see the full extent of her wind-based powers and the work-hero-life balance of a Shanghai-based architect.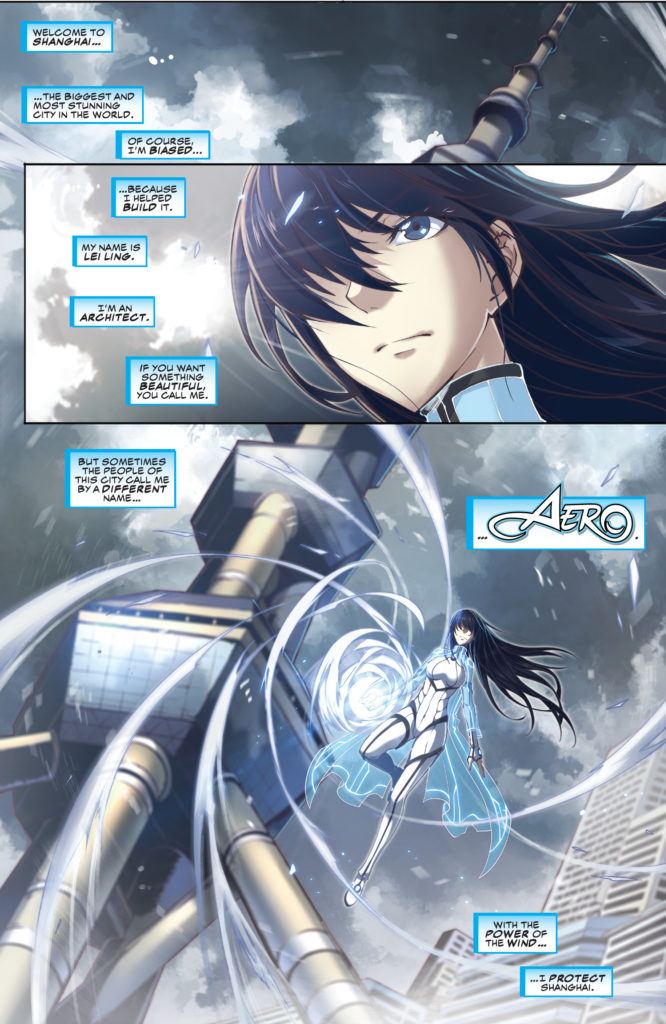 Pak's adaptation of Liefen's dialog is pretty on the money. We get a sense of Ling's optimistic attitude and empathy, her artistic and calculating inclinations, and her love for her city. Keng's artwork has unique flair that pops off the page. It's a fun read that sets the stage for American audiences to latch on to this new addition to the Marvel roster.
Aero & Wave: Origins & Destinies
Writer: Greg Pak / Artist: Pop Mhan
The last few pages of Aero #1 are dedicated to Aero getting to spend some time with Pearl Pangan, a.k.a. Wave a.k.a. one of the New Agents of Atlas heroes that I've become very fond of.
Wave's origin story is a bit more interesting, largely because it puts her at odds with the Triumph Division, a league of Filipino heroes that aren't exactly trusting of the water-based superheroine. Aero's popularity and rapport contrasts wonderfully with Wave's relative anonymity, and it's very clear that there is a budding friendship in the works. Mhan's artwork pairs brilliantly with Pak's writing in elaborating on Pearl's arduous journey.
Both stories are straight forward, but the execution is exception and the two stories are well worth the price of admission, especially if you're going through withdrawal from New Agents of Atlas.
9.0 "Elements" out of 10
Want to get Black Nerd Problems updates sent directly to you? Sign up here!
Are you following Black Nerd Problems on Twitter, Facebook, Tumblr or Google+?