Beyoncé we get it. You are the Goku of this music shit. It's not debatable. You keep finding new levels of Super Saiyan to reach and I'm getting winded just watching. I just wanna know, are we even close to seeing your final form? That's all I wanna know. For those that don't know and are catching up, Beyoncé teamed with Jay-Z again and dropped the first video off their "Everything is love" album, Apes**t (apeshit). Listen, man. I knew shit was goin' be flames when the opening shot was a Black kid with locks and angel wings. I'm already in. You start me off with the Della Reese Touched by an Angel mashed up with #BlackBoyFly and I'm all in.
Not sure if that's candy paint or lemon pepper on the the wings but it's trill!
Apes**t was shot in the Louvre, which is a museum I didn't know of until today (I'm uncultured, shoot me) but judging by the name alone I can already tell it's a place all the characters from Clue would hang out. Which is to say, there's mad art… mad high-end white high art and Beyoncé and Jay walked in there like "Yeah… yeah I wanna flex in this super white upper echelon establishment." At this point, I'm hoping each video following ApeS**T is Beyoncé and Jay-Z taking over super white spaces and establishments on some Extreme Make Over: Black AF Edition.
Look I just goin go John Madden on these video highlight reel cause this video was "My God." Also, I'ma let y'all reading this right now know Beyoncé was MVP of this song and video. Jay-Z was there, but Beyoncé was just everywhere. I'm not even going to even try to hide the bias. Fam, she did trap better than trap artists do trap. She was rapping at the end and I'm like… when… when did Beyoncé decide to go for the best rapper alive? Man, let's get into it.
---
*Sets Timer*
*DEEP INHALE*
Best Visuals in the Game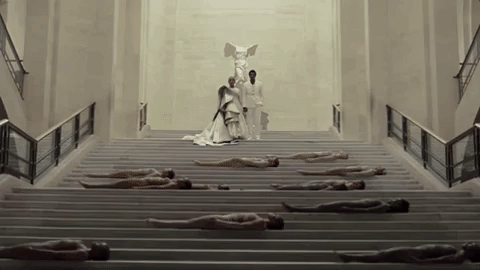 I'm lookin' at these visuals like, "will this video be on exhibit in the Louvre?"
I'm lookin' at these visuals like, "if angels don't welcome you to heaven like this then why bother?"
I'm lookin' at these visuals like a low-key Thriller and Misty Copeland mashup.
Visuals fucked around and got me pressin' the x button on the PS4 controller.
Visuals fucked around and got me ready to be an art museum curator now.
Visuals fucked around and got exhibits comin' to life at the Louvre and Ben Stiller workin as a night guard.
Oh, We Can Wine and Dine up in the Louvre?
Beyoncé said, "If I can't wine in front of the Mona Lisa then I'll bust it out here."
Beyoncé said, "Get everybody and everybody's outfit in the shot so they know what we bout."
Beyoncé said, "You. Not. Fucking. With. These. Swivels. Doe."
Dance sequence got more twists and turns than Twizzlers (Red Vines if you like that) and I'm here for it.
Dance sequence lookin' like the evolution of Dance Dance Revolution with hips and dips.
Dance sequence got me in the mirror rehearsing for Magic Mike Night at my local tavern.
That's an Expensive Ass Ski Mask Beyoncé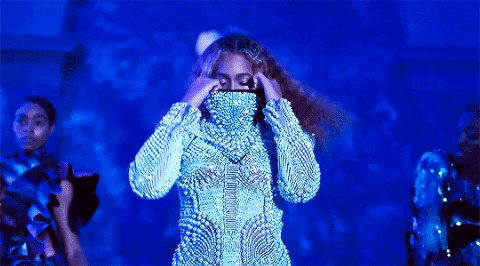 Beyoncé making me spend money on all these hits.
The Most Mom Dance of all Time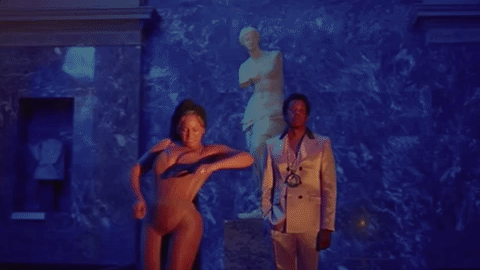 I know Beyoncé has ascended cause the mom dance game is impeccable right here.
That's the straight mom "I'm feelin' this and killin' this" groove.
If you don't recognize this dance via your mom bustin' it out in the living room
or bustin' into your room and hittin' it (on beat) to whatever you were listening to, don't talk to me.
This is that "show the kids I was cool before I had ya ass and still am damn it" move.
Venus de Milo watching Beyoncé like, "You can't tell but I'm fucking groovin' too girl."
Venus de Milo watching Beyoncé get it and thinkin' "you should be up here."
Venus de Milo watching Beyoncé "I'ma need them to update me with a shooketh facial expression now."
Oh, She's Gone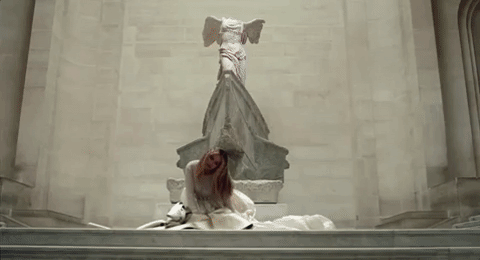 When you see Beyoncé do this shit, you know she's warming up for Super Saiyan.
Look at her bounce in the dress fam. You can see her charging up right there.
She in an expensive ass dress not knowing how to act? Track bout to get KILLED.
The bounce right into the "I don't know what to do with myself anymore" dance.
This is all a clear sign that Beyoncé is in a convertible doing 90 in the Danger Zone,
top-down, while bumping Nina Simone (Mississippi Goddam to be exact).
Jay-Z in the back watching her power level go over 9,000 sayin', "Let'em use you!"
then shuddering as he gets a flashback to the Monster track… he knows what's comin'.
It's About to be an Anime Transformation Now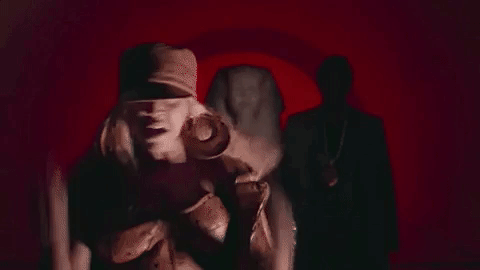 Listen, when Beyoncé tosses off shit that costs six mortgages, she's about to level up.
This is akin to Rock Lee dropping the weights at the chunnin exams.
Plus, she touching her hair, looking around for what to murk next,
it's a tell she has that says "I'm about to go the fuck off."
I've seen that look many a time on the dance floor too and got the hell out the way.
This Ain't Even Her Final Form Doe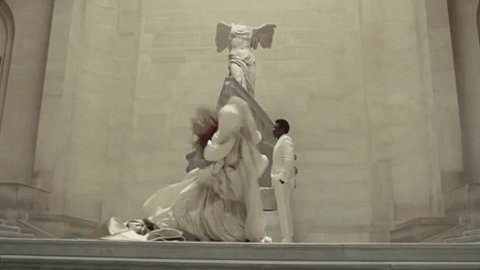 Is this not the glow that Bruce Leroy spoke of?
Is this not the Midi-chlorian in the force Qui-Gon Jinn told you bout?
Is this not the Black Excellence you've come to expect from every damn Beyoncé drop?!
Are you muh fuckas not entertained?!
Don't stare directly into the Black Girl Magic! It's too much for direct eye contact!
I really hope some folks didn't know the museum was closed, walked in on Beyoncé leveling up,
and said, "My god she's ascending!" or "is…is this the Quan?"
**Time**
---
Bonus Round: When the Direct Deposit Hits
Want to get Black Nerd Problems updates sent directly to you? Sign up here!
Follow us on Twitter, Facebook,Instagram, Tumblr, YouTube and Google+.