Writer: Dan Jurgens/Artist:Paul Pelletier/DC Comics
Time travel is always a fun concept to explore, regardless of the medium. It presents countless opportunities to play with wibbly-wobbly, timey-wimey things.
In Batman Beyond #48, we get a double dose of time travel as a story set in the future brings main characters back in time to our present day.
The issue starts with Terry McGinnis returning to base only to find an older Bruce Wayne who no longer recognizes him or his younger brother Matt. He uses defense drones to attack them both until Booster Gold shows up.
Now, if you've encountered Booster Gold before, you're likely aware that he—and his robotic sidekick, Skeets—bring their fair share of humor to any story. But his appearance in this issue is also grounded enough that you can appreciate how intelligent and capable he actually is underneath all of the jokes and arrogance.
Booster tells Batman that he has to take them back to 2020 where someone placed a "time bomb" in Bruce's subconscious without his knowing so that it would go off one day. With the life of someone very close to him on the line, Terry reluctantly tags along.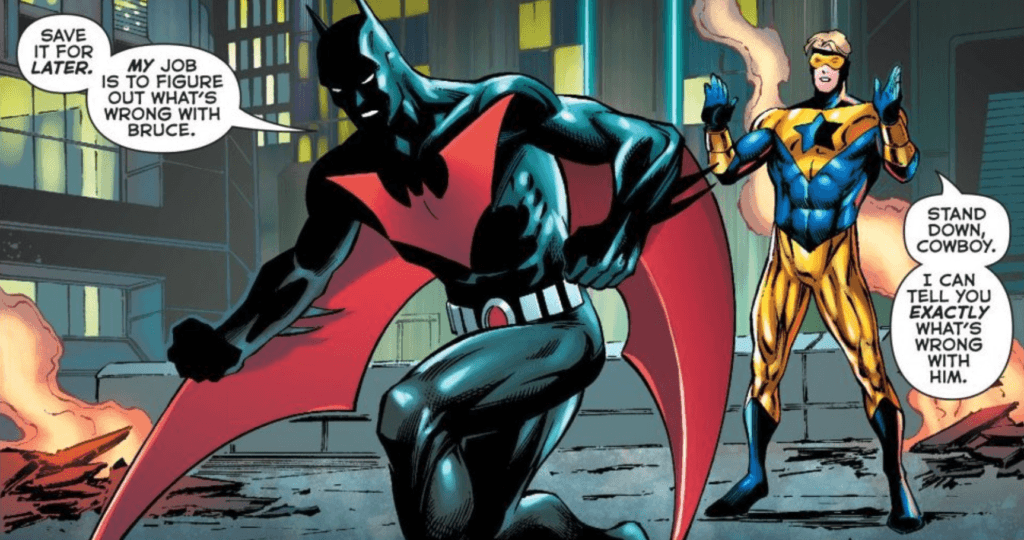 From there you get some familiar tropes from time travel stories. They establish the "don't talk to anyone/alter the timeline" rules that will inevitably get broken and even have someone meet the younger version of a family member. But it's still enjoyable stuff despite the familiarity.
This issue was part one of the "Concealed by Yesterday" arc that will hopefully have some memorable moments as Terry McGinnis gets to interact with the legends he's only read about or met in old age. I doubt any long-term effects to the DC Universe come here, but I'm curious to see if I"m wrong.
8.5/10
Want to get Black Nerd Problems updates sent directly to you? Sign up here.
Follow us on Twitter, Facebook and Instagram.