Writer: Bryan Edward Hill / Artist: Gleb Melinkov / DC Comics
Batman & the Outsiders #13 starts the beginning of a new arc after the action-packed finale of issue #12. The Outsiders faced Ra's Al Ghul and his depleted reinforcements and kind of gave him an ass-whooping. But that wasn't before he was able to use a mysterious new weapon that could have serious implications on the state of the world.
Issue #13 is an aftermath, of sorts, as the Outsiders regroup after their showdown. It has two central stories, one centering Black Lightning and one centering Signal and Orphan.
Black Lightning's scenes follow his ever-evolving conflict with Batman and the way the Caped Crusader leads this team like a puppet master. In regards to this issue, Batman thinks that because they have the upper hand on Ra's, they need to now shift gears and gather information on his new weapon. Black Lightning thinks that now is the perfect time to strike again before Ra's is able to use that weapon for a second time and cause more damage. 
The scene does a good job of showing us the contrast in how these two characters lead. And even though they're on the same side, the tension is still very prevalent between the two. Black Lightning is very forward-thinking. While Batman, as we know, is very calculated. He doesn't become the smartest person in the room by blindly pushing forward. Nevertheless, despite these two characters having a common goal and working together, Hill does a good job of conveying Black Lightning's frustration, and Melnikov is fantastic with how that is represented on the page.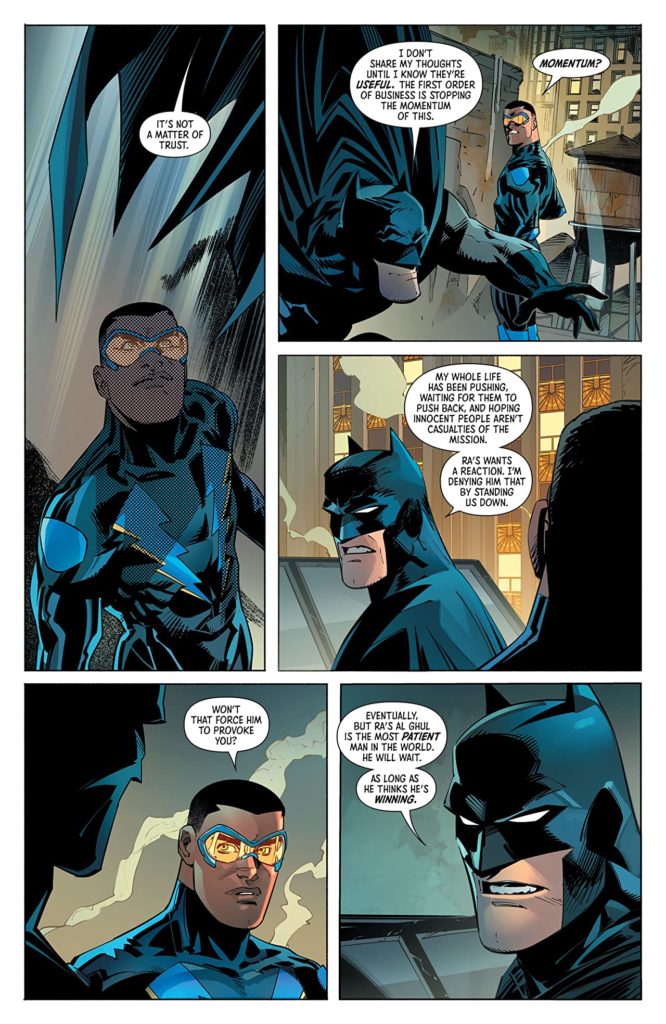 The second central story, and the one that hits home for me most, is the one that centers Cassie and Duke. It follows the two as they are grappling with Batman's orders to sideline them for the time being. Being important members of this team, and teenagers, they don't exactly like the idea of taking a break.
Lady Shiva, who just switched sides, poses an interesting opportunity for the two of them. She doesn't just try to encourage them to do what feels right for them despite Batman's orders, she tries to put their relationship with Batman in question. Even though she's a flip-floppy villain, she has a point. Batman uses them as pawns for his larger game. Shiva furthers her point by suggesting that Duke and Cassandra live under Bruce's shadow. They wear his symbol and protect his city. Maybe it's time for them to choose their own symbols and find their own spaces and cities.
As someone who thinks there are too many legacy characters in comics, especially characters under Batman's wing, the idea of some of them growing more into their own identities makes me really excited.
In an issue that allows the Outsiders to breathe, they regroup and gear up for the next inevitable showdown with Ra's Al Ghul as they also work out some of their more personal conflicts. 
9 Rooftop Batman Conversations out of 10
Reading Batman & The Outsiders? Find BNP's other reviews here.
Want to get Black Nerd Problems updates sent directly to you? Sign up here!
Follow us on Twitter, Facebook and Instagram!