Australia-based BlackMilk Clothing is one of those brands that I've seen around for years, but I never actually got around to purchasing anything from them. It's not that their stuff hasn't been cute, I just didn't necessarily see myself in their pieces – and as a certified THICCCums, shopping for clothes on the internet can sometimes be a frustrating experience.
But then BlackMilk went and released an Avatar: The Last Airbender collection and sent over a few pieces. Firstly – y'all know how heavily I fucks with Avatar (check the BNP YouTube playlists and enjoy). Also, nerd clothing for the freeeee? Yes. Absolutely – this is the dream! This is healing for my inner child! But while items from this collection are gifted, please trust that my review of them is 100% honest and the opinions shared here are my own. I also got to ask the BlackMilk Clothing team some questions about this collection, so we'll get into that interview, too.
The first piece I wore out into the real world was the Avatar Aang Giant Tee, which GLOWS IN THE DARK! I was pretty surprised at the quality of the material because I was expecting it to feel like the average tee: kinda thin, etc etc. Instead, the material was pretty heavy without being too hot and felt like quality, so I opted to wear it at this year's Anime Expo (Avatar counts idc idc idc). I paired it with the Avatar State Satchel Backpack (on which Aang's arrow also glows) and it! Was! Perfect! It's slightly larger than the popular mini backpacks that are making their rounds in nerd communities but still smaller than a regular backpack, so I felt cute while being Batman-level ready with my convention essentials (you'll never catch me slipping at a con, ever).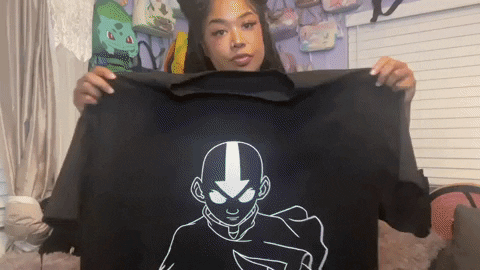 The Jasmine Dragon Tea House Short Overalls.. fam. First of all, if it has anything to do with THE Dragon of the West, That Boy Uncle Iroh? I want it. Again, I was surprised at the quality of these overalls. I'm not gonna try to be clever and attempt to name the material they used, but it's thick and a little stretchy and they used two layers of it. It made the overalls extremely comfortable to wear while still (gonna be super technical here) holding things down. Which is to say, I normally don't wear overalls, but these ones were extremely flattering! The fabric is also printed with teapots (with the symbols of the four nations), dragons, jasmine blossoms, and Pai Sho tiles but the BEST part? If you don't want to wear the straps of the overalls, the backside of the front panel has a teapot printed upside down on it. It's super cute, and I respect tf out of a clever design.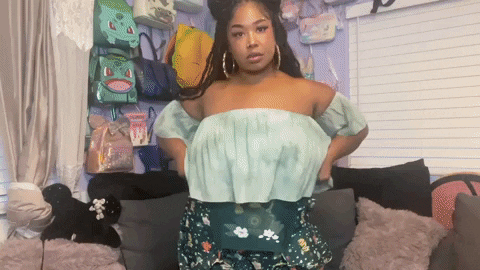 I haven't worn the last two pieces they sent over out into the real world yet, but both of them are giving. The Earth Air Fire Water Sheer Midaxi Dress is definitely getting thrown into the rotation before this summer ends. I also really appreciate the detailed care instructions that they include since the dress uses a foil fabric to make all of the four nation symbols shiny and sparkly (which we love). If I was the modern Avatar I would definitely wear this dress to show that I'm fancy but still low-key and for the people (and for the record – I'd also be from the Water Tribe, gang gang).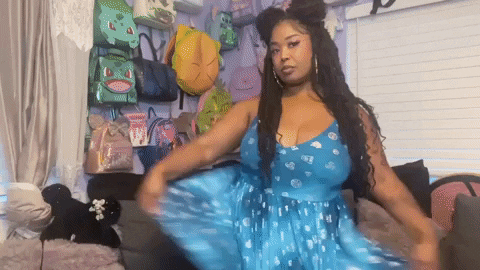 And the Masters Robe?! Do y'all remember those button-down anime shirts of, like, 2001? I'm pretty sure they were bootleg? Rurouni Kenshin was my favorite (they didn't make Sailor Moon designs), and I wore that thing oversized and with pride. I'm just saying, we've come a long way. This robe is giving that same big nerd energy, and it's taking me back in the best of ways! If you're a fan of the Fire Nation (no judgment), you'll especially love Ran and Shaw, the original Firebending masters, illustrated on the back – they're as terrifying and beautiful as they were in the only episode we saw them.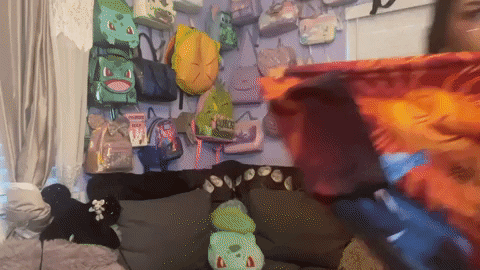 I really want y'all to get to know this brand better, so here's that quick 7-question interview with BlackMilk's team:
Describe this collection in five words.
Colourful, fun, elemental, varied, unique!
How did the designers let ATLA and LoK inspire this collection?
It was honestly a very natural process, because we love making gear that is bold, colourful and tells a story – which is everything that ATLA and LoK do best. We also took a lot of inspiration from the different bending elements and the four different nations in the Avatar universe – the symbols and motifs of these were perfect for creating some of our more subtle designs and our custom designer fabric pieces.
What would you say is the signature piece of this collection?
There are a lot of stand-out pieces, but the whole team – and our customers – really fell in love with the two robes: the Team Avatar Robe, and The Masters Robe. The artwork on these is so incredibly vibrant, and just unapologetically there for the fans.
Some of the illest pieces are also sold out – will the people get another chance to cop these?!
We never say never! There's always a chance that we will bring back sold-out pieces in the future if demand is high enough.
The streets need a part 2 – will BlackMilk do another Avatar collab in the future?
We don't have any current plans to do so, but we loved working with Nickelodeon and had a great response to this collection – so it's always a possibility!
A lot of our audience is being exposed to BlackMilk for the first time, what should they know about your brand?
Once you get started, the BlackMilk addiction is real – sorry not sorry!
What future nerdy collaborations can we look forward to from BlackMilk?
There isn't a lot we can give away at the moment, but we definitely have some brand new licensed collabs on the horizon…
And that's it! All in all, I think that this collection – and this brand – are definitely worth your attention and your coin. The 30+ pieces for this collaboration cover a spectrum of styles and aesthetics and range from subtle nerdetry to BLATANT GEEKINESS, and I love it. I personally will be keeping my fingers crossed for a restock on the Kyoshi Warriors jacket and the Appa overalls, and I'm already hype for whatever collaboration BlackMilk Clothing will be releasing next.
Cop pieces from the collection for yourself: Here
See the Avatar x BlackMilk lookbook (it's giving artsy):
And keep an eye on BNP social media – as well as my own (@tiffiestarchild) – because you'll definitely see me in these pieces. Until next time, fam!
Cover image via BlackMilk Clothing site
Want to get Black Nerd Problems updates sent directly to you? Sign up here! Follow us on Twitter, Facebook, Youtube, and Instagram!