Press Start
Early Saturday morning on July 28, I walked into the venue for Pixel Pop 2018 and am greeted by the organizers. They handed me a press badge and asked me to take a sticker to indicate my pronouns, a simple but still appreciated token of exclusivity.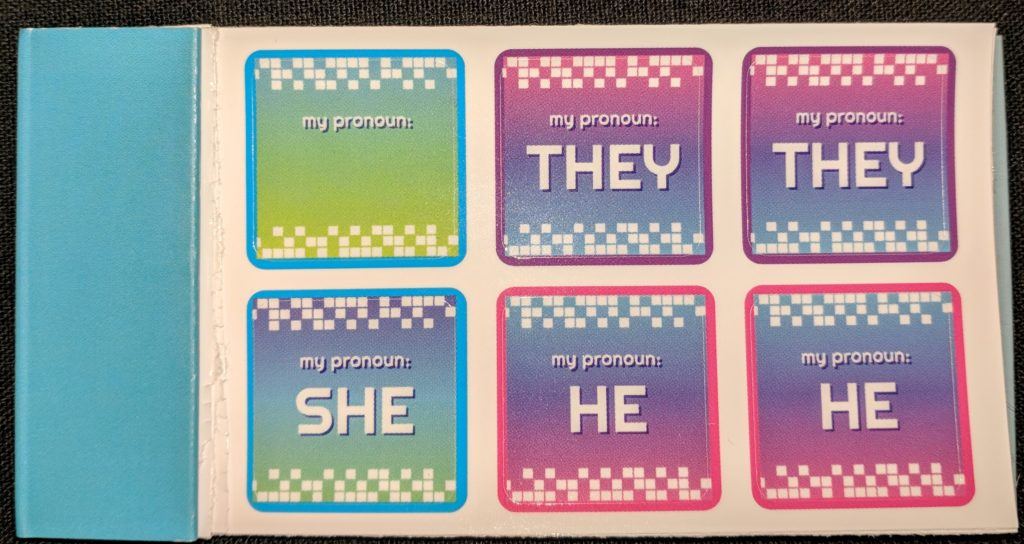 The last time I had been to Pixel Pop was back in 2016 where they occupied a small section of the St. Louis Science Center's floor. In a short two year period, the event had grown significantly. I'll let the picture of the main floor do most of the talking.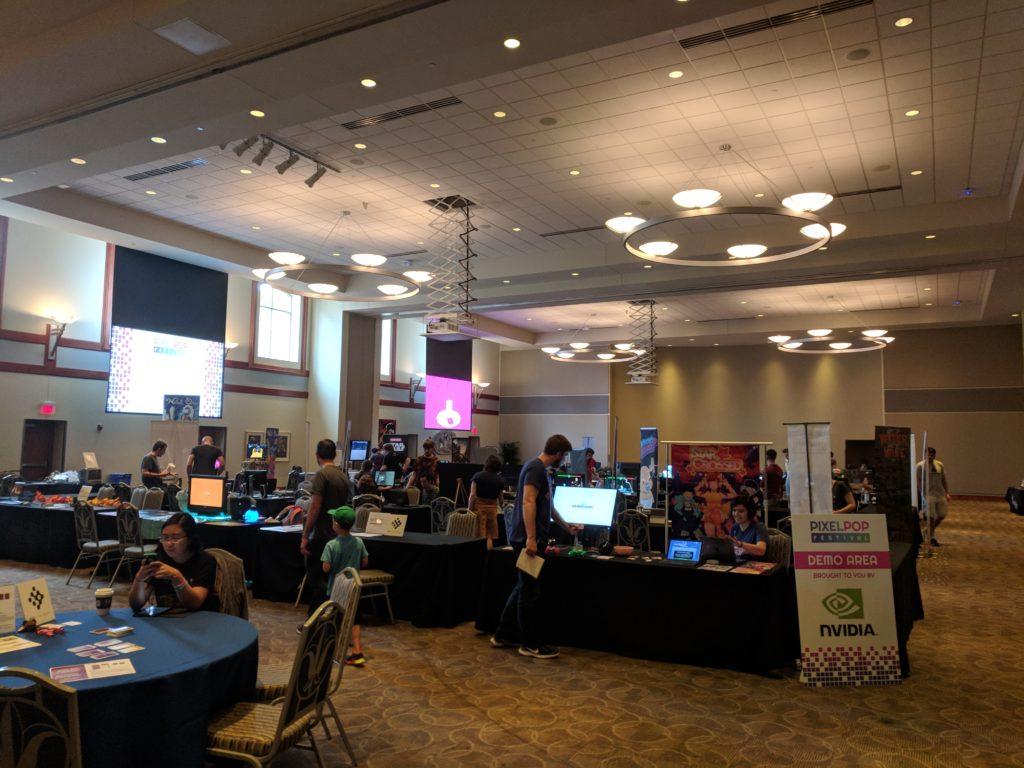 The people manning the different tables at Pixel Pop are bound not just by a love of video gaming, but gaming in general. A good quarter of the floor was dedicated to all sorts of board and card games, while various indie projects had monitors and controllers available for those will to beta test their latest build. While this wasn't my first con, it was my first gaming conversation and there is something about all of the computers set up that just engages the audiovisual sensors. I wandered around the floor with my friend, taking up controllers to engage some good ole multiplayer shenanigans and taking turns at single player tables. And when we get tired of the stimulation, we frequented the Main Stage.
Passionate Presenters
Through out both days of the Festival, Pixel Pop featured a wide array of presentations and panels that covered a wide gambit of topics. Kevin Snow of Bravemule discussed four key features of accessibility in gaming and helped budding designers and developers understand the importance of planning for things like subtitles and colorblind options earlier on. And on a more holistic perspective, Francesca Carletto-Leon provided a crash course on the fundamentals of gaming design with cute animal pictures. Christopher Badell of Greater Than Games recalled the development of the Sentinels of the Multiverse multiverse with an aura of charisma, talking about its origins of just wanting a game where he felt like a superhero to having a successful card game with video games and Role-Playing system in the words.
The first panel I attended was Our Princess is in Another Castle: Feminism, Women, and The Game Industry, a round table conversations moderated by Fox Smith featuring Carol Mertz (founder of Pixel Pop), were both an equalizing and dividing force, how the latent sexism was subtle like a dripping faucet, and while things were improving due to more accessible tools there was still plenty of work to do. They touched upon intersectional feminism and the tokenization of marginalized communities, and how nothing is actually ahead of its time but in fact those works were actually pioneering change in an inhospitable environment. And as many panels like this one exists, there still was a need for it.
The other panel I had the fortune of sitting through approached the social dynamics in a very different way. Building Healthy Communities Through Content Creation featured Josh Boykin (Intelligame.us), Ezilii, Lojepi of Blue Esports LLC, and Foxe who shared their different origin stories as content creators and the communities they built on discord, twitch, and YouTube.
Doing my best to help @Wallstormer with the @IntelligameUs social media at #PxP2018 pic.twitter.com/Hp1OuYXHcy

— Mikkel Snyder (@ChimericNotion) July 29, 2018
What About the Games Though?
Oh, I bet you thought I forgot. Nah, here are my favorite games that I got a chance to play.
Here's How It Happened
Brought to you by Team Murder Squad, Here's How It Happened is an improv board game with a simple premise: a murder victim was found at a location. You play as either a witness with narrative cards trying to throw suspicion off yourself and onto your fellow players or you're the hardboiled detective with incriminating evidence to disrupt their likely stories. At the end, the detective chooses the best story and they are cleared from the crime. With strange items and fun prompts, it's a quick game that will illicit some laughs at your local game table.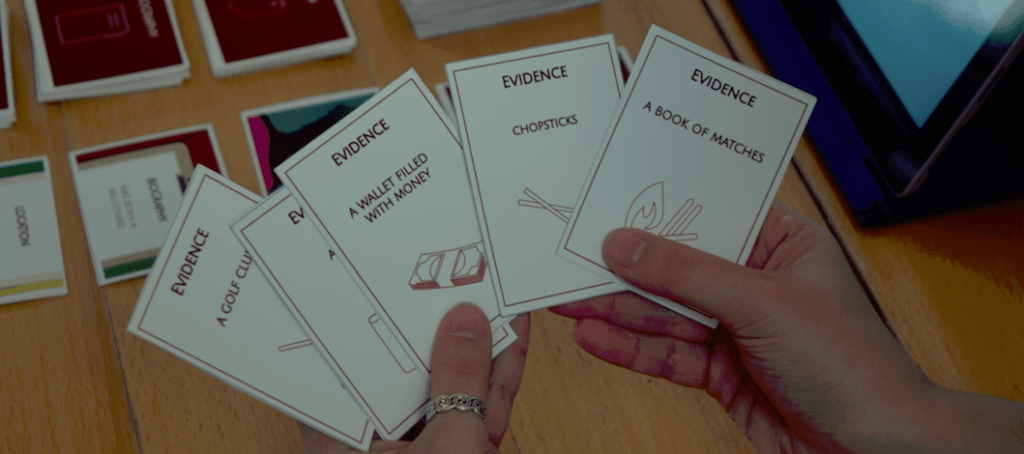 Follow Team Murder Squad on Twitter.
Centenntable
Part of the 1000 Button Project, Centenntable is a controller with a hundred buttons. Each player commands half of the massive board as each button is randomized to a different fighting move, and you'll end up using your entire body to try and find the combination in the first round or y'know. Just mash buttons repeatedly.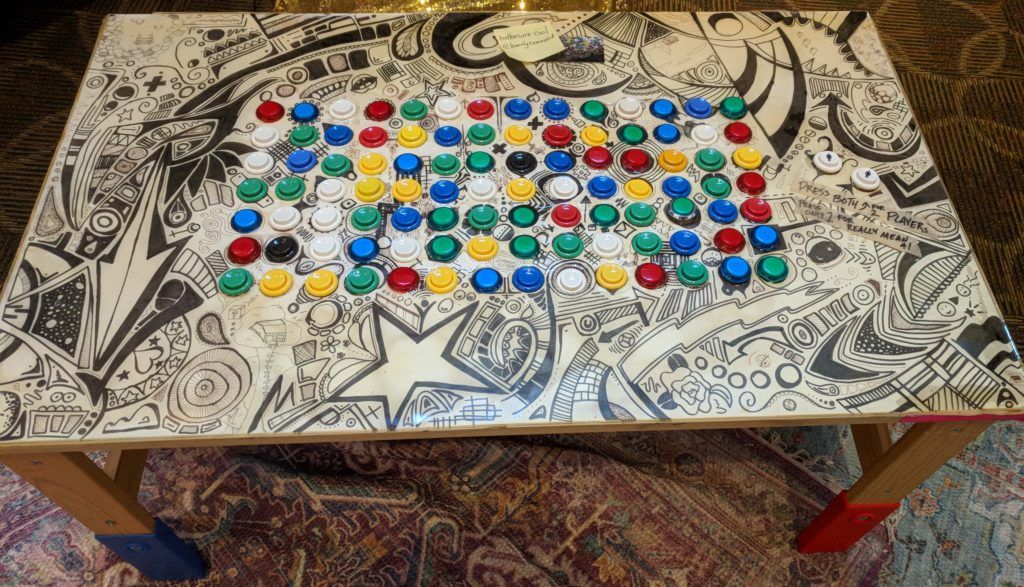 Nour
A wonderfully imaginative experience, Nour is an interactive food game. There are no objectives, just bright, vibrant levels where you press buttons to make odd things happened. Terrifying Jellyfish had a Midi Controller available on the floor, and I can't express the simple joy of pressing buttons to make bizarre events appears.
StarCrossed
StarCrossed is what happenens when you take the mechanics of Pong and Space Invader and then give it some intergalatic Magical Girl coat of paint. A two player co-operative game, the characters of StarCrossed play similarly in the early stages of the game. You have free movement on the screen as you pass a star back and forth to try and defeat aliens. As you time button presses to sync up, you unlock your super move where you and teammate have to decide which one to activate based on the situation at hand.
Find out more about Contigo here.
Line Wobbler
Winner of the strangest play space, Line Wobbler is a 1D Dungeon controller. You can move forward and back and by wobbling your controller, you can do a simple attack. The "dungeon" is a cord of bright LED lights where you fight monsters, traverse conveyor belts, and try to reach the end.
Battlecakes
I didn't expect to become endeared to my Cupcake, but I suppose I shouldn't be surprised. Battlecakes is a simple confectionery themed RPG where you play a Cupcake. The battle system lets you battle or befriend your enemies as your explore the open world full of fun cake themed items.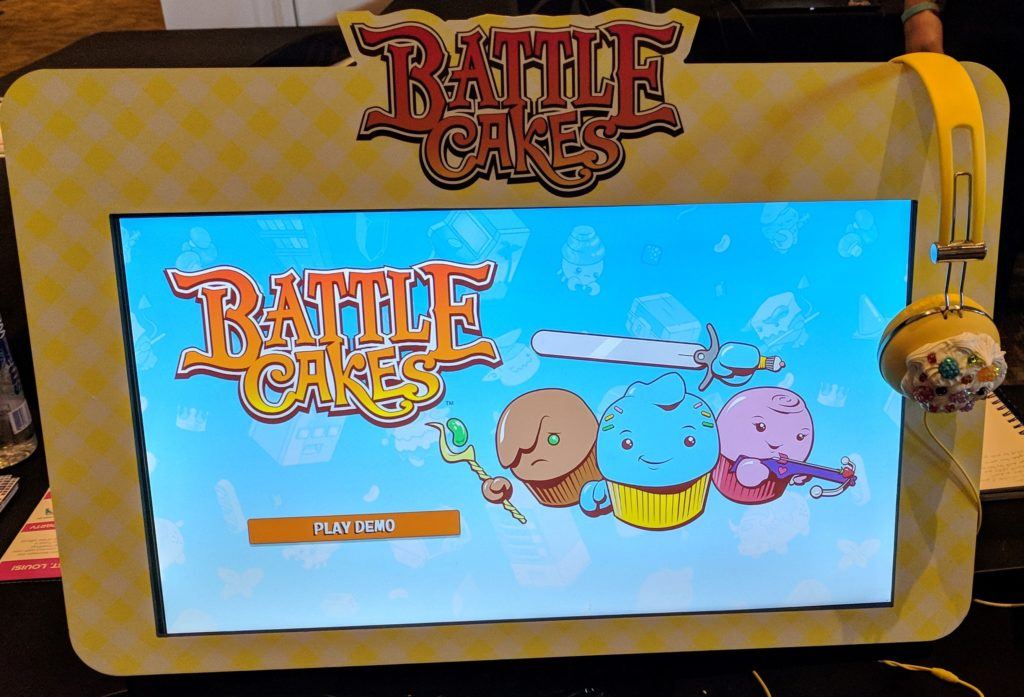 Burn Ban
A visual novel that you can download right now, Burn Ban tells the story of Twig, a mentally ill queer girl sent to a summer camp for misguided kids. Featuring diverse character designs that evoke magical realism overtones and exceedingly relatable dialog, the visual novel also boasts a unique social media feature that you can access as you progress through one week at Camp Sisquoc.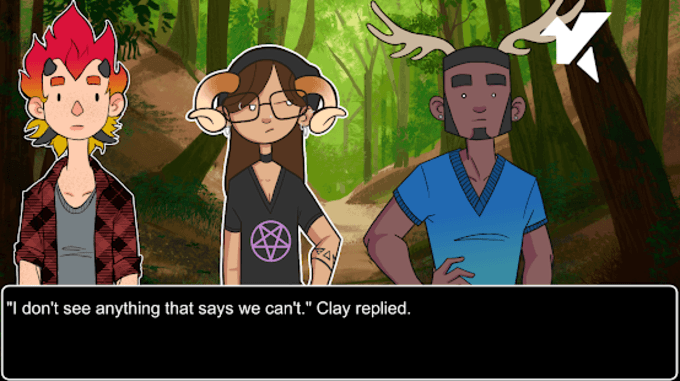 Chroma
Developed by The Owl Guy, Chroma is a puzzle game that tries to show you how smart you really are. A simple puzzle games where you use different colored balls to turn the target a particular color based on some simple symbolical logic, the game features calming music and some great "aha moments" throughout the levels that were on the floor. The Chrome Demo is available on the site, so be sure to check it out.
A Festival with a High Quality Definition of Vision
Pixel Pop was an absolute joy to partake in. I hope the festival continues to grow because it's just a wonderful playground of excited indie developers sharing their work with other excited indie developers and festival goers. It was a welcoming space and one I was honored to partake in.
See more about Pixel Pop here on their website here.
Want to get Black Nerd Problems updates sent directly to you? Sign up here!
Are you following Black Nerd Problems on Twitter, Facebook, Tumblr or Google+?