The Hollywood myth that movies with predominately minority casts aren't relatable to general (aka "White") audiences – and underperform as a result – just won't go away. Or will it? Tinsel Town executives had their collective edges snatched by the $1 billion+ performance of Black Panther and $140 million+ showing of Girls Trip earlier this year, both led by majority Black casts. And if the buzz around the Asian-led Crazy Rich Asians carries over to the box office, those same executives will want to invest in some Crème of Nature Edge Control with the quickness.
Crazy Rich Asians tells the story of Rachel Chu (Constance Wu), a Chinese-American economics professor at New York University who learns that her boyfriend Nick Young (Henry Golding) is the billionaire heir to his family's Chinese real estate business. Nick invites Rachel to his family home in Singapore to attend a friend's wedding and within minutes the news has spread globally across Asian diaspora via social media. Before they're even out of the bar, Nick's mother Eleanor (Michelle Yeoh) is calling her son to inquire about the mysterious American girl he's bringing home.
What follows is a classic tale of "Poor Girl/Boy Meets Rich Boy/Girl and Romantic Hijinks Between the Classes Ensue." You've seen it in My Fair Lady, Aladdin, and of course Cinderella. And like every story in this vein, there's a hater or two that doesn't want the outsider to overstay their welcome. In Crazy Rich Asians, that's Nick's traditionalist mother who is adamant that her son marries someone proper and take his rightful place in the family business.
That's part of the charm of Crazy Rich Asians – it's a regular schmegular degular story anyone can relate to. Who hasn't endured the scorn of in-laws or bent over backwards to impress the overprotective parents of a significant other? Better yet, who among us hasn't ever felt like we weren't good enough, be it for a lover, our family, or even a job? The fact that it's a cast of Asian actors telling that story doesn't make Crazy Rich Asians any less accessible to non-Asian audiences.
Another aspect of the film that transcends race and culture is that of belonging. Sure, Rachel is of Chinese descent, but her mother Kerry Chu (Tan Kheng Hua) is quick to remind her that she was raised in America. Rachel doesn't fully grasp the importance and consequences of her otherness until she's surrounded by Nick's family and overbearing mother. It's a similar friction that can sometimes be felt between African-Americans raised in the specter of US slavery and native-born Africans, with each group in the broader diaspora feeling alienated by the other.
Those feelings of otherness are temporarily alleviated when Rachel explores the sights, sounds, and especially food of Singapore. In one scene, the New Yorker learns how to make dumplings from Nick's mother and aunties. It's a subtle, yet huge moment for Rachel and undoubtedly for Asian-American moviegoers who can relate to this cultural nod.
But Rachel and Nick don't have all the fun in Crazy Rich Asians. Rachel's college BFF Goh Peik Lin (Rapper/actress Awkwafina) is not only hilarious, but later proves to be more of a rock to Rachel than Nick. Having come from "new money" Goh Peik Lin knows all about the "old money" families on the island, including the Youngs, giving both Rachel and the audience a much needed primer on engaging with the 1%. Awkwafina's comedic timing arguably makes her the breakout star of the film, much like Tiffany Haddish was in Girl's Trip.
Also making waves in the film are its hunky male actors, and that's likely by design. In the United States, Asian women are often fetishized as submissive sex bots while Asian men are viewed as undesirable and/or asexual. These stereotypes are unfair, undeserved, and harmful on a multitude of levels. But in Crazy Rich Asians the women are fully-realized human beings with minds of their own and the men are seen as smart, funny, and sexy.
Nick, his friend Colin Khoo (Chris Pang), and Cousin-in-Law Michael Teo (Pierre Ping) are all competing for America's Next Top Hunk as they flex biceps, flash billion dollar smiles, and flash steamy 8-pack abs. Don't believe me? Peep the audience's reaction (and maybe your own) during a certain shower scene and see how long it takes until the theater catches its collective breath. Hint: You're gonna need a minute.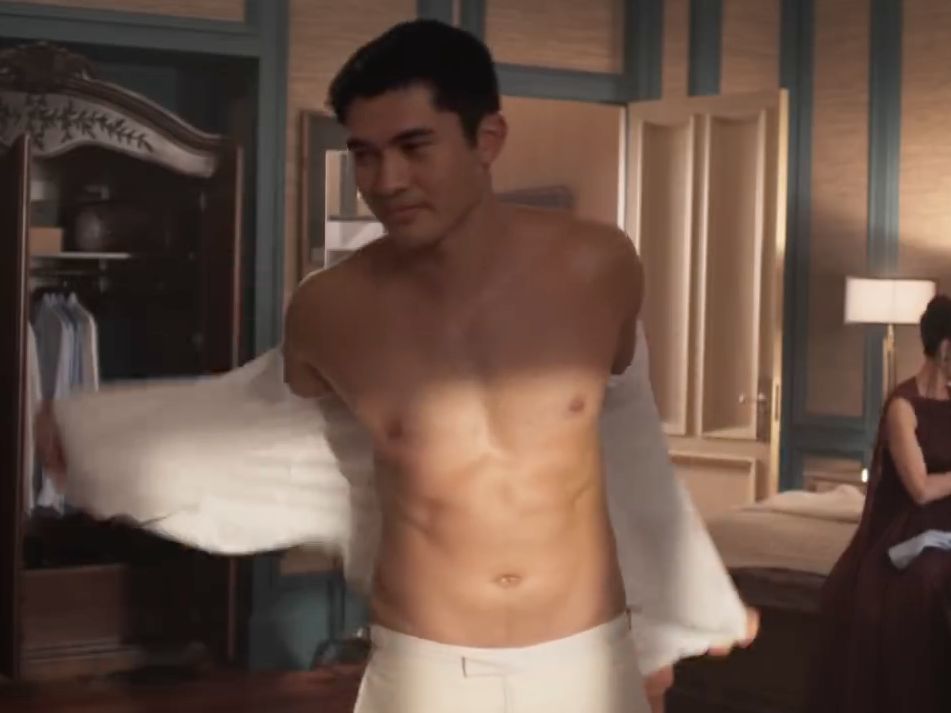 The film's one major flaw involves the storyline around Nick's favorite cousin, the glamorous yet humble Astrid Leong (Gemma Chan). Having "married up" into a wealthy family, Astrid's husband Michael (again, Pierre Png) is insecure about his own self-worth.
Despite Astrid's constant reassurances (she even hides expensive purchases so as not to make him feel inadequate), Michael still can't deal with his feelings of doubt. Astrid and Michael's story is supposed to take a backseat to Rachel and Nick's, but it's pushed so far back that its practically in the rearview mirror. By the time their storyline is resolved, you've already forgotten it was part of the movie in the first place.
While Crazy Rich Asians currently enjoys a 100% on Rotten Tomatoes, the film is still viewed in some circles as a gamble. It's the first in a Western market to feature an all-Asian cast since 1993's The Joy Luck Club and already there's talk of Asian-led shows being held up in development until box office returns are in. It's a lot of pressure to put onto one movie and it's overwhelmingly unfair. Crazy Rich Asians should be able to soar or fail on its own merits just like any other movie with a less melanated cast. Period.
No one is perhaps more aware of the pressure for the film to succeed than its director, Jon M. Chu. When Netflix offered to snatch up Crazy Rich Asians (undoubtedly a much safer option in the eyes of movie executives, Chu and his producers opted instead for full theater distribution through Warner Bros.
"We knew that putting it on the big screen meant something. Cinema meant something, telling people it is still worth your time and energy to gather your friends and family or by yourself, leave your house" and go enjoy the full movie experience.
Kevin Kwan, the author of the book trilogy on which the Crazy Rich Asians film (and possible franchise), echoed Chu's sentiment.
"I think there's nothing like that communal experience," said Kwan. "This was the first chance we had in 25 years… Goddammit! And I wanted this to be an experience that future generations could look at and say, 'Look! We achieved this. We're watching a red carpet with an amazing Asian actors walk up and down it in the same way any other Hollywood movie would get.'"
Only time will tell if Chu's gamble will pay off financially. But in terms of cultural and artistic relevance, Crazy Rich Asians has more than proven itself. And yes, its even worth paying the full, non-matinee price.
Crazy Rich Asians opens in wide release in the U.S. on Wednesday, August 15.
Want to get Black Nerd Problems updates sent directly to you? Sign up here!
Follow us on Twitter, Facebook,Instagram, Tumblr, YouTube and Google+.