Writer: Jim Zub / Artist: Max Dunbar / Marvel Comics
I see we are now referring to our main villain as The Master, instead of The Master of the World. Wise choice, we want people to take him seriously after all. Will that happen? I doubt it but it's a start. At this point, The Master is starting to come off like the Champions' resident stalker. It turns out that after Man-Thing pulled Nova and Wasp into Weirdworld, The Master followed them in, taking the opportunity to use Sam and Nadia's lost memories to his advantage.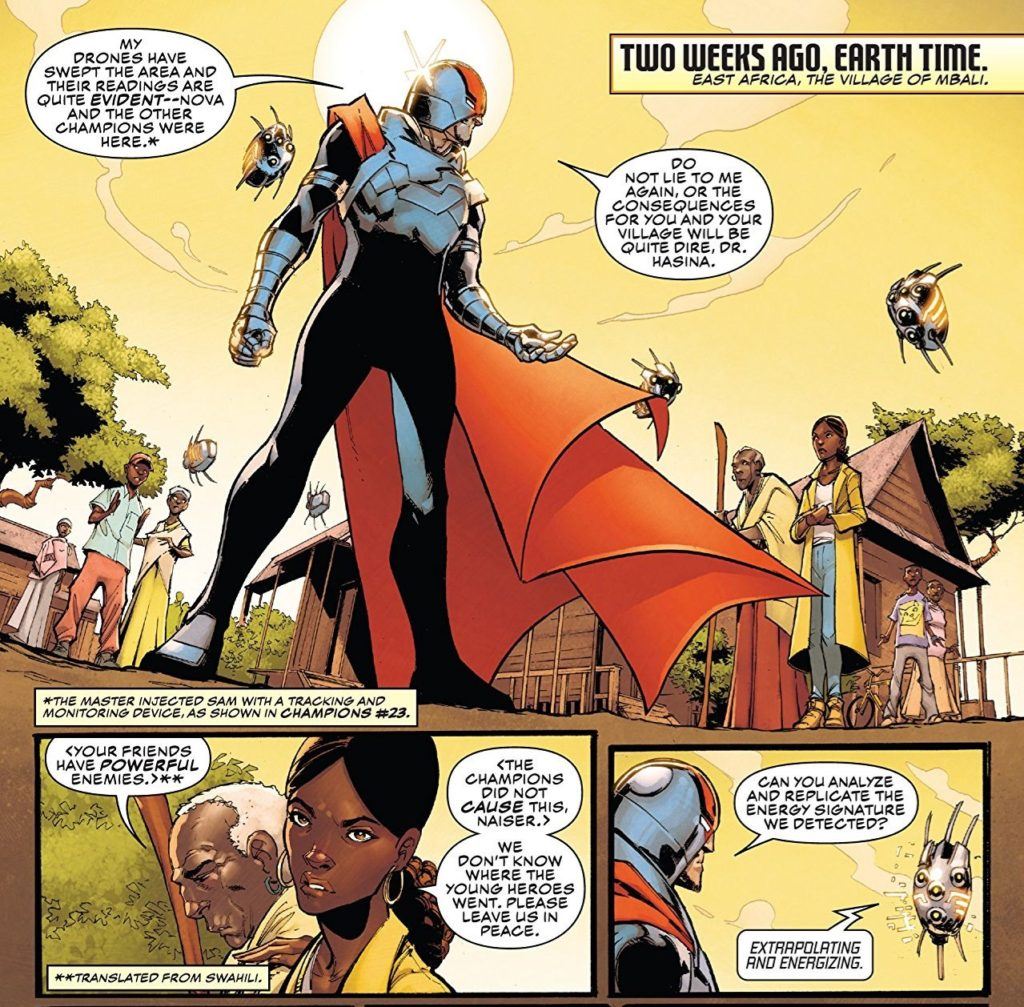 The adventures in Weirdworld continue and we begin to find out more about what going on and our heroes' part in it. Zub does a great job of world building for those of us who aren't too familiar with the current ongoings of Weirdworld. In fact, he explains it well enough that it really easy to just enjoy seeing these different incarnations of our young heroes without being confused about what's going on.
As the only member of the Champions that hasn't lost her memories entering Weirdworld, Riri is tasked with bringing the team back together. It's not an easy task, especially since Weirdworld didn't just make the rest of the Champions forget but rewrote their memories as if they've been a part of that universe the whole time. You can see the frustration in Riri as she struggles to convince Miles' wannabe loner ass. However, that doesn't stop our girl from sticking to the mission statement and bringing the team together to help those in need.
I always praise the art in Champions for always nailing the look of each heroes powers on the page. Max Dunbar does an amazing job working off of Jim Zub's story. He excellently displays each member's reworked power sets on the page, whether it's Miles webbed shadow portals or Mystic Marvel's – love the name by the way – magic spells. It also doesn't hurt to see Riri bash a few humanoid insect skulls in with her magic hammer.
This arc is a lot of fun, especially for the spectacle of it all and I'd be remiss if I didn't mention that I'm going to miss these dope fantasy fits that the team is rocking. As the team eventually makes their way to save Weirdworld, they are in for another showdown against The Master. With Nova and Wasp on the villain's side, it's not going to be easy for Riri and the team to fight back.
8.5 Kicks to the Klarn out of 10
Reading Champions? Find BNP's other reviews of the series here.
Want to get Black Nerd Problems updates sent directly to you? Sign up here!
Are you following Black Nerd Problems on Twitter, Facebook, Tumblr or Google+?