Writer: David Walker / Artists: Joe Prado, Ivan Reis / DC Comics
So, David Walker has been doing a pretty good job at reestablishing Cyborg as a character with depth (by giving him depth for the first time) in his new solo series. In addition to adding layers to Victor Stone, Walker has also established a potentially compelling supporting cast that even includes the vastly underappreciated (at least since the New 52 reboot) Metal Men. As the series' first major story arc has gone on, there has been a bit of an ebb and flow toggling between action and exposition. Will we get a different balance this time around?
Issue #4 mainly focuses on Team Cyborg getting to the bottom of the Technosapiens that have invaded Earth, trying to devise a way to defeat them once and for all. Okay, I realize there was a necessity to start explaining the threat in depth. After all, it's been four or five issues of us not quite understanding the enemy's objective, so I get that the exposition was necessary. However, I also think all the science talk really subtracted from us getting to know these characters which was a majority of the book's allure thus far.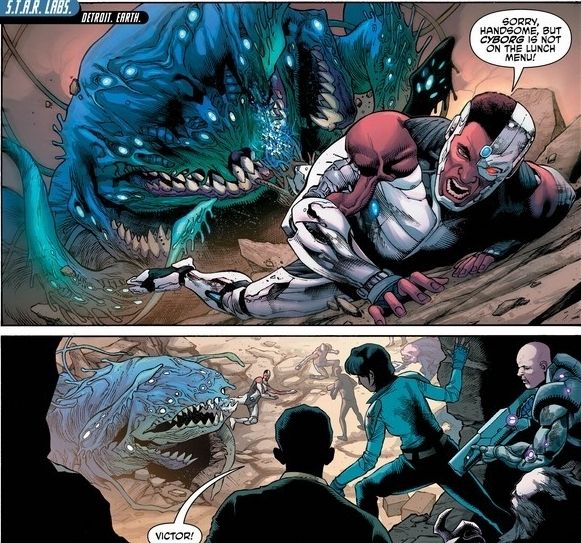 This is the same problem Jonathan Hickman ran into at one point during his run of New Avengers. There are some truly awesome concepts laid out to explore for future issues and plotlines (especially for Vic's father), but a book full of science talk is still a book full of science talk.
As for the art, the absence of Ivan Reis has become a problem. Reis basically did the layouts while Felipe Watanabe and Daniel HDR worked on the actual penciling. Meanwhile, there were four inkers on this week's issue. FOUR. There are more people drawing/coloring this book than it took to defend the Hot Gates in 300….and it STILL doesn't look as good as when Ivan Reis was drawing it.
Bottom Line: Not bad. It's like a J. Cole album: packs a whole lot of potential but doesn't do as much with it despite the huge production team involved with it.
7 Neil Degrasse Tysons out of 10
Are you following Black Nerd Problems on Twitter, Facebook, Tumblr or Google+?