writer: Geoff Johns / artist: Gary Frank / DC
As it happens in the comic book business, just when a book hits full stride and begins to barrel towards the finish, the delays hit. We haven't gotten a Doomsday Clock issue since May, but thankfully the comeback issue doesn't meander; it gives readers exactly what they need. The first half of issue #11 shows the total chaos that has happened in the wake of the culminating events.
To catch you up on the most pertinent items: Jon aka Mr. Manhattan completely washed all the superheros up on Mars. Their absence created an opening for Black Adam and his crew of metas to invade America. Putin has issued a deadline to hand over the injured Superman to the U.S., and Lex came to Lois' side claiming to have cracked this whole thing wide open. I know, it's a lot, but yo, a lot is happening. Back to the present, the full scale chaos is rendered well in the panels. Several times the news jumps from parts of the world where different phenomena or social unrest is exploding, basically just as Ozymandias had planned (we'll get back to him in a minute). It's also interesting to see how different factions react to the chaos and how invested they are in either protecting their interest or helping to save the world. Often, the two aren't mutually exclusive (looking at you Amazons).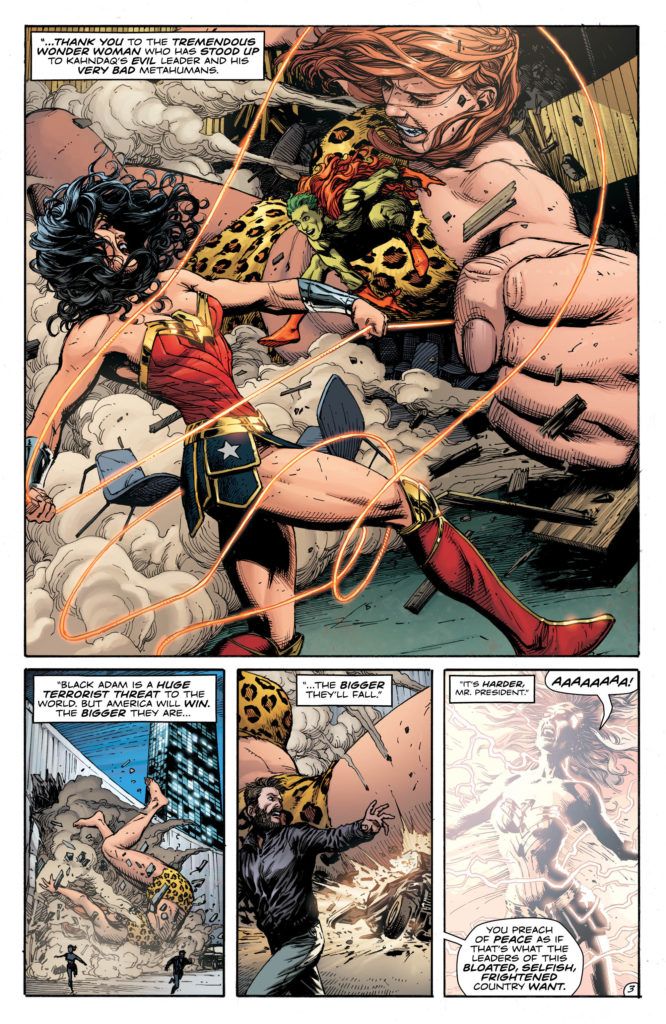 The Lex discovery is on-brand and works well to ground the story in the middle ground, explaining the phenomenon of Jon and how he has had a profound influence on their world. The show-stealer, of course, is Ozymandias finally laying his plan bare in a very "super-villain reveals his evil plan" way. But this is not self-defeating, it is more "someone needs to see the genius of this orchestra". Every situation has been manipulated to this point and by book's end the showdown that has been foreshadowed time and again is upon us. While fascinating, there is a lot of exposition to close this issue and I hope that has paved the way for all out action and resolution now that all the chess pieces are in place.
Frank continues to do the Lord's work on this book, deploying an edge and harshness to the art that the narrative deserves. The last pages are breathless, watching Superman face up against incredible odds only to come face-to-face with something much larger.
After a long delay, Doomsday Clock is back…on time? I know, that's horrible, but like the only time I'll ever be able to make that joke. If you've stuck around this long, I think we're in for a well-deserved finale.
8.8 Duplicate Photographs out of 10
Reading
Doomsday Clock
? Check out BNP's
other reviews here
.
Want to get Black Nerd Problems updates sent directly to you? Sign up here!
Follow us on Twitter, Facebook and Instagram!