"There was an idea…. To bring together a group of remarkable villains…. To see if we could become something viler…. So that when wrestlers needed heat, we could fight the matches…. That they never could."
Listen, wrestling is flourishing right now, especially in the indie scene. Bullet Club has an incredible story going on about turmoil within their faction. However, when Cody Rhodes told Marty Scurll that his Villain Club moniker should become an actual group? We were with it. Especially when we saw Marty going on an actual recruitment run. Since we'd love for this to be an actual thing. Our Black Nerd Problems wrestling enthusiasts Carrie, Willie, and Omar got together to list a fantasy draft of wrestlers they'd want to see join Marty Scurll's Villain Club.
Marty Scurll
"My homie's a magician with the Tec
Make your chain disappear and reappear on his neck"

Now, If you don't know, Marty Scurll is the purest villain in wrestling. He's every iteration of The Joker rolled into one guy. Marty can be funny and cowardly one minute (Silver Age Joker) then psychotic and violent the next (Scott Snyder / Tom King's present-day Joker). Scurll is not only a brilliant wrestler but a great heel story teller. He never wastes an opportunity — he makes opportunities himself. If the all-star heel is assembling a crew, then we'll need some folks with the talent, skill, and potential to run with the bad guy. What we need are a few true villains…
"A true villain can't be anything else… they are what they are"- William Regal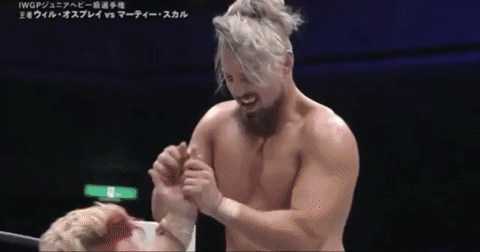 ---
Andrade Cien Almas and Zelina Vega
"A villain without remorse, who's willin' to out your boss
Forever, and take all the cheddar like child support"
I gotta credit my wrasslin sensei Big Mike for this sleeper pick. This gotta be a no-brainer for Villain Club. Andrade Cien Almas has (arguably) the best rise to villainy in NXT. Almas has always had that potential in him but it was squandered with showboating and a playboy lifestyle in and out of the ring. The transformation since Zelina Vega took Andrade under her management has been remarkable. Andrade has racked up wins and gotten more vicious in the ring. Zelina is the perfect mouth piece for him. Zelina will interfere in matches and shout "Finish Him!" Mortal Kombat-style to Andrade from the corner relentlessly. This is a great heel duo for the Villain Club.
Best part about Andrade is he isn't a (as Matt Morgan would say) chicken shit heel. He doesn't duck anyone. You want a shot at the king you can run up and get done up. Ask Johnny Gargano as Aleister Black. Almas don't give a fuck, ya man is ruthless in and out that ring. Almas done with the jokes, he's here to get this money and hurt people. That's the type of Villainaous Tony Stark persona Marty could use to back the funds for Vilain Club. Don't sleep on Almas and Vega, they bout that heel life. -Omar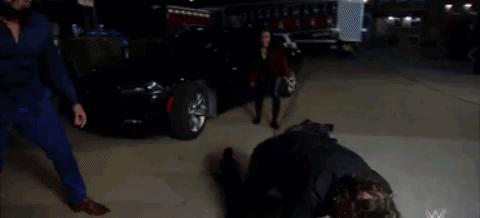 ---
Sasha Banks
"What am I doing? What am I doing?
Oh yeah, that's right — I'm doing me, I'm doing me"

When Sasha Banks is doing her, it can't get any better. She has an air of arrogance that gets backed up in the ring. Your girl doesn't fuck around when it comes to being a heel. Sasha found herself as a heel. Her story is pretty similar to that of her rival (and real-life friend) Bayley, except they're on opposite ends of the spectrum, which helps their relationship. Alexa Bliss (another heel) and Sasha are two different sides of the same coin, which elevates their feud. Sasha Banks is a heel that can adapt to and work with anyone.
Even when being a face, Sasha still does for self and can always justify her actions in her mind. A mark of a great villain is one that is or believes that their actions are justified. Plus, your girl can talk that shit man. In and out the ring, Sasha will read you for filth. Just look at the back and forth with Asuka (a hilarious a-hole heel when she wants to be) on Twitter for proof. Sasha will break you down mentally before taking you out physically. You need that in the Villain Club. The Club needs a member that's willing to seek out the beef and can cut off their bonds like Scar did Mufasa. Sasha Banks in heel mode is like watching a sunrise over a battlefield. -Omar
---
Mia Yim
"Fuck you up and ya mans
I smack you like a b****, n****, that's open-hand"
First and foremost, put respect on Mia Yim's name 24/7. Mia Yim is the deifnition of a work horse. Look at her evolution, man. Your girl been doing this for a minute. Hero? Villain? Face? Heel? It don't even matter, your girl is seasoned enough for it all. Mia stay lively in the ring and her body of work speaks for itself. Mia's matches and intergender matches are proof that your girl's heart pumps no fear. She'll fight whoever, whenever (especially if the price is right). You need that on the squad. Your girl been in intergender matches against men takin' pile drivers, rolling elbows, and laughing in the face of kayfabe death. Respect game.
Prize fighter Mia is a subtle villain. She's swayed by the green like a mercenary. You can't have too many in your face blatant bad guys. You need that calm relaxed heel that can turn that killswitch on when that bell rings. Your girl a natural heel (check out her IG comments with Shelton Benjamin for proof) when she wanna be. Mia could turn that heel knob up or down depending on where the volume is needed. She's the most fearless wrestler in the room, give her that Villain Club jersey. She got that bandit bandanna across the face so you know it's real. Mia will count stacks while beating your ass, ain't that right Mia? -Omar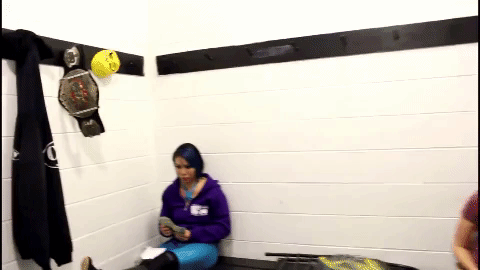 Chris Jericho
"I am the resurrection, I am the life"
Chris Jericho is one of the greatest performers of all time. From his humble beginnings to where he is now, he's constantly shown that he can adapt to each promotion and entertain different audiences. He has an uncanny ability to play a heel and a face to a tee while providing us with a beautiful depiction of a hero and a villain. Why would Chris Jericho be a perfect addition to the Villain Club? Well that's easy. Because he's Chris Jericho.
A villain needs to have a few key aspects: villainy (duh), intelligence, and character. The best villains are usually smarter than the heroes. Maybe they're more experienced or they can manipulate people around them without them knowing it. Jericho's smiling man return is a perfect example of this. What about intelligence or maybe feigned intelligence and arrogance? Jericho's suit persona of using big words for no reason and his run as undisputed champion created real heat for him. His entrances during that run were godlike. During these runs, Jericho made calculated moves. Calculated moves perfect for a true villain.
Alright, alright what about character? Jericho has reinvented himself more times than most wrestlers have had a decent pop in their careers and they've all been hits. He also has had many villainous hairstyles. From taming lions, to taking names, Jericho could add a distinct character to the Villain Club and truly Break Down the Walls. -Willie
Io Shirai
"Charged up like a Tesla, Out here masked up like a Mexican wrestler
This a gift from God baby, I'm just a messenger, Elevator flow, 47 gon' level up"
Because men make the world unsafe place, it is not uncommon for womenfolk to check in on each other. You know, when going on dates, meeting friends and acquaintances from the internet, traveling alone on trips, women have a friend on speed dial who can come and help. We all have an S.O.S. who will show up swinging.
In an alternative universe, Io Shirai is the S.O.S that I got on speed dial. I'm lying. You know millennials don't call people (unless the dreaded I-Have-To-Call-And-Make-A-Doctor-Appointment-For-Myself-Ughhhhhhh call). But you get me. Shirai is 5′ 1″ but I'd trust this woman to get me out of just about any sketchy situation. At any moment she will come where I need someone to catch hands.
Io is one of the best wrestlers on the face of this planet: when she moves she'd like a rocket. She's like a stroke of lightning. She's like the power that urges white people to heavily police public spaces and call the cops when Black people show up. When she's on, she's on. This woman's whole body is a weapon but I'd be wary of her knees, her kicks, her suplexes and my God, my God anytime she's jumps off a ring post, ring rope or any tall structure. (HELLO HITOKIRI, THE ASSASSIN!)
I've seen her take some hits from opponents larger and stronger than her: if there is a way to take a clothesline gracefully from the likes of Piper Niven and Jazzy G, she has done it. Don't get it twisted. I know there are a lot of photos of her out there smiling with kittens and smiling with all the champion belts she's earned over her storied career. Some of you uncultured swine might see her Luchador-inspired masked years and say she looks goofy — She Will Beat. That. Ass. And. I. Will. Watch.
One of my favorite moments that sealed the deal for in my heart? Defeating an opponent with Kairi Sane's signature taunt & diving elbow while Kairi was outside the ring, looking on fuming in I'm-So-Not-Impressed-Land. Io Shirai could take you to Suplex County effortlessly for just one "Well Actually" or Moonsault the Manspreading Out Of You. I'd be here for it. -Carrie
Bianca Belair
"Black girl magic, y'all can't stand it,
Y'all can't ban it, made out like a bandit.
They been trying hard just to make us all vanish,
I suggest they put a flag on a whole 'nother planet"
Sure Bianca Belair has only been wrestling for a few short years but she certainly has presence and personality to help make up for her inexperience. Not to say that she's terribly green, in fact my first exposure to her as a competitor in the Mae Young Classics tournament last year left me impressed when I found out it was what, her fourth or fifth televised match? She's super athletic and her finisher, a 450, is a beautiful sight.
Also she's fine as all hell. If we were two drunk girls in a bathroom at a club or event, I'd totally tell her that's she's too incredibly pretty. Issa job to look at her in action and not fall in love. Everything about her: from her stunning physique, to her sparkly ring attire, to her smirks and gestures to the confident stroll she puts on to the ring — it just screams a hell turn in the making as end game.
Seriously.
What I love the most is that she is so sure in herself. From when she has an opponent up on her shoulders showcasing her strength (Did you know she can deadlift 225 pounds?!) to her show off nature — y'all remember the time she was about to put Kairi Sane in a hold where she had her upside down in the air and stopped to just to lift her a few times, showing off them gorgeous arms, before driving her down to the mat? SICCCCCCCCCCCCCCCCCCCCCCCCCKKKKKKK!
Even her name, Bianca Belair screams money, screams extra-ness, screams — yeah I'm going to say it — all that and a bag of gourmet chips from Whole Foods with champagne if you like cause, she totally has that vibe. I so look forward to seeing her grow as wrestler, as an entertainer and as an badass babe who will walk right into into Villain Club without knocking, without an invitation and sit in the best chair. Lastly, I will never get over the hair whip she does — it gets such a nice a pop from the crowd when she does it. Bianca: be all you can be and be the heel I want for you. -Carrie

**Honorable Mentions**
CM PUNK

Look fam, you knew this one was coming. There's a little door inside all of our hearts that would open wide open and we would cease to feel not dead inside if Punk came back to wrestling. Where to start when laying out all the accolades on the table for this man…just know that one of the best on the mic and in the ring would be welcomed in this stable and would turn the wrestling world upside down with a surprise announcement like this. MISS. YOU. PUNK.
Tetsuya Naito

Arghhhhh! I went back and forth about including Naito on this list. I had to talk this over with Big Mike. Naito will do heel shit to get under his opponent's skin with utter nonchalant disrespect. I feel he's chaotic neutral (chaotica Tranquillo, if you will). Naito is justified in his actions due to his story and the betrayal from New Japan Pro Wrestling. He's the Eric Killmonger of NJPW. I can't call a justified man a villain. There's so much more to his story than that.
Cody Rhodes

Cody is doing the best heel work in the game. Period. Grosse point blank period. He's the obvious pick for Marty's club. You'd expect that. So we had to get'emhim in the honorable mentions. Cody's heat game is impeccable. Cody not only became a great wrestling heel but his tweet about needing to give Black Panther another shot made him an ultimate nerd heel (perhaps the first true nerd heel wrestler ever?) in some folks eyes. Cody Rhodes is the best there is at what he does, and what he does isn't very nice is get heat.
Tell us who your pick for Villain Club!
Are you following Black Nerd Problems on Twitter, Facebook,Instagram, Tumblr, YouTube or Google+?