Recently, a former coworker, a white guy, posted on the Book of Faces that Blazing Saddles is the best western ever made. In the thread that followed, inspired no doubt by the absolute trash fire that is our current political and social reality, someone made the comment that it could never be made today. This in turn inspired my own contemplation of other films that indeed would not be made in today's political and social climate: among them, Dog Day Afternoon, a 1975 film that helped solidify Al Pacino's career; 9 to 5, a feminist comedy that holds up and is painfully relevant more than 30 years later; and 1985's Real Genius, a sci-fi comedic romp that expressed strong anti-war sentiments in what turned out to be the last years of the Cold War. But what occurred to me deep into the my rumination about films that would have a hard time in Hollywood today was The Legend of Billie Jean.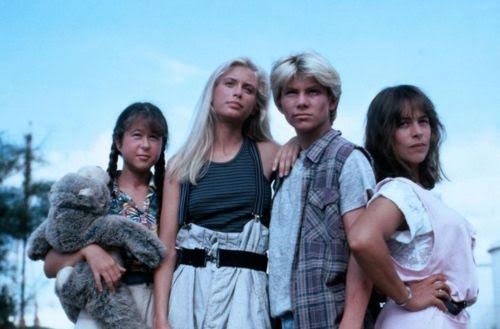 When I started thinking about The Legend of Billie Jean, I wondered if it would actually stand the test of time. It's not a great film, but I hold that it is still an important film. (And the soundtrack is hot fire! Pat Benatar's anthemic "Invincible" is the theme song. I mean.) I think the first time I saw it was when I was 10 or 11. My mother was and is someone who has a television on at all times, regardless of what's being broadcast. On some cable station was this 1985 film about a teenager named Billie Jean Davy (Helen Slater) in the city of Corpus Cristi, Texas, dreaming of a better life in Vermont with her younger brother Binx (played by Christian Slater, no relation). The film's action begins when Hubie, a local bully, sexually harasses Billie Jean and Binx tosses a milkshake in his face. Hubie then steals Binx's motorbike and he and his friends beat him up badly when he goes to get it back. Billie Jean is determined that Hubie and his father, Mr. Pyatt, are going to pay up the $608 to repair Binx's now-trashed bike.
This is when all hell breaks loose in the most 80s, pseudo-feminist way possible: Of course, the apple didn't fall far from the tree, because not only does Mr. Pyatt not hand over the money, but he instead offers Billie Jean a "layaway plan" and attempts to rape her. Binx and their friend Ophelia happen to come into Pyatt's shop at that precise moment and interrupt the assault. Binx has found Pyatt's own gun in the cash register and accidentally shoots him. Pyatt claims that Billie Jean and her brother came to his store to rob him at gunpoint, and… we're off.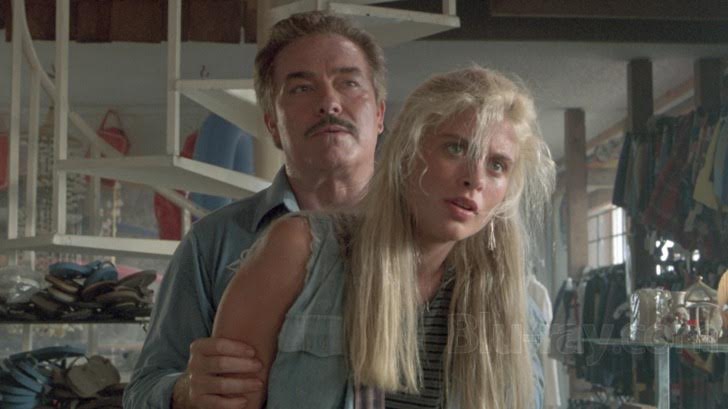 For the rest of the film, Billie Jean, Binx, and their friends Ophelia and Putter are fugitives running from the police in a very 80s station wagon. Being pretty and blonde, Billie Jean's face is plastered all over the evening news–with a reward for her capture. As she outsmarts the cops trying to catch her (and Pyatt), she develops a following, particularly among young people who believe that she's being framed. The district attorney's son Lloyd joins the crew. He believes they're innocent, but he also hates his father. So he pretends to be a hostage to help hold off the police. He's also falling for Billie Jean, of course, because what kind of 80s teen film wouldn't offer its lead a love interest?
One night while hiding out, they find an old movie on T.V. about Joan of Arc. A little while later, when Billie Jean emerges from their room to record a video asserting their innocence and giving their list of demands (that $608 for the motorbike and an apology from Pyatt–because "fair is fair"), she's cut off her long, blonde hair and is wearing one dangly earring and parachute pants. Instant teen idol.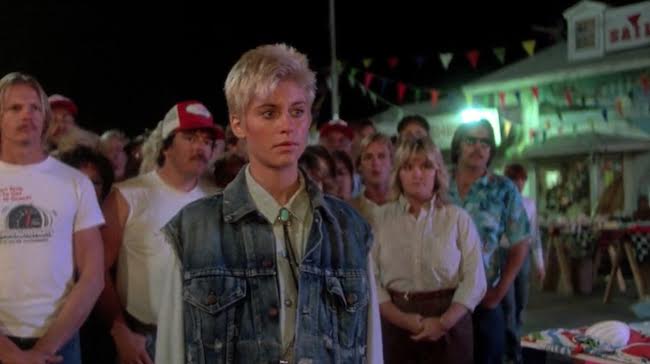 And this is the moment when I remember as a kid falling in love with this film. How could I not identify with this girl fighting against the system, against sexism, and demanding justice for her family?
By the film's end, Billie Jean's celebrity has translated into t-shirts and posters–and Pyatt himself is cashing in on her image, selling schwag with her face on it in his own store with a statue of her erected on the roof. Appropriately, it all goes up in flames, and the crowd gathered to see Billie Jean watches it burn, tossing their hats into the fire.
Like I said, it's not a great film. Even as the film critiques sexism, one of our first images of Billie Jean is of her dripping wet in a bikini and tank top. Apparently nothing but white people lived in Corpus Cristi in the mid-80s. And the acting is… well, one highlight of the cast is a young Yeardley Smith, the actress who voices Lisa on The Simpsons, playing Putter, the youngest of the group and still really a child. During one of my favorite scenes, a high-speed chase, bullets whiz through the station wagon. Billie Jean turns around and screams, thinking Putter's been shot. It turns out she's just gotten her very first period. In a following scene, while Billie Jean talks to Putter about what it means, Putter blurts out, "When can I get a diaphram?" Yeardley Smith seriously steals nearly every scene she's in.
I can say that after watching this film again, it's worth the hour and a half. It's a righteous, funny rollercoaster, and in today's political climate, its naïvete is refreshing–and part of the reason I don't think it could be made today. Feminism has become too much of a cultural (and economic) commodity to make a film critiquing that very fact.
Are you following Black Nerd Problems on Twitter, Facebook, Tumblr, or Google+?