Recently at work we were having a meeting and began with the icebreaker question (I work at a touchy-feely nonprofit that does icebreaker questions) "What fictional world would you want to live in?" Several came to mind – the Earth kingdom of Ba Sing Se was my answer – but I knew one place that would never be chosen: The 7 Kingdoms of Westoros, Essos, or anywhere conceived in A Song of Ice and Fire. Westoros is a terrible place, so no one could ever–
–my thought was interrupted with a coworker saying its name.
I awed at the answer, from a woman no less, because by now we're all familiar with Westoros as a place that revels in its cruelty. George R. R. Martin has built a world of violence, cynicism, and hopelessness so extreme that there likely isn't a person in its realm for which you would substitute yourself. Can you think of even a single character whose life you would want to have?
Yet here we all are, 5 books and 5 seasons in, still engrossed in a series that long abandoned consideration for many of its fans. Instead, it actively plays against them like a 5th grade boy whose immaturity seeks new ways to repulse the girl whose attention he wants. I watch a program that disgusts me so much on a regular basis that I've come to expect it; the question is never "will Game of Thrones repulse me today," it's a matter of how it'll do it this time.
[quote_right]"George R. R. Martin might very well be the best self-publicist of all time."[/quote_right]One of my best friends abandoned the books years ago because he wanted to enjoy and support media with less explicit violence. At the time I thought him prudish, but now I find myself at my own wits end, rethinking the merits of his decision and questioning what it would take for me to change. Are we promoting more sadistic worlds like Westoros in future books, movies, and TV shows by our own unwavering loyalty to this one? George R. R. Martin's work is some of the vilest many of us have ever read, with its depths of cruelty so deep that it feels both like a gimmick and an overused violence-porn trope that has, to some extent, desensitized us all. And in all this, he somehow remains above reproach and relatively free from the levels of criticism you'd expect because, well… I honestly don't know.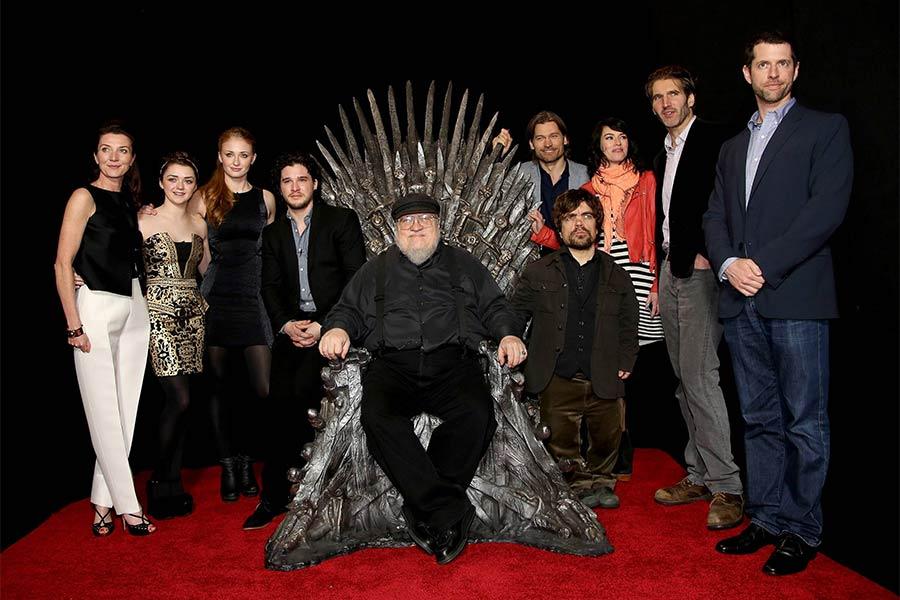 George R. R. Martin might very well be the best self-publicist of all time. No one navigates an interview and harsh, legitimate criticism quite like he does. I've had strong convictions against a particular theme in A Song of Ice and Fire, watched a George R. R. Martin interview, found myself agreeing with his points, and walked away feeling woozy and oddly satiated like the Sultan of Agrabah after looking into Jafar's snake staff. I know I'm being manipulated to abandon my gripes and yet I still succumb to the manipulation. He's his own Littlefinger of planet Earth.
[quote_left]"Watching Game of Thrones is becoming an exercise in sheer loyalty more than pleasure."[/quote_left]And there are many gripes to be had. Season 5 alone has been wrought with problems. The Sand Snakes are a disaster at every step, starting with their original casting choices avoiding any dark-skinned women, to their poor introduction and overdone brusque acting, to their underdevelopment and campy fight scenes. Dany's story plot is largely useless, having undone most of the character development established early in the series by her refusal to go to Westoros. The Ramsay-Sansa-Theon plot is testing even the most loyal fans' patience. Much like the entirety of Feast for Crows and Dance with Dragons, watching Game of Thrones is becoming an exercise in sheer loyalty more than pleasure. At least one good thing has come from the Sand Snakes.
Well that was a shambles of a GoT episode. "We will break canon! Improvise! Edit! Except for violent sexual assaults! THOSE MUST STAY."

— G. Willow Wilson (@GWillowWilson) May 18, 2015
I don't disparage the writers for adapting from the original source material, but repeatedly using revulsion as a plot tool is equally contrived, lazy, and exhausting. Yet while other shows are more easily abandoned or books set aside, I haven't been able to do the same with Game of Thrones. I've spent so many hours on its characters that it's too late to ever divorce them now, [quote_right]"[They] can be flippantly insensitive and unresponsive to fans, because I know, you know, and they know we're not going anywhere."[/quote_right]or perhaps it's so engrained in popular culture now that I would feel too left out if I quit; regardless my subconscious rationale, the Game of Thrones empire seems to have become the entertainment equivalent of banks that are too big to fail. No matter how much the show pushes me to disparage it, I still find myself watching in a love-hate media relationship that is only so complicated because I haven't been able to do what I've done with Arrow, or Gotham, or any other show that loses its audience – and that's walk away. And so the series can do anything it wants without consequence. And so it does.
Anything that conjures this much emotion and anger makes it good; "good" in this sense meaning creators are doing something right to keep readers and viewers invested. I can talk ad nauseam on the reasons I hate all things Mockingjay, but doing so only proves the worth of The Hunger Games series. A Song of Ice and Fire is a great series, and Game of Thrones a great show. My worry is the level of commitment from its fans means it can be flippantly insensitive and unresponsive to them, because I know, you know, and they know we're not going anywhere.
So I'm glad people are talking. I'm encouraged that viewers are fed up with poor representation, sexual assault as a cheap writing tool, and overdone violence-porn. For many of us, if we're honest with ourselves, the show has been living off its name more than its quality for a short while now. I'm doubtful Game of Thrones will change, but other writers can and will take note, and we'll all have better entertainment for it in the future. I'm glad people are telling the shows writers that we all aren't under their spell, even if I might be for a while longer.
Are you following Black Nerd Problems on Twitter, Facebook, Tumblr or Google+?