First off, let's get one thing right: Jay-Z has been dropping A1 videos of the highest woke content this entire year. Moonlight and The Story of OJ in particular were insanely good. And yes, I know, HOV petty for making all these videos Tidal exclusives, but at least he's giving fans their money's worth. He caps off his polarizing, highly political, and visual stunning run by enlisting Ava DuVernay to direct an ambitious look at a future.
"The wretched of the Earth do not decide to become extinct,
they resolve, on the contrary, to multiply: life is their weapon against life, life is all that they have."- James Baldwin
This 8-minute video short film starts off in the year 2444 focusing on the family dynamic and the fact that every fam makes mistakes, has unrealistic expectations, and is filled with jealousy. Michael B. Jordan out here lookin' like the regal black Jedi we wish we had, draped in black in white with a slight hint of ivory blue talkin' about respect and lack of judgment. He big mad that Joan, played by Westworld's phenomenal Thandie Newton, is the head of the family instead of him. She slaps him for his insolence and he grabs at her before seeing his sister's newest ting, Moonlight's Trevante Rhodes, in bed. They start fighting until he chokes Jordan out, but the matriarch of this fam ain't gonna let something like that slide because "it's not his, it's not yours, it's my throne". She wipes a final kiss from her lips and walks out her room, bodies littered about with her blue hair shimmering and blade still slick with the warm blood of her former lover.
The rest of the video is set up by Jessica Chastain questioning Jacob and Bird (Irene Bedard), the 2 sitting presidents born from two mighty families. Power's Omari Hardwick plays Jacob who has to answer questions about a murder in his family that helped him ascend to the top, despite running on a platform of peace. The Confessional Papers and New Constitution are the governing doctrines that people abide by, but it seems one of his relatives was not following the new standards.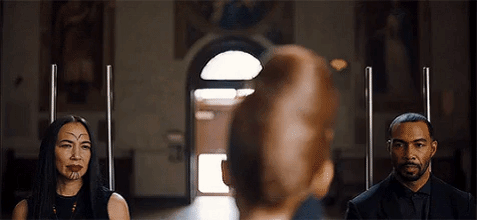 Luckily, Jacob (Ghost if you nasty) is at the top of his political game speaking about his family's dedication to order and fighting for the law. We quickly flashback to the year 2148 then 2098 where we see a reverse in progression and slight breaches of peace to an all-out war on metallic horses with crossbows and weapons that appear to be inspired by medieval times.
Co-President Jacob talks about the worst of us not defining us and we finally flashback to 2050 where one of the chief architects of Jacob's time, an adult Blue Ivy comes together with revolutionaries from all walks of life to revise the constitution over four hundred and forty-four (444) years before this dual Prez system. Jacob speaks in voiceover form about a time where people thought making America great again was also about making us afraid of each other. This gargantuan debate between the greatest minds of the world; all women, of course, is absolutely groundbreaking and will terrify your male privileged co-workers when the discussion goes down after the holiday break, but don't let that stop you. The conversations need to happen.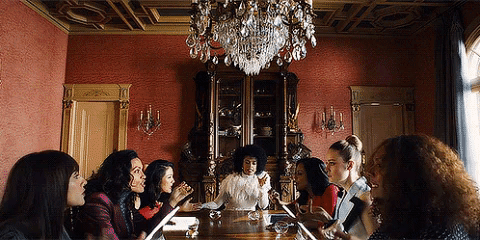 These beautiful, fierce, and unapologetically outspoken women wrestle with the decision to nix the 2nd amendment and the ramifications it could cause, keeping it in place. The debate ends with the foremother, played by This is Us star, Susan Kelechi Watson, closing out the group's arguments by straight up dropping 13th Amendment barz and stating that America is a family and the whole family should be free. She then brings up her father aka Jay-Z saying, "Nobody wins when the family feuds".
President Jacob owns that they haven't lived up to the promise that Blue and crew laid out for the future. But "we can rise and up and shine again. We just have to remember from which we came."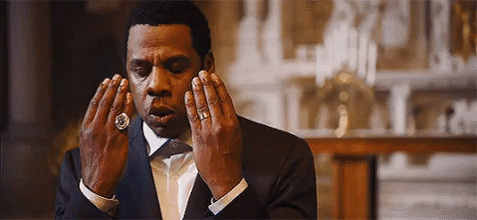 The music plays as Jay Z hops in the confessional booth and keeps it a hunnit for all to see. He's doin' everything most men can't/won't; admitting that he'll fuck up a good thing if an amazing woman lets him. Meanwhile Beyonce slays the entire cathedral, as she gets on her Queen Ramonda Wakandan flow serving one smize after another looking like an African Goddess in human form. Baby Blue Ivy looks on, taking notes as she plans her own ascension to the throne.
Everything about this video was current society shattering and it could not have been put together by a more powerful trio. Don't even get me started on the star-studded supporting cast. Here are just a few more of the amazing talents that brought this video for the ages to life: Rosario Dawson, Brie Larson, America Ferrara, Rashida Jones, Mindy Kaling, Constance Wu with the video being scored by Flying Lotus.
I loved every second of the 5 1/2 minute short. The specific use of certain colors and royal atmosphere of the futuristic shots were exceptional and the music video for the Family Feud track served to illuminate the apologetic lyrics and elevate Beyonce to near biblical heights.
Are you following Black Nerd Problems on Twitter, Facebook,Instagram, Tumblr, YouTube or Google+?