The bots are back with another banger, and this time our crowned Nigerian Prince of Action Films, John Boyega, is dropping scalding hot Jaeger bombs on all these dusty Kaiju foes in the new trailer for Pacific Rim: Uprising.
We start with Boyega as Jake Pentecost, son of decorated Pan Pacific Defense Corps Marshal Stacker Pentecost, taking a little timeout in a jail cell. His adopted sister Mako Mori, played by Rinko Kikuchi makes her connection to him, telling him "[his] father always said he wanted [him] to be a pilot."
We learn that Jake's been taking it easy these past few years after the last global crisis, turning up at house parties that sit next to giant Kaiju skeletons (in dope ass African shirts, we peeped) instead of training to step into his father's cybernetically linked footsteps.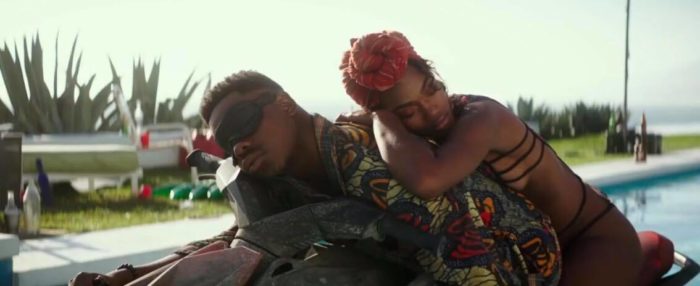 Need this image painted and put up in the MoMA.
But the Kaiju are back, they been putting in extra reps at the gym and they ready to pull up and wreck everything in sight. So Jake's gotta shake off the party boy syndrome, get his life and lead a new generation of Jaeger pilots into battle.
This. Trailer. Is. Bonkers. We got Jaegers tumbling outta buildings. We got Jaegers jumping over skyscrapers swinging giant electric whips. We got Jaegers tackling other Jaegers off icy cliffs. We got…Kaiju strapped with Jaeger tech!? These monsters have definitely leveled up, and it's gonna take a lot more man (and woman) power to put the paws to they jaws.
And can we talk about the soundtrack? The battle for Earth is set to the voices of Vince Staples and Tupac, who says "Cause I wanna get it on 'til I die" so many times in this trailer I wouldn't be surprised if his hologram shows up in Jake's cockpit as his computerized A.I.
BUT REALLY, HOW F***IN' BLACK WOULD THAT BE!?
The world is ready for Pacific Rim: Uprising. It looks bigger, the stakes are higher, and it just looks like a fun movie. March 23rd can't get here soon enough.
Are you following Black Nerd Problems on Twitter, Facebook,Instagram, Tumblr, YouTube or Google+?