Writer: Chip Zdarsky / Artists: Miguel Mendonça and Enrica Eren Angiolini / DC Comics
This book has been about protecting Lobo at all costs. With a premise like that, you've gotta know that something is going to come and stop that goal from being achieved. This is that issue, or at least the issue leading up to the issue where that's gonna happen.
Justice League: Last Ride #5 is all action, in both its present and past stories.
In the present, the Justice League face an army of Manhunters and bounty hunters led by a Cyborg Superman who is controlled by Brainiac. There's hella layers to the villainy.
Simply put, the League is out of their depth. Someone leaked their location and with the team somewhat split up, it's going to be an uphill battle keeping Lobo from the clutches of Brainiac. This is what I love about standalone books like this. They exist outside of the grand narrative so they're able to take more risks and swing for the fences in wider breadths. Brainiac Cyborg Superman is an insane idea, and it's nice to see it exist as its own thing.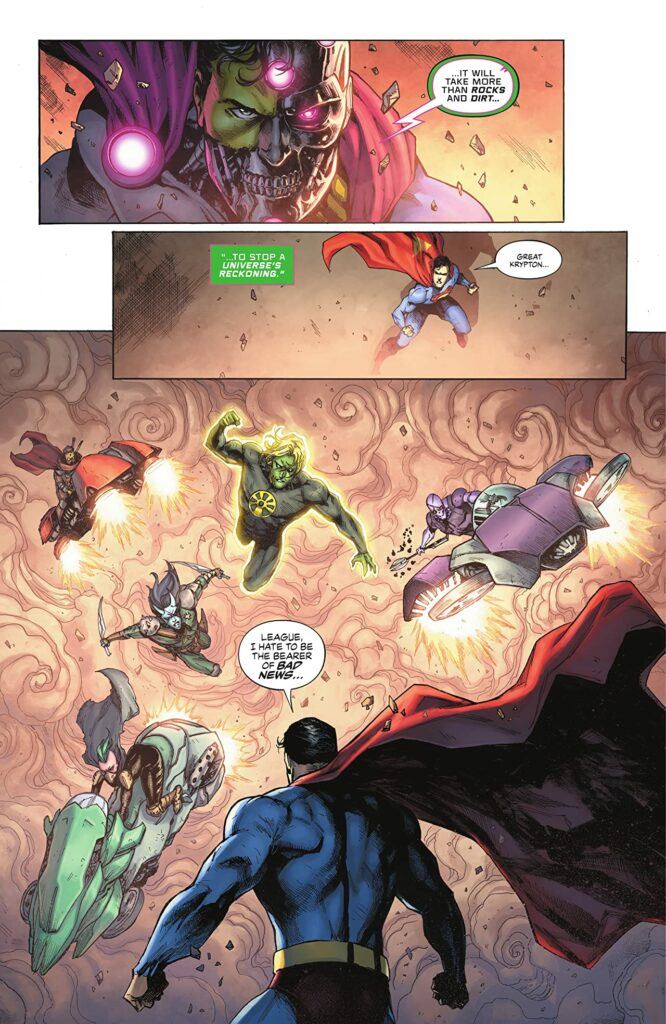 In the story set in the past, we see the aftermath of J'onn dying, a fight between Batman & Superman (no Martha), and Darkseid's seize of Oa and the Central Power Battery.
I won't go into it all, but all I've got to say is Darkseid is… that guy. This man is dominance incarnate. What he wants, he gets, and Zdarsky really knows how to weave his presence beautifully into this book. You'd think characters like Darkseid would be easy to write. But it's because he's so popular and so defined that makes that the opposite. At least in my opinion. Zdarsky has done the work to make his version of the character fit into the larger tapestry of what we've come to know and expect from him. He's done that with the whole Justice League, to be honest.
We all know the popular "Darkseid is." line. It's eerie and ominous and reassures dominance. And this book plays with that line masterfully: Darkseid is power. It's simple and on its own doesn't have a lot of impact. But coupled with the image of the central power battery exploding and Darkseid absorbing all of its energy like a souped up Thanos with the Infinity Gauntlet, that line is chilling. Mendonça and Angiolini were in their bags for that scene.
9 Superhero Maneuvers out of 10
Enjoying Justice League? Check out BNP's other reviews here.
Want to get Black Nerd Problems updates sent directly to you? Sign up here! Follow us on Twitter, Facebook, Youtube, and Instagram!