Until now, Matthew Vaughn has avoided directing sequels to his own films. He was in line to change this by directing X-Men: Days of Future Past, after directing X-Men: First Class, but jumped ship to reportedly make the first film in this series happen before someone beat him to the idea. The decision paid off for everyone involved as Kingsman: The Secret Service was a surprise hit and won big in the box office. The combination beautifully depicted fight scenes and big performances proved potent. Luckily, both of these are also present in Kingsman: The Golden Circle. Unfortunately, the sequel lacks the human element that made audiences fall in love the first time around while ignoring the clear flaws.
After becoming an official Kingsman in the first film, Gary "Eggsy" Unwin is now a seasoned agent in the revitalized organization. He's in a relationship with the princess he – um, *cough*– got acquainted with the last time we saw him. The happy times don't last long, however, as a plot to destroy the organization quickly goes into effect. This requires Eggsy and Merlin to find reinforcements in The Statesmen, a U.S. organization similar to their own. Y'know, if you switch out the suits, oxfords and Arthurian code names for boot-cut jeans, cowboy boots, and code names like "Tequila," "Ginger Ale" and "Champagne." *shivers* The film is still fun to watch, especially the last half which is full of the kinds of action scenes that stole the show. Although, it should be stated nothing comes close to Colin Firth massacring an entire church.
Oh, speaking of Colin Firth…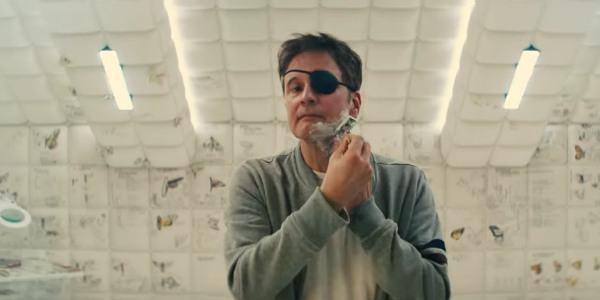 I never thought I would say this, but we got way too much of him this time around. Especially considering that he spent most of the movie getting dragged through the obligatory hero's nadir that comes with being brought back from the dead. The worst part is that so much focus was given to Firth while newcomers such as Channing Tatum, Halle Berry, and Jeff Bridges were severely underutilized. In some cases, embarrassingly so. And don't even get me started on how dirty they did my girl Roxy (Sophie Cookson)!
It took me a moment to put my finger on it, but there's one key issue with Kingsmen: The Golden Circle. The first film had the hook of watching Eggsy enter a new life, avenge his fallen loved ones, and reach his true potential, all at once. The Golden Circle missed the mark on all of the above.
Eggsy's no longer a fish out of water, so that plot device is gone. He starts the film off with a wild fight scene to show just how far he's come, so it's safe to say he's reached his potential. And, most importantly, his main personal motivation for saving the world is saving a relationship the audience has no real reason to care about. I was actually taken aback when Tilde appeared on the screen because I viewed her as a throw-away character the first time around. [And don't even try to tell me he did it for the fallen Kingsmen because they moved past that issue in record time.]
But, as I said, The Golden Circle was still enjoyable if you're just looking for some good action and a story that moves from point A to point B. Pedro Pascal stood out most among the newcomers, Elton John was the f*cking TRUTH and we got to see more puppies! Because let's be honest, we were all hoping we would.
Oh, and I now have a newfound appreciation for John Denver's "Take Me Home, Country Roads" and you're likely the kind of person to throw kittens into rivers if you don't feel the same after watching this.
Are you following Black Nerd Problems on Twitter, Facebook, Tumblr or Google+?