While I love wrestling, I have to admit it's just recently that I've begun researching in order to know more about the female pioneers of the sport, past the Fabulous Moolah and more recently Mildred Burke. Sisterhood of the Squared Circle: The History and Rise of Women's Wrestling is a good resource, by the way. In the Mildred Burke chapter, (Ethel Johnson, Marva Scott, Babs Wingo, Louise Greene, Kathleen Wimberly and Ramona Isbell are mentioned) You can cut your eyes at me when I say women had more obstacles having and maintaining careers as professional wrestlers in the Western World but on some level you, too, know it's true.
Some of my favorite entertainers in the ring from my childhood included women of color like the biracial badass, ultimate heel (and queen of my heart forever) Aja Kong. I remember the pride I had seeing Jacqueline win the WWE Women's Championship when it was reintroduced in 1998 (the first!) and then the cruiser-weight title belt later. (do you remember the dab she did before accepting her place in the WWE hall of fame?! ICON.)
There was also Midnight with her gorgeous bodybuilder physique, who often came around with Booker T and Stevie Ray when they were better known together as Harlem Heat.
Sapphire and (Queen!) Sharmell who worked the scene as managers in different eras of wrestling for Dusty Rhodes and Booker, who also saw some ring action. I think about later on Awesome Kong dominating everywhere she went, Alicia Fox being the first and only African American woman to hold the WWE Diva's championship, with Naomi being the first African American woman to win a WWE title at Wrestlemaina, Sasha Banks is one of the best heels in the business and Ember Moon killing it at everything she does.
On the indie scene Marti Belle, Nicole Savoy are women you should enjoy watching, alongside the "Blasian Assassin", Mya Yim. Oh and Brandi Rhodes?! YASSSS. I'm a newer fangirl of Kiera Hogan and would channel her super kick any day all day if I could. Faye Jackson is fun to watch too and she memes herself! I LIVE! There is a legacy of Black women doing the damn thing in wrestling and there is finally a documented effort via film that explores the pioneers that set the foundation. I'm excited. You should be excited. We all should be excited.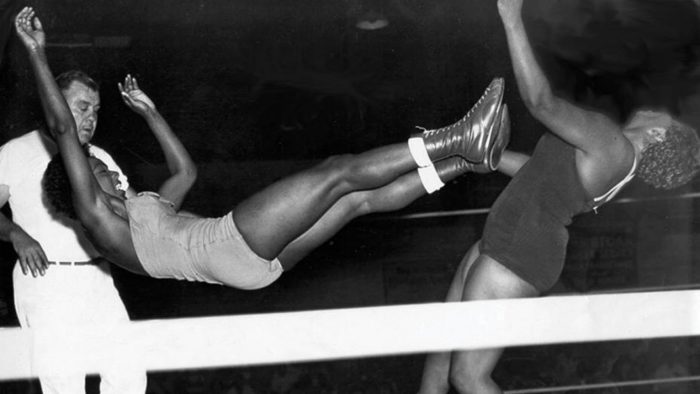 "Lady Wrestler: The Amazing, Untold Story of African-American Women in the Ring is a 90-minute documentary that chronicles the stories of Babs Wingo, Ethel Johnson, Marva Scott, Ramona Isbell and dozens of other African-American women who braved racism and sexism in the 1950s, '60s and '70s to succeed in the male-dominated world of professional wrestling. These courageous women raised families while blazing a trail for female athletes long before many of the breakthroughs of the civil rights and feminist movements."
What makes this documentary even more intriguing is that director Chris Bournea is based in the area of Columbus, Ohio (where he also works as a journalist and an author) it is also the same place where many of the lady wrestlers trained during the sport's golden age. It's also where some of them still live today.
Documentaries have more recently become near and dear to my heart as a Communications Media Studies major because I've learned how they can spread light on the people, especially marginalized folks who don't always get center stage. Documentary film can educate and inspire and also highlight the hidden figures that have been amongst us this whole time being blazing pioneers in their own right.
It seems this film has been in the works for a long time, or at least the need for the film, as Bournea first interviewed wrestling legend Ethel Johnson during Women's History Month in March 2006 for the Columbus Dispatch.
If you live or will be in the Columbus, Ohio area this week, the film will be playing at the Wexner Center for the arts on Thursday, Mar 29, 2018 7 PM. See more at the film's website here. And be sure to follow the director Chris Bournea on twitter for more updates and insight about the film.
Are you following Black Nerd Problems on Twitter, Facebook,Instagram, Tumblr, YouTube or Google+?