You've had a minute to snatch you jaw from the floor — yes lawd! The Met Gala 2019 gave us a real show. Let's take a look at the slayage by people of color, because YES, WE SLAY.
First off the theme had a lot of people confused. I'm not gonna lie, I got caught out there real quick. I could not imagine that the Met Gala theme would take a step into that much culture. So I thought, you mean camping… or campy? I settled on campy and was waiting for the slue of Warhol Soup Can dresses and exaggerated tool poodle skirts. When I realized I was off the mark – I was like OH OK you mean CAMP! The drag-ball-oh-no-she-better-don't camp.
I was honestly underwhelmed by our lower melanated friends. We should have seen the most extravagant, dripping in jewels, exaggerated counter-culture flood on the carpet. Instead, some arrived in classic gala attire, a lot of black tuxes with a little flair – not enough for me. I needed gold chains draped from their shoulders to their toes, glittering canes, and top hats with birds flying out of them. This was the theme where tuxes could shine in all the ways. As the red carpet continued, I noticed real quick that our highly melanated peoples came correct and came to reign. We said "Oh! Did you say camp? Now you messed up cuz you think chill exists."
Here's the people who showed up for the culture in ways that made me realize are we in a modern day Harlem Renaissance, along with the basic Becky looks that could stand to be more inspired. We was always here, y'all just left us of the guest list and you should never have let us in — cuz it's our house now.
Category is Power
Billy Porter: I do not think there is a runway, red carpet, banquet hall, or club house this man does not enter to slay. Ushered in looking like Isis, Porter was announced and shouldered in by strapping servants to the gods. The choreography, the performance, the pageantry! It was meant to be, Billy Porter and the Met Gala – THIS MET GALA.
Lupita Nyong'o: If you read my articles you know I have lately been singing Lupita's praises. This outfit gets nothing less. Said to be inspired by Marie Antoinette, the big hair afro with classic afrocentric hair picks gave me life. You know the pick errbody's momma had. You didn't know where it came from cuz it looks like it was passed down through the generations from the civil rights era through the disco era to the present day… yea that hair pick but gold. You get it now right? The theme! Then the rainbow shoulders for the gods and the furry fan to match. Yes, well done. Wakanda camp forever.
Zendaya: This young woman is the princess of our hearts. She isn't an actual Disney princess (not yet… Can Spider-Man love interests be princesses?) but she is our real life princess, sweet, beautiful, messy and really real all at the same time. She took camp straight out the ball (literally lol) with not only a fairy god-assistant waiving the magic wand, but lights and a transformation! If you didn't notice, the dress got bigger as it lit up. Magnifique!
Janelle Monáe: My personal favorite Janelle Monáe, why didn't I see this coming? There is no way to see how this lady will slay. At first you see her movements and then you see the shape and then you see all the components together and…. You're D.E.D DEAD! She looks like a Picasso, a straight up a piece of art.
Cardi B: The Queen of the Met (only because our girl Riri wasn't there this year), Cardi came as the runway itself. Donning her own red carpet because she is the party — elegant, unapologetic, and with a free bejeweled nipple.
The Behind The Scenes Stars
Let's give it up to the designers for knowing their artists through and through. They made some unbelievable creations. 'The Blondes' Phillipe Blond and David Blond for Billy Porter. Versace for Lupita. Tommy Hilfiger styling Zendaya. Alexandra Mandelkorn for Janelle Monae. Thom Browne for Cardi, with help from designer Stephen Jones for the headdress.
Of course there were so many more melanated friends that won for the night, Ciara in her sparking deep green gown looking like camp coming all the way from Emerald City Yes! Serena Williams extreme neon eleganza with the Nikes to match. Laverne Cox with the black swan done best and iridescent lip what?!
Category is Presence
But those are just the dresses that got the A+ for camp, what about the tuxes?
Ryan Murphy: You would not expect anything less than the rhinestone head-to-toe suit with extravagant cape leading into a train. How else would they have arrived!!
RuPaul: Mama Ru. Any way that Ru arrived on the carpet would have been camp to a T. The suits Ru wears on Drag Race alone would have sufficed, but they came Ru Plus to the Met, as Ru should. A pink and black zebra. Literally a zebra – thank you Ru for lettin them know Camp is your birthright.
Lena Waithe: Now their suit wasn't over the top but still hit the mark right. It was not only a sharp look, BUT let the people know.
Lena was like let's make sure people understand and come correct. The theme is fun but has its roots in a deeply profound culture that not everyone knows. Lena said – get it straight! With a plus one to land their plan. Plus if you look real close the pinstripes are lyrics to iconic songs like Diana Ross's "I'm Coming Out." Genius thanks to designer, Pyer Moss.
Category is Invitation
The Met Gala is said to be the most exclusive party in the United States of America, Anna Wintour (Vogue Editor in Chief) hand selects each guest. So I am over the moon that our fellow nerd actors made it on the list.
Did you see our girl Domino, Zazie Beetz being both spouses on the carpet. She rocked the wedding dress and the tux. Ezra Miller, the man with a thousand faces was there. Idris looking sharp with his new wife. (WHAT?! When did that happen?!) Danai Gurira looking eleganza! We are outchea!
Category is — meh.
There were a number of people who got the memo but didn't know how to make it extra. Instead, they kept it safe.
JLO: Now girl I know you are a part of the melanation but what was this? You are literally the most Googled person because of your dress way back in the day at the VMAs and then you do a simple flapper girl from the Bronx? Is it beautiful…sure, camp?…Sorta. I expected so much more, especially next to some of these juggernauts like Celine Dion walking on the same carpet!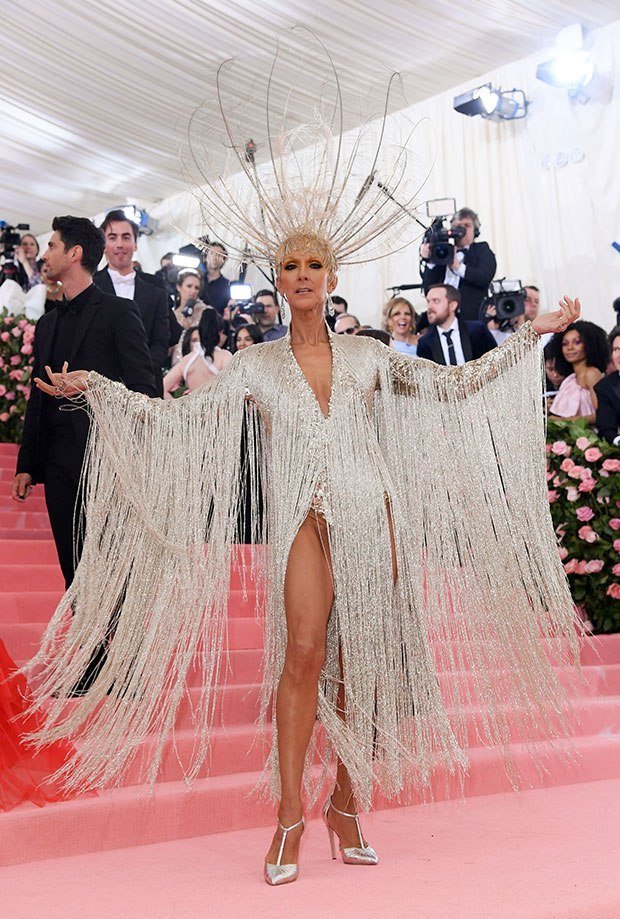 Kim K West: I know how dare I bring up her name on the Black Nerd Problems internet, but to me this outfit was a problem. My friends and I spent about 20 minutes trying to figure out what it was. Why is she so padded? Why is Kim doing drag of herself? Why is she breaking her ribs for that waist, and why does she look wet? Then it clicks OH, she's supposed to look dripping wet. To be honest this is how she always looks, so I see why she would take the chance to really try and take it over the top – but it was not a win. We all agreed, if it were a different color, and if she had an extravagant headpiece that looked like water was pouring over her or a million droplets in her hair as well, she would have pulled off camp much better.
Men Who Could Not Be Bothered: A number of men just came to a party. Remi Malek wore a black tux. I appreciated the red shoe, but camp it was not. Frank Ocean and Kanye were clearly making some sort of point to stick it to the bourgeoisie and celebrity culture by coming as that dude at the barbershop that just sits there and never gets a haircut. Or the message was, I don't care. Kanye in a bomber jacket I'm sure costs $50,000 but looks like it cost $45 at Jimmy Jazz, and Frank Ocean giving us a high-water slack, clunky shoe, and sweatshirt. This was the theme for us to show up! But nope.
Category is Snatched the Game — Camp On Point
This is where the less melanated friends got the message.
Cara Delevingne: She stole me away with this one. Days after I could not stop talking about it. The rainbow stripes, sheer short skirt dress with the matching rainbow cane. You would think she was wearing matching tights, but no. She is painted from the thigh down to her matching rainbow platform heels. With the over-the-top headdress complete with Jokeresque toy teeth and banana peels. And the jewel pasties underneath! This outfit is EXTRA and that is what we are here for. Thank you Cara for serving.
Lady Gaga: We could not end this article without mentioning the queen of the ball. Oh wait… I already mentioned Cardi B. No forreal tho – the one behind it all. The champ. She was born this way, she woke up like this, THE Lady Gaga. As chair of the Gala we could not expect any less. She has us going through the motions, her entire performance. Yes, performance, took us on a journey from pink fruff-fruff to big black dress elegance to bright-pink evening classy to sexy pin-up on the fringe. She made the carpet a 15-minute event for herself, dancers, phases and all together it made camp. You couldn't have just one, you have to bring it all together like A Pimp Named Slick Back. You have to say the whole thing. Yes Gaga, the Met Gala and you were meant to be.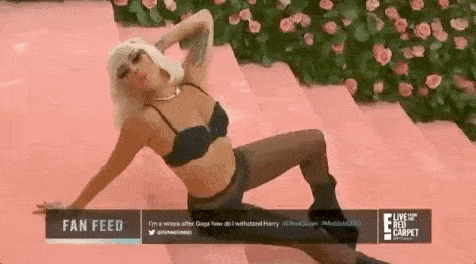 All the looks going into the Met makes you wanna know what goes down past the carpet. Info from an inside source says a lot of people was stepping on a lot of dress trains. True story: They keep these outfits on for dinner y'all.
That said, there were so many more outfits and so many more fails as well. Let us know which you felt should make this list.
Want to get Black Nerd Problems updates sent directly to you? Sign up here!
---
Follow us on Twitter, Facebook,Instagram, Tumblr, YouTube and Google+?