Writer: Saladin Ahmed / Artist: Javier Garrón / Marvel Comics
Miles gets his own gang war, some broke superhero issues, and his fair share of teenage romance headaches. As if there were any doubt, our boy is definitely a Spider-Man. It's clear from the opening of this issue that Miles has a lot on his plate. He's starting to do the classic spidey juggling of his personal life and trying to fulfill his responsibilities as Spider-man.
Ahmed handles the Spider-Man side of Miles' life really well, cementing just how capable Miles is as a hero. Even with a gang war unfolding on the streets of Brooklyn, it's amazing how well Miles handles it all. It feels like he's dealing with the problem rather than just reacting to it, which speaks volumes to how far he's come.
I also love how little things like Ganke and Miles not having enough resources or access to equipment to make his web-fluid. Personally, I think it is time for a visit to your old pal, OG Spider-Man, and mentor Peter Benjamin Parker to see how a veteran broke boy gets the job done. Other than the impending shortage of webs, everything seems to be running smoothly on the Spider-Man front.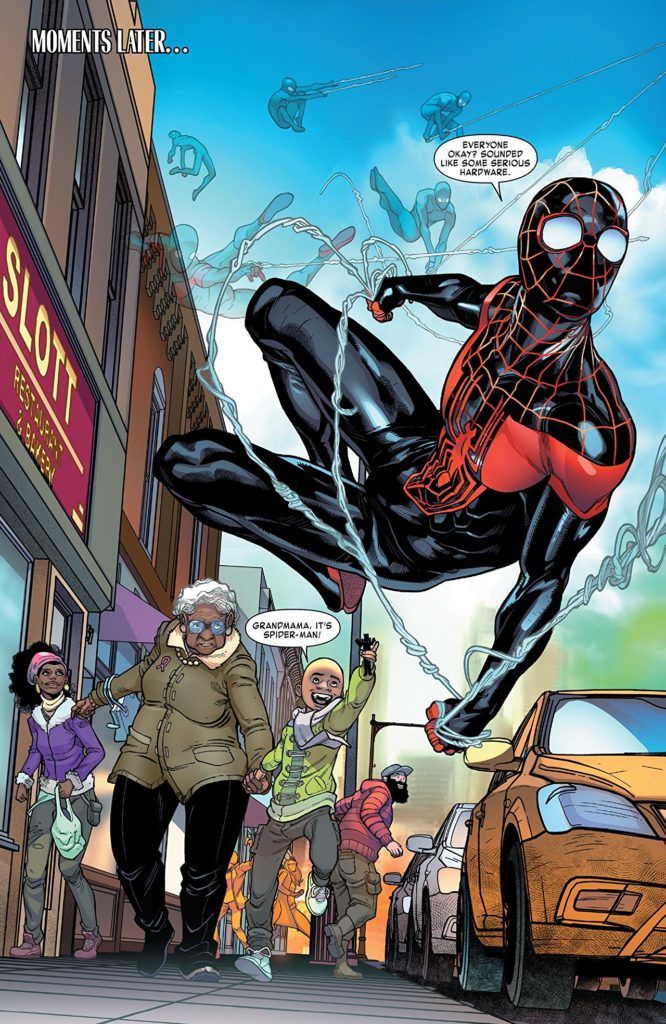 However, his personal life is starting to show some cracks. The biggest is his relationship with Barbara. For the past couple of issues, it's been hinted that Barbara knows Miles is Spider-Man. Now, she seems to be acting on those suspicions. I love it when characters are written well, and Barbara is one of those characters. She's not stupid and rather than playing ignorant, she's basically telling Miles to make a decision on whether he trust her or not.
Ahmed is beginning to show that Miles own worst enemy might be himself, whether it's his romantic relationships, keeping up with school or restraining himself from using his powers during everyday situations. I wonder how Ahmed will tackle these balancing acts down the line or if Miles is in for a great fall. More than the action, it's the most intriguing part of the book.
Where this issue fails for me is the dialogue. Some of the characters, especially the villains and even Miles to an extent, have some cringe-worthy lines. Which is weird, considering how well Ahmed has written everything over the past four issues. It feels like some of the dialogue and interactions between the characters break the pacing when you read them, which can take you out of the book a bit. Other than that, Miles Morales: Spider-Man #5 is another solid entry in this new run.
8 Gentrified Gangbangers out of 10
Reading Miles Morales: Spider-Man? Find BNP's other reviews of the series here.
Want to get Black Nerd Problems updates sent directly to you? Sign up here!
Follow us on Twitter, Facebook and Instagram!