Batman, Sherlock Holmes, and now Hercule Poirot can share the title of best detective in the world as the newest addition to the impossible-crime-solving trope brandishes his wit in Murder on the Orient Express, based on the original novel (and 1972 film). The film begins with the standard murder mystery fare: a set of circumstances bring several people together, and one of them is found dead. With no witness or motive the murderer is sure to go uncaught, except for the fortuitous misfortune of their crime crossing paths with a man, in this case played by Kenneth Branagh, keen in his attention to detail, whose quirk and intellect make him the only person on earth who can solve the crime. That's Murder on the Orient Express and about every movie of the type you have seen, the crux of their enjoyment laying not in the plots themselves but the personal arc of the hero.
Is it personal to our hero? Are their wits tested like never seen before? Will the outcome shake them to their core, reshaping what they thought they knew of the world? Can they be bested by a cleverer villain? In a plot-driven mystery the formula can be bested by the underlying hero's journey, the connections an audience makes with the characters involved. Unfortunately for Murder on the Orient Express, the players involved are so many we fail at a significant connection with any of them; alas, with 12 suspects of the murder of a sleazebag, the film offers little to cheer for.
The story follows Hercule who, after solving a quintessential "impossible crime" to introduce his powers of deduction to the audience, wants nothing more than a vacation. A world-renowned detective is offered little rest though, as precincts across Europe and beyond wish for his help to solve their grisliest crimes. He finds passage on the Orient Express train, a 4-day journey away, thanks to a friend, Bouc, played by Tom Batemen, whose friendship is based on Hercule's non-judgement to Bouc being a jovially wealthy and otherwise unlikeable person. Hercule is the last addition to the train, serendipitously to a few other travelers involved who never knew they would travel with such celebrity. One of those travelers is the sleazebag and known criminal, slimily played by Johnny Depp, who is eventually found dead in his room with few clues and fewer suspects. This is the first act's climax, the opportunity for Hercule Poirot to be begged into action. He takes command, to which a passenger challenges. Who put him in charge? Allow Hercule to reintroduce himself: he is the best detective in the world, and the only person who can solve this crime.
For mystery fans, this begins the part to lean in and follow: assemble the clues, name the suspects, interrogate them one by one, and piece the puzzle together. The roller coaster follows suit accordingly, following the master detective as he interviews the dozen passengers one by one and doles out clues and insights as he goes along. Much of the films charm comes from its historical setting seen through the lens of multiculturalism. We see the 1930s not from the perspective of one country but of several, including references to their views of each other. "We are not in America," Hercule tells one woman as she clams up in fear of her interracial love interest. Audiences are led to view the story in a broader Western context, with character dynamics informed by international relations and differing histories. As we learn about the victim's history in specific we learn just how connected he might be to anyone on the train. It becomes a game of 6 degrees, only most of the connections are made in under three, turning the insulated tension up to ten: everyone is a suspect, and the killer is among them.
With such a small scale comes an inherent sense of tension. A murderer did not kill and leave; there is nowhere they could run. No skipping town, no temporary sense of safety – the murderer is trapped there with them, and unless caught they will evade justice, or worse, kill again. The former concern anchors our hero's journey, the thought of imbalance in the scales of justice. Hercule is a meticulous man; to have such an immoral crime as murder go unpunished is something of disgust, against Hercule's every sensibility.
Order and justice is what separates us from the beasts. What follows is a series of head fakes, predictable in their unpredictability, that add new information about the pasts of our victim and those of our passengers as audiences must play the game of asking who they trust. The roller coaster last a bit longer than needed and eventually exhaustive. It was him! It was her! There were two killers! It was an inside job! Is he even really dead? The result in these scenarios is rarely satisfying, pointing back to our original questions of our detective's journey that must be more important than the shock of their findings. For the Orient Express, it is not.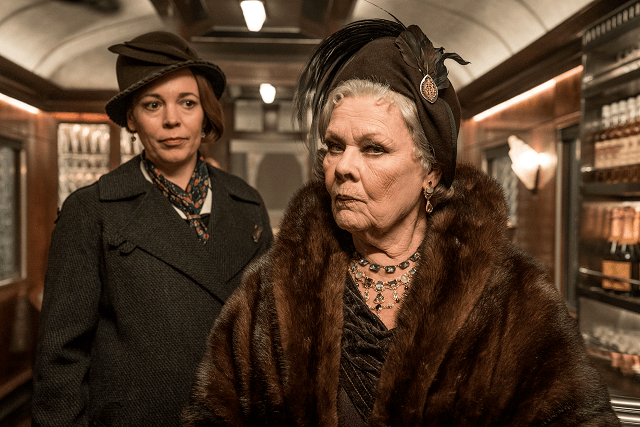 Hercule's bluntness and introversion make for a charming character, and Kenneth Branagh's performance shines with unexpected humor – I was particularly caught off guard by his Ron Swanson-esque laugh. Still, he lacks any significant inner conflict to make this case matter in a compelling way. The supporting cast, including performances from Penelope Cruz and Michelle Pfeiffer, are so many that connections with each as brief if at all, given little time for their development to barter more time for plot. With no one to hold onto, Murder on the Orient Express stands as little more than a cliché mystery, and ultimately falls flat.
Overall, join to explore the multicultural dynamics of another time and find enjoyment in minor aspects of historical voyage, for that is where the unique adventure lies. The main adventure, well, you have seen it before, and no twist ending is ever that good.
Are you following Black Nerd Problems on Twitter, Facebook, Tumblr or Google+?