Writers: James Tynion IV and Sam Johns / Artist: Mirka Andolfo / DC Comics
Gotham's newest villain has her own book, and it's all about giving us the punchline.
I love new characters in comics. Not that I don't love the old ones also. But it's so rare that we get someone new. And even rarer that they get their own book. It makes everything feel so fresh in a medium that can at times feel very stale.
So, when I heard that the Punchline Special was coming out, I had to give it a try.
Punchline takes place in the aftermath of the Joker War, where Punchline is about to go on trial for the crimes that she committed with her ex-boyfriend, the Clown Prince of Crime. Most of the issue gives us two different looks at Alexis Kaye, a woman who in court projects someone who is mentally sound, competent enough to hold up trial, and a seemingly decent woman ready to lay it all on the table.
Juxtaposed with that, we are given deep dives into a podcast that Alexis hosted years ago when she was trying to find the punchline to the Joker's jokes, or rather, the lesson in his teachings.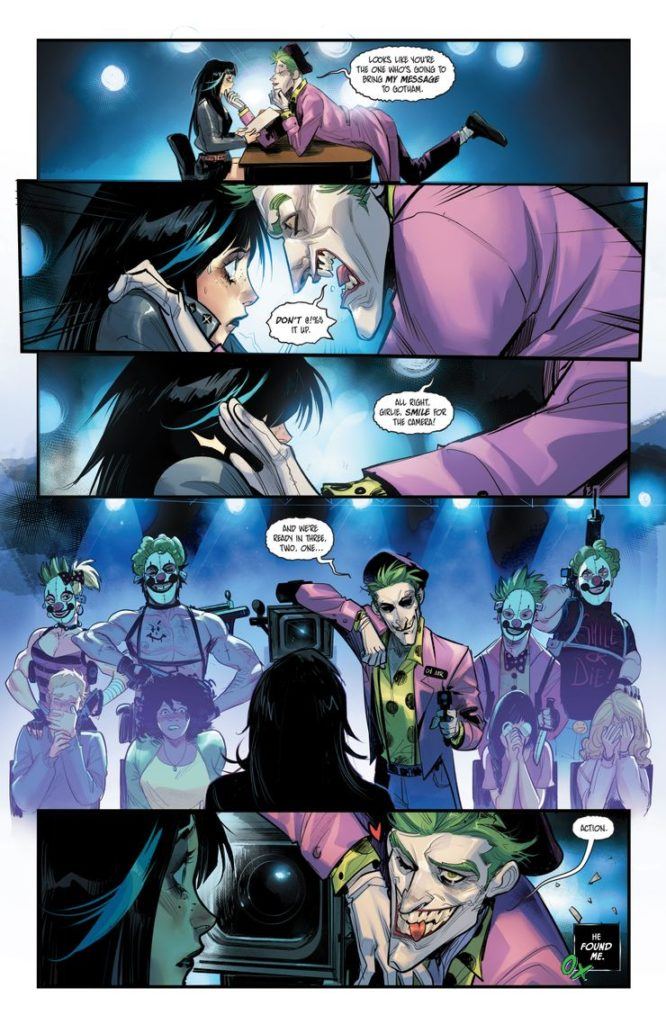 What I really like about this issue is that it builds the structure of who Punchline is as a character. In one way, she's someone who started sipping too much of the green Kool-Aid and got lost in the sauce. But in another way, she is almost like a bridge to the Joker's message to the masses. Joker is often only really trying to speak to Batman. Punchline wants the whole world to see.
I like that Punchline is a modern villain. That seems to be very deliberate. The way that she's a podcaster is one thing, but the fact that she clearly knows what her value is on the internet and how she's able to manipulate the public's view of her is what makes her a true millennial through and through. She's a social media influencer in the truest definition of the term. And she's about to use that abundance of power for chaos.
Punchline #1 gives Gotham's newest villain the spotlight in a series that promises to have as many twists and turns as it does "WTF" moments. If you like podcasts, this one is for you.
8.5 Obsessed Fans out of 10
Want to get Black Nerd Problems updates sent directly to you? Sign up here!
Follow us on Twitter, Facebook and Instagram!