Writer: Scott Lobdell / Artist: Paulo Pantalena / DC Comics
This issue was perfectly encapsulated by my reaction to the cover.
Woman with a sword to Jason Todd's throat: "Hi, Red Hood . . . remember me?!"
Me: "I hope so, 'cause I sure as hell don't."
Things I like: Morally ambiguous reflections of well establish characters; An experienced character training fledglings; Glowing swords. Things I don't care for: Jason Todd's mystical kung fu past. I can handle the last one if I get a little of the first three. For the last few years, Red Hood and his merry amazon and Superclone have waxed and waned around my pull list. There was a point where Bizarro got super-intelligence, and I was like, "nah." Then, Red Hood was training supervillain kids, and I was like, "yea." Now, we have the kids and the team fitted with a Bizarro with appropriate cognition, and I'm like, "Sweet."
This issue has the Dark Trinity in Qurac, where a peaceful protest was attacked by The Untitled. Meanwhile, at the country's royal casaba, Artemis is crossing swords with the woman on the cover (Essense's sword glows! Hooray!). Eventually one of the split parties gets a nice deus ex machina, while the other faces a new other-worldly threat.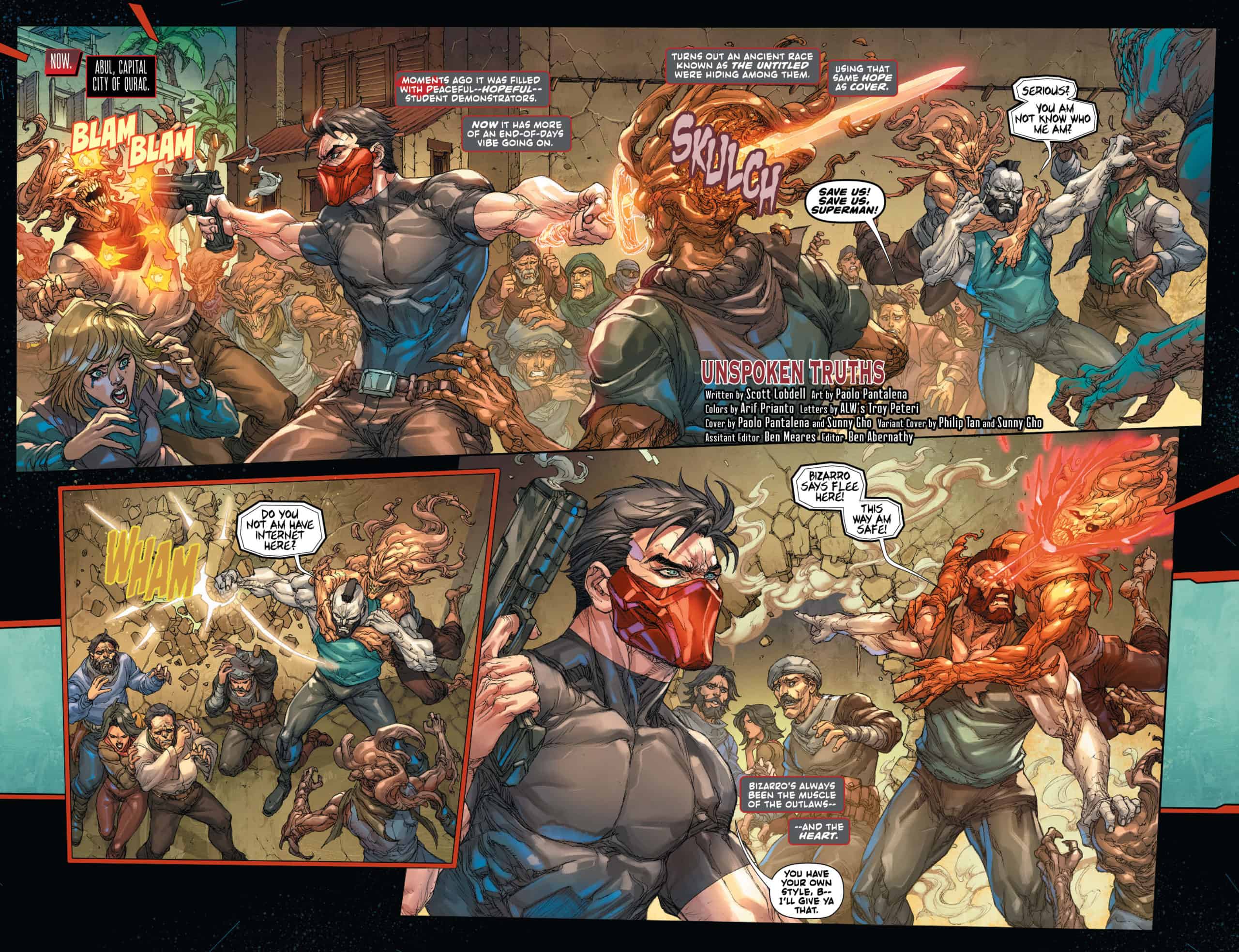 If this comic does nothing else, it provides a perfect baseline for my middle of the road. I like the cast of characters, there was some funny dialogue, and did I mention the glowing sword? Other than that, I'm not invested in the plot. I find myself having to piece together what in Goddess' name happened after I stopped reading this book and before I picked it up. One last thing I'll mention is Pantalena's art. I went back and forth on it. Sometimes I liked the flashy, over-the-top style and other times (especially with facial close-ups) it gave me the disturbing feeling I get when I see a Jojo character. I lack any strong opinions about the book but if they keep the Trinity together in a decent story, and I have disposable income, I'll keep picking it up.
7 "GLOWING SWORDS!" out of 10
Reading Red Hood: Outlaws? Find BNP's other reviews of the series here.
Want to get Black Nerd Problems updates sent directly to you? Sign up here!
Follow us on Twitter, Facebook and Instagram!