Board games nights are currently a distant dream of the future, but I am always on the look out to expand my collection in preparation for the future. The thing about board games is that everyone has their own particular threshold for various mechanical complexities and sometimes, players find the idea of fantasy combat much more compelling the actualities of drafting decks or piecing together various synergies.

Enter Factions: Battleground, a new multiplayer fantasy combat board game that has drawn me in its premise:
Representation of diverse cultures and mythologies.
No decks, no luck, just choices.
Certain games always feel a little bit too up to chance and many deck building games suffer a steep learning curve where you have to learn how to play the game and then learn how to play the game effectively and your conventional strategy games often time have a luck component that doesn't necessarily feel great losing a great tactical position on a dice roll. Factions: Battleground offers several unique twists on the conventions.
"No luck" in practice means that players actively choose how the battleground is set up and that the set up of Terrain tiles is part of the game and the game is balanced around a risk/reward system where tactical play can usurp an opponent's lead. "No deck" means that you're capable of picking your faction, either based on its mechanical identity or its flavor and learn how to master it over time. And "just choices" is perhaps the most exciting part given that the game implements a unique Rank system that simulates the feel of real time strategy games and that you're always on the ready.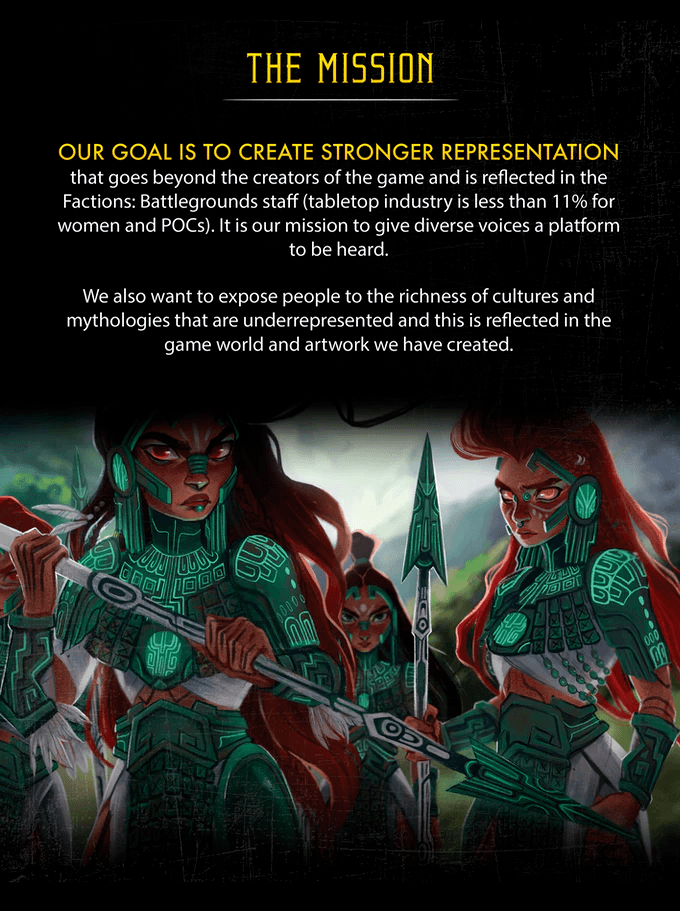 So mechanically, that's all very cool and exciting, but the creative direction is equally enticing. The game cites inspiration from African, South American, Native American, and more cultures, bucking the typical Eurocentrism and standard Greco-Roman myths we all know by heart. It's something truly unique that we haven't seen before, and the impetus behind the reason why is truly something best explained by the creators of Factions: Battleground.
Per their press release, creators Peter Ferry and Jason Crayton note that in the tabletop industry people of color only make up 10.8% of the artists, 4.1% of the designers, and are only depicted 11.7% in the in-game art. Similarly, women represent 10.6% of the artists, 2.1% of the designers, and are still only shown 19.2% in the in-game art. And Ferry and Crayton wanted to do something about it.
Factions: Battleground is doing something very cool in giving young artists and designers the opportunity to put a game out in the world, and today is a good as day as every to remind everyone: representation matter, both on and off the table (and analogy meant to parallel in front of and behind the camera, with roughly the same impact). As their artist Brianna Cole notes "For kids to see themselves and resonate with it is something powerful."
You can back Factions: Battlegrounds on Kickstarter right now. At time of writing, it has already met its original goal within nine hours and still has three weeks to go.
Want to get Black Nerd Problems updates sent directly to you? Sign up here!
Follow us on Twitter, Facebook and Instagram!