Writer: Tom King / Artist: Khary Randolph / DC Comics
We're finally at the end of the big Robin crossover. Everything has come to a head as Damian has gone over to the other side. Apparently becoming an owl means you're on god Mode as Damian takes down Jason Todd, Tim Drake, Duke Thomas, and various other (we are) Robins. Thomas gets back up to go against Damian and try to get him out of his mind space. Meanwhile, Dick Grayosn has to make the tough call as he faces the entirety of the the Court of Owls.
The best part about this issue isn't really the focus upon Damian wiping the floor with everyone (god mode) or Grayson's choice but the unnamed Robins coming back out of the shadows and into the forefront. The background of this issue is what really makes this crossover sing. Personally, I wasn't a huge fan (as you can tell by now) of Damian being able to shit on every single person along with the amount of times he states, "I am Robin" or "You're not Robin" which got very redundant. Also Damian's tying up loose ends with Duke Thomas is really… strange, I guess? It's just very weird how fast Damian goes back and forth with whose side he is actually on.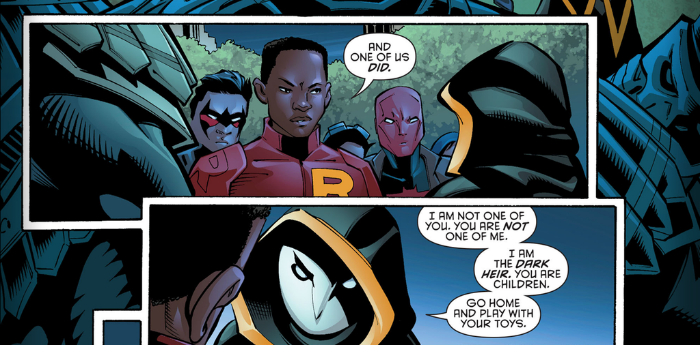 The art work was cool, per usual. Khary Randolph does a great job of nailing each character. The fighting with Damian looked splendid, as well as the battle damage that was accumulated on Duke Thomas as he was giving Damian the change of heart speech. Randolph is a great extension of the story visually.
I love the way this series started but the end result was rather "meh" with the way it all ties together. I was expecting more input from Jason Todd and Tim Drake at the very end, the spotlight felt pretty lopsided but it was still an enjoyable story.
7.8 God Mode Cheats Out of 10
Are you following Black Nerd Problems on Twitter, Facebook, Tumblr or Google+?