If you know the story of Selena, you're ready to go through that wonderful breakout story of love, hard work, and determination only to end up bawling in a corner with your Kleenex because you know the inevitable? Selena: The Series Part 1 delves into the family dynamics and beginning stages of her life into her teen years. Selena: The Series touches on the different aspects of love, hard work, and trust by exploring each of the characters and their relationship to one another. Viewers are immediately submerged into the world of a budding family band. They learn about music through the memories of their father.
This series has its moments of beauty not because Selena (Christian Serratos) is the "star" of the band, but because it focuses on family as a wondrous ensemble. Each character expresses a different facet of ourselves. Abraham Quintanilla's (Ricardo Antonio Chavira) faith in his family, even to its faults; Marcella Quintanilla's (Seidy López) love and passion for the ones she loves; A.B's (Gabriel Charvarria) vigorous work ethic and resourcefulness, Suzette's (Noemí González) protection and openness; and of course Selena's ever flowing creativity and bright demeanor. Their personalities serve as a balancing act and draws you into the characters and makes the experience more heartfelt.
Exploring the Realm of Family Values
What makes this series impactful is that it touches on various layers of hardship. A shining moment at the beginning of the series was when the Quintanilla family lost their restaurant. Poverty pushed them into uncomfortable territory. Abraham's pride was both the comic relief and a telling outline of how his character will react to conflict. Abraham grows even as he's pressured into humility. His character was consistent. Whether he is managing his family through music or lecturing them about core values, he was solid and recognizable. Marcella was often a balancing act for her family. She grounded everyone and helped them realize they are not alone. I appreciated Marcella because she played a huge part in supporting her family through realism, and not allowing the darkness to be a cloak.
With this, one of the issues that surfaced is the fact that it started to feel much like a story about what Abraham did for the family, and less about Selena as a character. We got to see Selena in school. We see Selena interact with friends, which is great! But, most of the scenes were actually Abraham instructing, or Abraham fighting to get his family on track, which can feel very much true, but it centralizes the wrong character at certain moments. The series could focus more on how Selena was isolated, how she reacted to it, and how she grows from it. But it doesn't do that much, it instead focuses a bit on how other people become flexible around Selena.
The Love and the Sisterhood
When we see how Selena and her siblings learn about the different facets of music, they internalize their lessons through a variety of experiences. Their relationships to the instruments call into question, "How does our relationship to music show who we are?" As Suzette started to learn the drums, she slowly became more emotionally open and aware. An even stronger sisterly bond formed between her and Selena through different avenues of self-expression. Bright hair, flashy DIY outfits, and sifting through boy troubles, González and Serratos made classic teenage trials seem harmonious. Their exploration of music pushed them to be their most authentic selves. Though their ideologies of what that looks like remains flexible, they were solidified enough to challenge what made them uncomfortable.
But even though Selena and Suzette's characters were given a beautiful light that I admired, there was something I felt was missing from Selena herself. The sisterhood falls short to the "Father-Son" duo. We see this especially in scenes where we see them making huge business moves and we get really intense with how hard they work to support Selena. And of course, we can talk about the patriarchy and the various layers that entails in culture discourse but, this moves Selena from the star that she is, to the "asset" to their success story. Yes, Selena was a teenager who wanted to enjoy life and be a kid, but we didn't get to dive much into her learning process. We saw everyone else's learning prioritized in the show over hers, and that's what we were looking for.
A Family Friendly Journey about Love and Perseverance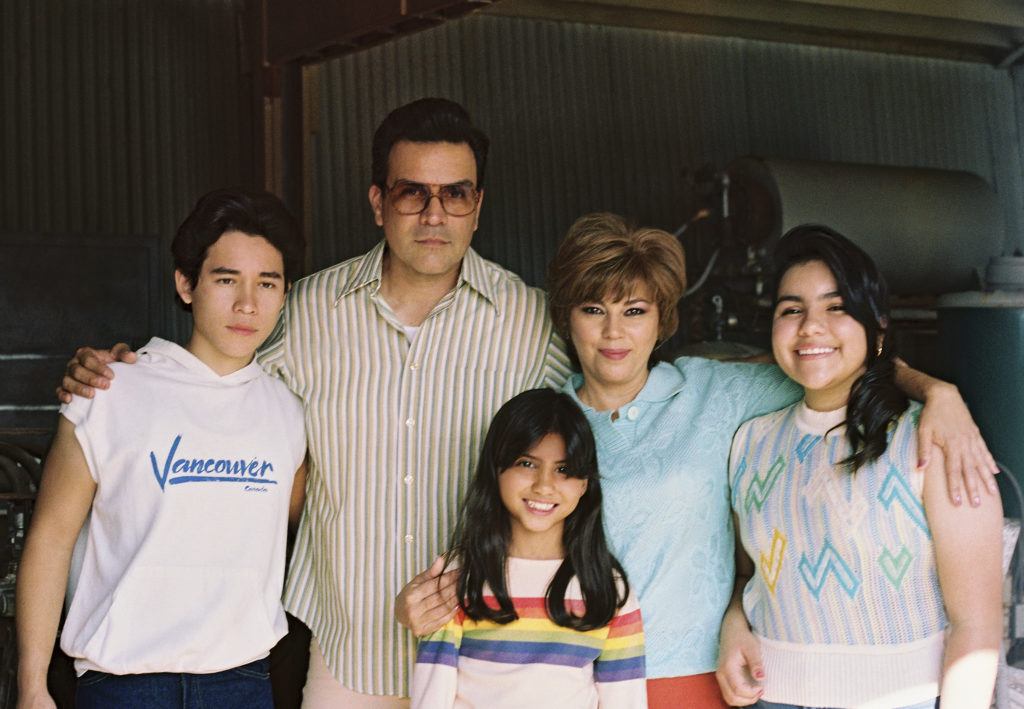 A.B learned music through isolation. By compartmentalizing sounds and understanding the realms of music, he in turn reflected that in his own trials. Much like his father, he served as the backbone of the group in a developmental way. He searched for band-mates when times got rough, produced songs, and served as a main head for stage set up. This compartmentalization he learned served as an outline for how he would handle his trials throughout the show as well. Viewers will observe A.B put hope on the line for his family much like his father. It comes not only as a band-mate who trusts his team, but as someone who has been invested in various parts of the process. From lighting and stage set up in their early years to the come-ups with big name contracts.
The Quintanilla family knows risk, knows love, knows hardship, and if there are any lessons you want to learn you can watch it in Selena: The Series Part 1. They remained strong because they never questioned who they were, they only challenged the boundaries on how to be better.
But sadly, there moments where the series fell short. If you're looking for a central Selena character, this is not it. Selena feels more like a side character to a greater focus on the family. The acting feels a bit rushed in moments where it could be enhanced. It succeeded in showing what family can do to be supportive, but what I wanted from them was a tender focus on how Selena was crafted as a person. It seems like they will be holding back on that until the second part, when that's what they should have started off with in the first place.
If you're a returning fan, looking to point at the screen and say "AYE!" you will have a great time and you might end up rewinding a couple of times. If you're a new fan, get your playlists ready because your music library is about to be turned up. But I will admit, this is not necessarily "Selena" but rather "The Quintanillas" which is a beautiful story and is definitely part of who she is, but it feels separate from what viewers might be expecting.
Selena: The Series Part 1 is currently streaming on Netflix!
Want to get Black Nerd Problems updates sent directly to you? Sign up here!
Follow us on Twitter, Facebook and Instagram!