Writer: Matt Fraction / Artist: Chip Zdarsky / Image Comics
Matt and Chip are on their WWF Tag Team Champions bullshit for real, man. The way these two weave a story together, introduce new characters, build character development, as well as check in on the more well-known characters (Suze and John) is a thing of beautiful grace. We get introduced into the back story of Alix. When we first glimpse at her during business hours, she 'bout getting her clients guap. She knows her job, she is great at her job, and can't nobody tell her any different. That's made clear from jump with her phone conversation.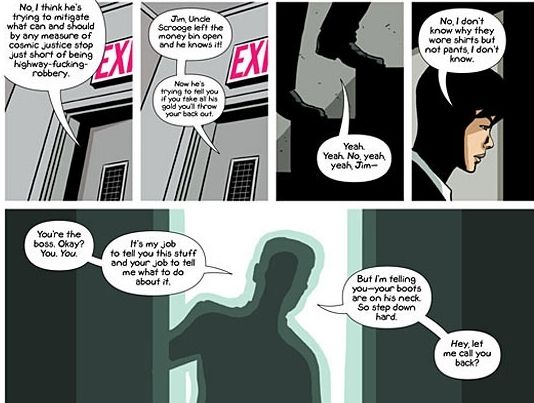 It's after the conversation that we delve deep into who Alix is. Fraction draws upon her experience with sex as well as her disinterest in it. We get her perspective on having the "virgin" dilemma being provided as an excuse by her friends, as well as her own fears of not being part of the norm when it comes to sex, however feeling normal with her stance. Fraction is of course giving us a character that identifies as asexual. The introduction of Alix to this universe was meticulous and methodical — nothing felt rushed as we were introduced into her back story and her journey to comfortability in her own skin.
Zdarsky on the art of course gives us nothing short of masterpiece theater work. Zdarsky is has this unique talent in his art work to make you feel familiar with the characters that get introduced in Sex Criminals as the everyman/woman. You can instantly find some way to relate to them through their mannerisms and conveyed emotion. You get so familiar with the character that when they come into their own you feel liberation jump off the page.
Exactly how Alix gets to her "quiet" specifically is still a bit of a mystery in a sense, but what is known is that Alix is aware that others are out there like her (one that she knows appears and tells her as much). How she will deal with this though? She going straight Wolf of Wall Street. John and Suze just got more problems stacked on top of them.
This book goes hard in the obscure but the character development and story is straight up Pulitzer level (IDC, IDC, IDFC). Matt and Chip, the tag team champs, do it again.
9.6 Base Jumps out of 10
Are you following Black Nerd Problems on Twitter, Facebook, Tumblr or Google+?