Writer: Bryan Lee O'Malley / Artist: Leslie Hung / Image Comics
The first issue of Bryan Lee O'Malley's Snotgirl introduces Lottie Person, a fashion blogger whose glamorous public persona hides the mess she is in real life. Lottie lives a Photoshopped life: scroll her Instagram and you'll find new outfits, flawless makeup, and shiny hair perfectly coiffed; look closer, however – see her in person, get to know her as readers do – and she's a mess of insecurity, friendless, and her nose is dripping from uncontrollable allergies. In short, Lottie Person is the generic hater's wishful thinking towards celebrities, that their happiness is as shallow as their beauty. And unfortunately, the premise doesn't quite meet its promise in issue #1. If Snotgirl was meant to be endearing, so far it has missed me entirely.
No one in Snotgirl is likable, including Lottie herself and a passing group of unreliable friends who ditch her the first chance they get to do anything self-serving. Lottie isn't much better than they are, she waits for them to join their regular "Hater's Bruch" for which she was stood up. She eventually meets a woman named Caroline, a fan of her blog who turns out to be cool – so cool that Lottie dubs her "Coolgirl" in her narration. All of her pseudo-friends have similar pseudonyms, from Cutgirl and Normgirl to Latteboy and Custodialdude (again, if any of this is meant to be endearing…), and Caroline, or Coolgirl, still sees Lottie as glamorous in person. This is where the plot thickens, complete with a Black Swan-type curveball that does leave some intrigue even if you aren't impressed with the rest of the comic thus far.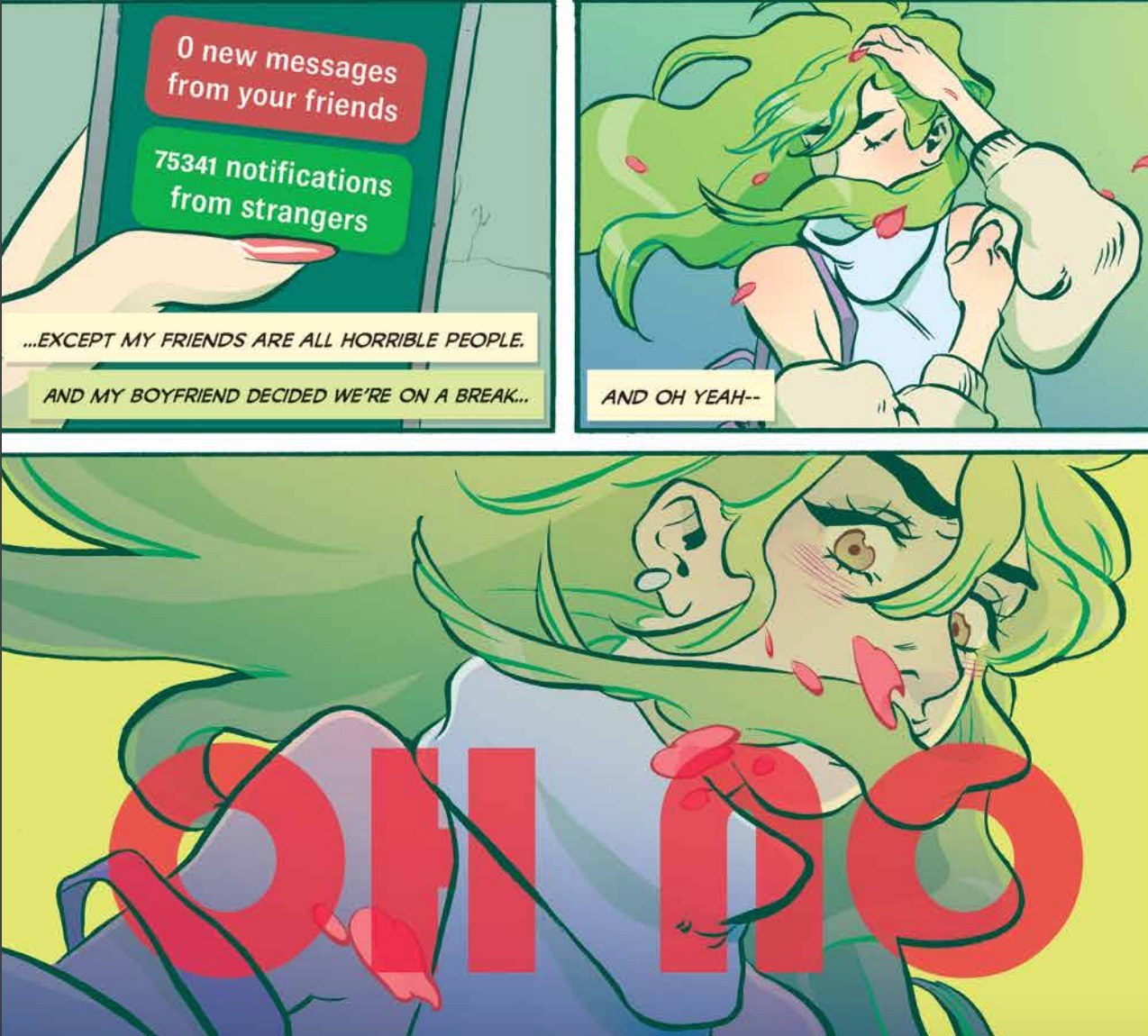 Aside from the story and characters I find a silver lining in Snotgirl's artwork, full of great colors, including Lottie's bright green hair, and some creatively beautiful layouts. They are largely covered by ubiquitous word balloons though, which push too far past "creative" to fall into being more distracting that useful. Balloons come in several different colors and shapes to capture voices, texts, narration, social media comments, and whatever else, not including narration that falls outside the balloons, and it feels more a gimmick than actually useful to the story; and even a gimmick would be cool if it were used less. It's a problem that might be isolated to issue #1 as it tries to fix a lot of information into the foundational issue, so hopefully it's a lot less disrupting in the future and allows the artwork to better shine through.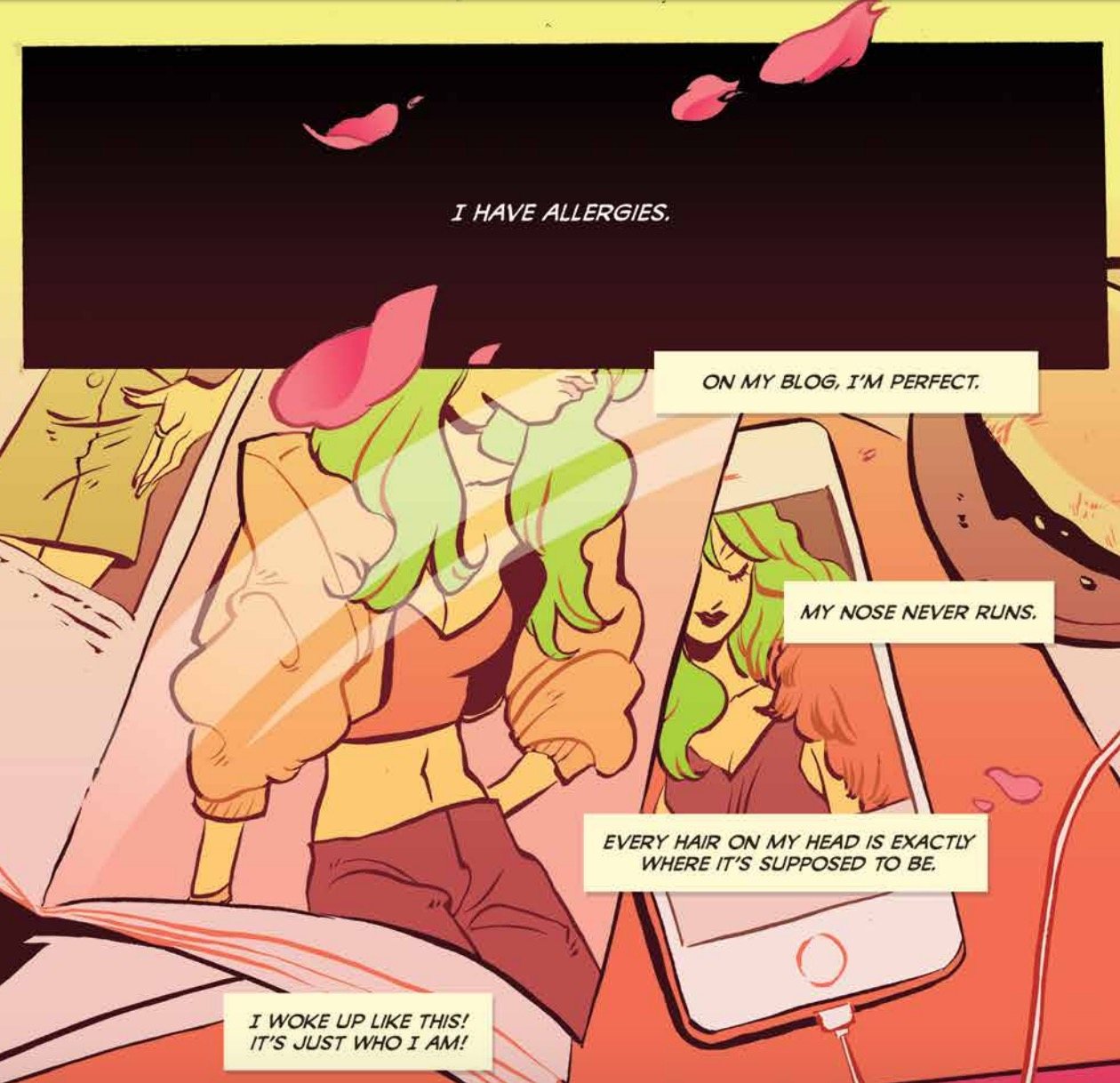 Overall, Snotgirl has some potential but has an uphill climb in making readers care about its lead the way we're intended. There's no endearment, sympathy, or joy yet to be found, and without those things, what's a non-action comic? The plus side is the bright, fun artwork by Leslie Hung and Mickey Quinn, and an ending that can pique almost anyone's interest. In terms of character likability I think Snotgirl can only go up from here, so I'm hoping she wins readers over as we get to know her more. And if this comic turns it around, well, Snotgirl will have a great accomplishment on its hands.
6.2 out of 10
Are you following Black Nerd Problems on Twitter, Facebook, Tumblr or Google+?