Hey fam, as a large consumer of all things media, something dawned on me the other day. Lance Reddick stay in my business, yo. Like, your boy is always in my personal space. If there is something, in the world, that I am fond of, there's an 80% chance that Lance is feeding his family off that shit man. Listen, if you don't know the hardest working man inside of your personal media device, let me hit you with some of that game recognize game familiarity. Most people know him from THE BEST TV SHOW THAT WAS AND EVER WILL BE, MAYBE The Wire as Lieutenant, then Captain then Major Cedric Daniels.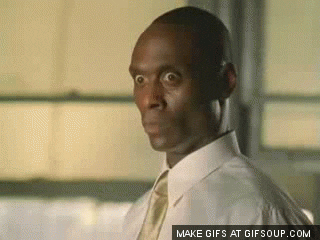 Yeah, your boy moved up to the east side and shit in five seasons worth of being in the muck. But my dude L-Rock? I've been aware of him in a regular role since Oz, yo. Aka the show that's responsible for all your gritty hour long shows. Your boy was an undercover cop that never really came up for air and got that King's Justice all up in the cell block. So listen, we got history. But in the last week or so, your dude stay up in my shit.
Ayo, that new John Wick Chapter 2 dropped? Hotel Manager. Oh, Destiny 2 Trailers dropped? Commander Zavala. Horizon Zero Dawn one of the best games of the year, right? Sylens, stop hacking my shit, yo? Then, I'm checking my Xbox One Dashboard and shit, cuz it's not like ya boy actually playing games on that bastard or anything, and I'm like, oh, my most anticipated average TV show is back in Bosch on Amazon Prime.
Lance was waiting on me after the opening credits as acting Chief Irvin Irving. I swear to machine gods, if my wife put Fringe on while we watching Netflix this week, I'm getting a restraining order, fam. But yo, does your boy sleep? Does he sprint from one set to another recording three shows at once and shit? And when the fuck does he find time to walk with perfect form like that? That shit looks like it needs practice and I can't see how he makes time with his schedule. Is he that sought after or does your boy just keep classified ads in the whip, looking for voice work to do on the weekends? Probably the former. I ain't dismissing the latter though.
The reality is, you add Lance to your shit, and voila, your shit better, fam. I just hope he ain't workin' like this cuz he got IRS troubles or anything. Someone pay dude for a vacation. But like, just a week yo. Not one of them three-week sabbatical joints. This TV / Movie / Video Game shit would fall apart without you.
Are you following Black Nerd Problems on Twitter, Facebook, Tumblr or Google+?