Writer: Jason Latour / Artists: Robbi Rodriguez / Marvel Comics
We find ourselves in the final prelude of the long-awaited confrontation between Spider-Gwen and Matt Murdock, and as a final tension builder before the curtain rises, Spider-Gwen #28 does a good job. Gwen Stacy makes her grand reveal that is slightly less grand since the Mary Janes had at least an idea of her secret identity, but there's another turn that actually was surprising by offering a backstory to Daredevil himself, answering the question of "why" and juxtaposing his motivations with those of Gwen Stacy. Still, nothing but the confrontation itself can really satisfy readers at this point, which makes us anxious for what's to come but also makes this panel humorously meta: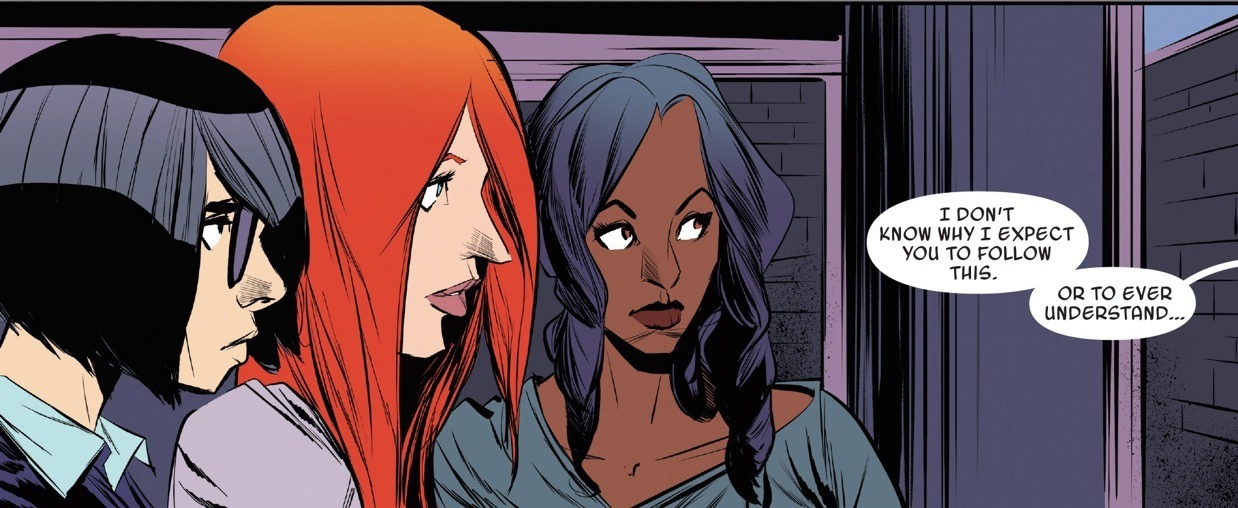 Artistically, the main team is back together again with Latour, Rodriguez, and Renzi following a short stint of artist changes, and while this issue isn't action heavy at all it's still beautifully rendered and well paced. You could take out the short action flashbacks of Murdock's initiation into the Hand and it would still be fun to read, which is always a testament to a superhero comic: if you can thrive off tension without even needing the action then you know you have something good. When Murdock spends his time talking with Richie, and finishes his conversation with him? [Chef's kiss] It's the most menacing the villain has been since he rolled up on Earth-65 Cindy wearing a devil's mask. Had I been told we would learn his backstory this late in the game I would have been frustrated, but I would have been wrong. Matt Murdock's history was chilling, compelling, and in this case, being late is being right on time.
Overall, Spider-Gwen has us ready. Issues like this one remind us the wait is worth it, and while the series has lost itself here and there, this is the part we've been waiting for. Sub-boss and then Final Boss, it should be all fun from here on out.
9.1 out of 10
Reading Spider-Gwen? Find BNP's other reviews of the series here.
Are you following Black Nerd Problems on Twitter, Facebook,Instagram, Tumblr, YouTube and Google+?