When I first heard word that one of my all-time favorite Studio Ghibli films, Spirited Away, had received a stage adaptation and was coming to theaters, I was ecstatic. I have long desired live stage adaptations from the realms of anime in Japan to be more readily released for enjoyment around the world. As one of the most anticipated events this Spring, I bought my ticket and had been biding my time.

Hayao Miyazaki's Academy Award®-winning animated feature film Spirited Away, the film about a little girl entering the world of spirits, fighting with all she has to rescue her parents, recovering her name, and making it back home still resonates with me as a timeless film to always enjoy. Filmed during its acclaimed 2022 run at Tokyo's historic Imperial Theatre and adapted and directed by Tony Award®-winner John Caird (Les Misérables), Spirited Away: Live on Stage pushes the envelope and creates a familiar but effortless creative explosion on stage that I am so happy that I was able to watch in theaters.
---
A Familiar Setting
Moving the imaginative setting of Spirited Away to a single stage sounds like an impossible task for sure. Yet, on screen for me and on stage for those who watched it live for the filmed version–it was a task taken on with an amazing result. This was made possible due to the amazing work of the production which included so many different elements. The real magic that stood out for me were the ever-moving stage pieces that were moved around with ease to create new locations. From the bright and populated entrance of the bathhouse to the otherworldly train station, there was great effort in making sure the familiar sights from the film we all love were easily recognizable, just in a different form.
Helping to do that was the superb attention to detail to the smallest of things in Spirited Away: Live on Stage. Some iconic props were small enough to be noticeable and that helped with placing certain scenes from the original film. Think Chihiro's pink bouquet of flowers that she holds close in the car ride, the brilliant red color of the bath tokens in the bathhouse, or the paper tracker spirit that attaches itself to Chihiro's back. Other props gained some creative handling like the bowls of rice that Lin picked up for her and her young protégé and unknowingly brought them into the room of the Stink Spirit's arrival.
In the animated original, the bowls of white rice immediately rot away in hilarious fashion because of the overwhelming stench of this filthy spirit. On stage, the "bowls of rice" look to have maybe a holographic cover as their transformation enlisted laughter and shock from me the same way. Making sure that such moments like this, small as they are, from the beloved original made it to the stage production feels worthwhile and worth mentioning for future possible adaptations. Props in Spirited Away: Live on Stage come to life in more ways than one: from the adorable representation of the train that Chihiro later rides to save a friend to the bouncy, fancy vases that come to life in Yababa's office.
Familiar Faces
Given that Spirited Away: Live on Stage featured a cast with a few double-casted characters, there is something to enjoy in both versions for sure. I saw the performance on the night of April 27th, and the Chihiro I had the honor of watching in the version was Mone Kamishiraishi, who brought such a lively presence to her role. Kamishiraishi really carried the character of Chihiro in all her courageous spirit to save those she loved and get back home. I was pleasantly surprised to hear that the marvelous Mari Natsuki reprises her role as Yubaba, having voiced the character in the original film. In a different performance that I watched, voice and stage actress Romi Park bodied this role. Park was able to translate the larger than life, intimidating character on stage to success, to my delight.
The performances in Spirited Away: Live on Stage continued to shine thanks to the talent on stage including Hiroki Miura, Fu Hinami, Satoshi Hashimoto, Tomohiko Tsujimoto and so many others. Miura as Haku was perfect as the quiet but authoritative right hand of Yababa who commanded those on stage. Hinami brought the same "Big Sis" energy to her role as Lin, being protective of Chihiro. Seeing Hashimoto as grandfatherly Kamaji meant that he brought lots of personality to his complex characters and was well received by the audience. I have to say that my favorite entertainer on the stage was the incredibly aloof and creepy fave No-Face who managed to be a show stealer by way of Tsujimoto.
LIGHTS! CAMERA! ACTION!
I was expecting a production, and I was NOT disappointed! I likened it to organized chaos–Actors and actresses blended in the background with neutral colored clothing and moved around props, puppets, and other pieces of the sets with ease. This means the actor Kamajî, the elderly multiple-limbed furnace keeper of the bathroom, employed four or five actors to operate and manage his extra appendages. At times to hilarious effect, like when the character creates a heart sign with one of his hands and with one of his "extra hands." Working in sync they amazingly made it work which made me so glad as this is an important character to the story and the effort to make it as lively as possible feels like a treat.
I sincerely had no clues on a headcount of how many persons were involved on stage until getting to the credits afterwards and seeing the miraculous work involved. It wasn't uncommon for talent to have multiple roles! (The production featured 32 performers and more than 50 puppets designed by Toby Olié as reported by Playbill.com.) I was stunned: A soot spirit "handler" carried on several other roles like the (human hand) door knocker in the elevator, handler of one piece of the kanji of Chihiro's name, and so on. Dancing, rolling, gliding across stage joined high jumps, cartwheels, frenzied running, and a simple but funny stage interpretation of flying are all pieces of the action that you can find in the arsenal of the performers of Spirited Away: Live on stage.
An Added Touch
What would an adaptation of Spirited Away be without the iconic music of Joe Hisashi who composed the music of the original? I was overjoyed to hear the familiar score that made my first viewing of the original film and very viewing since then, a heartfelt journey to tag along with. I delved into a certain interview after wanting to confirm my thoughts on a few elements of the stage adaptation that I had watched and experienced in regard to the music. There are a few songs in this adaptation and while they are short and sweet, they don't don't turn the production into a musical. The snippets of songs do add to the overall ambience of what makes Spirited Away. I wasn't alone, this interviewer, Steven Blackburn thought that it added "more Japanese folklore and culture…"
John Caird, the Tony Award-winning stage director perhaps best known for his work on Broadway, found his way to adapting anime by way of Hayao Miyazaki's Academy Award-winning masterpiece Spirited Away. Caird did not hesitate to reach out to Joe Hisashi who was happy for his work to be used again, even in a different way, to be adapted for the stage. Caird also found luck on his side in finding Brad Haak, the arrangement orchestrator for this adaptation who simply adored Hisashi and wanted to honor the soundtrack. Perhaps the most wholesome fun fact that I learned about Spirited Away: Live on Stage after watching is the inclusion of some very special pieces of inspiration that did not make it into the original animation film.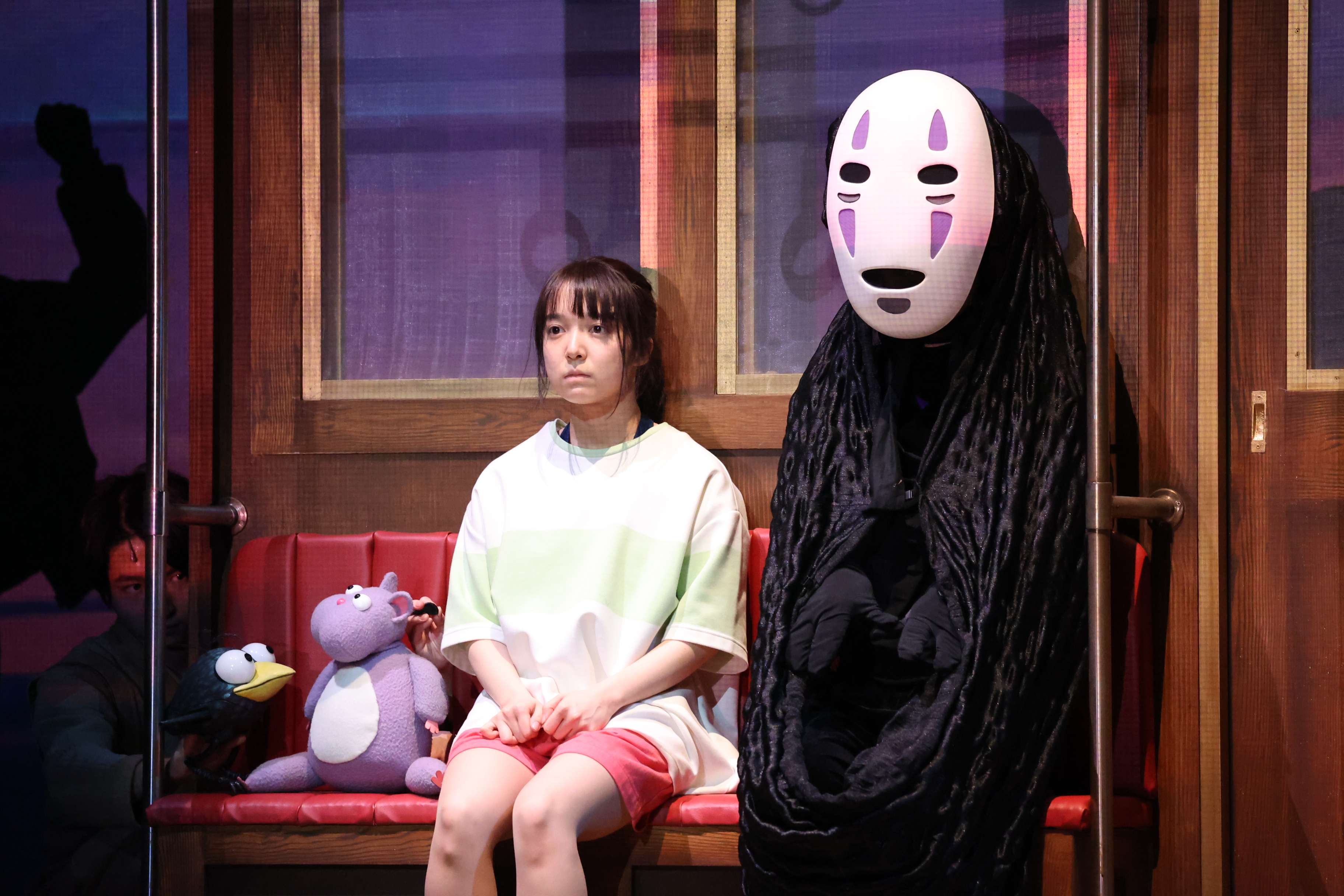 The interviewer learns through Caird that the live stage productions of Spirited Away "features poems that were initially written by Hayao Miyazaki himself to help influence and inspire what would later become the film's iconic soundtrack." Caird goes on to talk about how he asked permission from Miyazaki and Hisashi to use these as lyrics on the show which they agreed to. I am incredibly blown away by the level of love, respect, and consideration of this adaptation but also this glimpse into the inspiration behind the original film that I love so much
Now knowing that these short poems were originally just offered as guidelines for the composer when he was writing the score, were never used in the film, and were brought to life during the stage adaptation feels like the best type of Easter egg that I am happy to share. It really feels like the best illustrative example of not just impressive collaborative work, but the right way to honor the original film and its creatives. Overall, I was really impressed by the way the impossible was made possible in this stage adaptation. As we all know that the original film is an animated one and it has some incredible visuals that were creatively reborn on stage in such creative ways thanks to superb cast and staff.

Spirited Away: Live on Stage is a bold adaptation of a now classic Studio Ghibli that is full of heart and added surprises that will fascinate audiences young and old. I sincerely hope you can catch the last showing on May 2 if tickets are available in your area and one day hope that it is available for streaming, even if for a limited time. Distributor GKIDS has done us all a great service in making this available for North American audiences to watch, honoring the beloved film of the past, and creating an adaptation that is familiar but a creation of its own.
---
Want to get Black Nerd Problems updates sent directly to you? Sign up here! Follow us on Twitter, Facebook, Youtube, and Instagram!