There's something romantic when a figure forgotten by history for a spell rises back into prominence off the strength of their work. Nikola Tesla's name is synonymous with this occurrence. As an inventor ahead of his time he's experienced a resurgence in pop culture which then lead to his story being (in a sense) rediscovered. Tesla has been showing up on the big screen (The Prestige), TV (Venture Bros.), comic books (Marvel's S.H.I.E.L.D.), and hip hop (Black Thought's Hot 97 Freestyle), There's even a movie based on The Current Wars focusing on the beef between Tesla's AC current vs Thomas Edison's DC Current.
Where we now know more about Tesla's life, there's still a mystery surrounding how he died. We got to see behind that mystery's curtain in September 2016 when the FBI, declassified some 250+ files on the death of Nikola Tesla. Tesla died in a New York hotel and had his safe raided, his journals and files snatched up. The FBI files reveal that Tesla had an invention he was working on was called the Death Ray.
Yeah, I said Death Ray. Tesla wasn't playin with yall
I feel like the name 'Death Ray' is pretty self-explanatory, right? The question then becomes could someone have 86'd Tesla in order to steal the plans for his Death Ray? I don't have those answers but Discovery Channel got their Nancy Drew on and put a team together to find out in Tesla's Death Ray: A Murder Declassified. That team consists of a historian, Cameron Prince, Military Investigator and Analyst, Jack Murphy, and Engineer, Aron Koscho. You can tell these guys are all fans of Tesla–there's an air of excitement as they take the steps to see if one, this Death Ray is or was real, and two, if real, can it be built?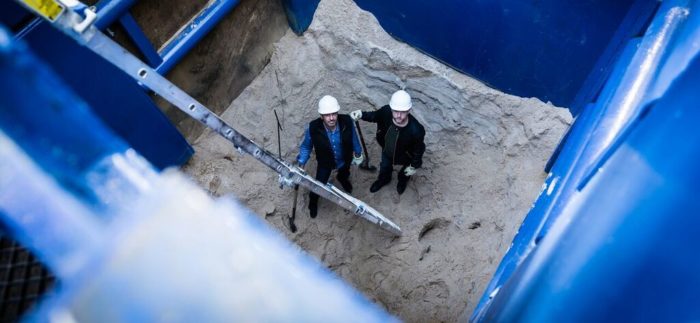 Here's where we need to hit the pause button. Fam, yall just goin' build a Death Ray on national television for real? How do you even begin to clear that with the FCC? Tesla was out here trying to free wifi and give free power to the world… but that Death Ray, doe. He's gotta be watching this from above with other geniuses saying,
Tesla: Awww man, not the Death Ray guys.
Imhotep: Then why'd you even build it?
Omar Khyaam: And the name, a bit overkill, no?
Tesla: It was a rough day! The pet store didn't have the pigeon feed I wanted.
I was hangry, …we've all been there.
Y'all here to talk or y'all here to science?
That being said, I'm not really opposed to seeing folks science the shit out of blowing stuff up. Tesla's Death Ray is apparently a transformer as it's a combination of certain inventions of Tesla's. With that, the mission splits two-fold. Aron Koscho builds a small-scale makeshift version of Tesla's Death Ray before tackling the real thing at his shop with his crew in Texas. I love that one of his engineers says perhaps Tesla was trying to hide this so that it wouldn't be built in the first place. Aron's like, "True true… but fuck a load of that". Essentially, they need a power source that can be stored then moved to a tower to shoot out energy (as this Death Ray would). For now, that tower will be the Tesla Coil. We see their multiple trials and error getting that energy to transfer to the Tesla coil.
Meanwhile, Cameron and Jack not only revisit locations where Tesla sets up shop, they seek out his last remaining relative as well as the remaining relatives of Tesla's friends. If you're on team Tesla there's a lot of new information that can be learned here. It's cool to find out about the architect that designed the Wardenclyff lab, Standford White and that he was friends with Tesla (fun fact, Tesla was boys with Mark Twain too) or that Tesla hung out White's place. White's descendent tells this information and shares a story, it's moments like this that fill out more pieces of the puzzle to the person Tesla was away from what the world knows or perceived of him.
Death can't stop Nikola Tesla from flexin'
There's a lot to Tesla that at times feels mythical or Urban legend but Jack and Cameron's digging is what separates truth from myth. I remember reading about how one of Tesla's inventions created an earthquake and he had to destroy it because the town was like "what the fuck Tesla?". That get's addressed, and yeah, Tesla was out here almost fucking up the property value for the neighborhood with his creations. Telsa left somewhat of a paper trail and these guys are following it all the way to the center of this tangled web of science, mystery, and urban legend.
Listen, Tesla has mad patents and enough inventions that would make Tony Stark owe him royalties. Aron informs us that he's tried to reverse engineer Tesla's work before and that there are U.S. military projects that use Tesla technology. "We're building technology now that this man conceived of over a hundred years ago" It's cool to see just how deep Tesla's obsession for science and innovation stem, in real time.
In my opinion the hardest Tesla quote is when he said, "I do not think there is any thrill that can go through the human heart like that felt by the inventor as he sees some creation of the brain unfolding to success… such emotions make a man forget food, sleep, friends, love, everything." That says so much about who he is and how his mind worked. As said on this show, to understand Tesla you gotta look into his work, break down his inventions, his creations, and then you can grasp just who the hell this man truly was and why he is the real Tony Stark of this electric shit.
If you're a fan of Nikola Tesla aka South Side Serbia then Tesla's Death Ray: A Murder Declassified is giving you that real rap raw science. If you don't know Tesla but are down for all things science then you'll wanna tune in for the premiere on January 2nd, 2018 at 9 pm on Discovery Channel.
Are you following Black Nerd Problems on Twitter, Facebook,Instagram, Tumblr, YouTube and Google+?