I first started following this cosplayer on Instagram some while ago while looking for Black women in the Doctor Who cosplaying fandom. She was dressed up as the fourth Doctor. I've been following her for a little over two years now and I've even found some awesome cosplayers she looks up to. I really like seeing womenfolk, especially Black women, cosplaying characters regardless of gender or race apologetically: here's one of them! -Carrie
Black Nerd Problems: Please tell us a bit about yourself! How long have you been in the cosplay game?
There She Goes Cosplay: I am The Doctor! No, let me stop playing. I'm just someone who likes to game, listen to music, role play, and sometimes draw. I have an obsession with Destiny at the moment, so when I am not cosplaying I am in front of the TV going at it with other guardians in The Crucible. Truly. Honestly. I have been cosplaying for almost three years now, and I want to continue with it for as long as I can.
BNP: What initially drew you into cosplaying? What draws you to certain characters to dress up as versus others?
TSGC: I found out about it back in high school, but I never had money to cosplay or go to cons back then. I forgot about it for a while, and then someone asked me to go to Supercon with them in…2013, but I didn't want to go without a cosplay and they suggested Storm. Long story short, I didn't get to go and then in 2014 I went to my first two cons and cosplayed the 4th Doctor. After that, I have cosplayed Levi Ackerman, Laughing Jack, and then Domino. Finally came Red Hood, and now I'm still looking for other characters that I connect to.
I am drawn to my characters in a weird way. The 4th Doctor, simply because he is odd in personality and sporadic with his thinking but then there are the times when he is super serious. That's how I am. Red Hood, because of the fact that I like to take matters into my own hands and get the job done — no lollygagging, just get it done and be over with it then move on to the next task. And I think I also share his holding a grudge against Batman… It's hard for me to let certain things go at times. Levi, he cares a lot about the people around him and that's me. Once you're friend, you're my "family", and I'll try my hardest to make sure you're alright.
BNP: I saw you in your Red Hood cosplay in a video from the Magic City Comic Con! The video featured so many cosplayers and it gave off the vibe of the sense of community there. What were your best memories from that convention?
[youtube link="https://youtu.be/Eo5SMofSL_w?t=1m12s" width="590″ height="315″]
TSGC: Magic City (now called Paradise City) was amazing because I got to debut Red Hood there, and I was recognized. If you couldn't tell, I go to cons for pictures and meeting new people. I love the chance at getting a picture with awesome cosplayers and the characters they're portraying. Magic City always feels so welcoming for a small con. Now, it isn't really small but compared to Megacon, Metrocon, and Dragoncon I call it small. I'm glad that at this con I finally got to meet Moderatelyokaycosplay, and I also had a really great time with some new friends.
BNP: In what way has cosplay proved to be an art form where you felt that you could express yourself, especially as a nerdy Black woman?
TSGC: I get to express myself as any character I want and not feel bad about that. I remember at first I tried so hard to find Black characters to cosplay in the beginning, afraid that since I was Black and a woman no one would recognize the character. But then after the Doctor, I kept going and not caring. I think I got one comment about Domino not being Black, but I shrugged it off and kept cosplaying.
BNP: What, if anything, do you not love about the cosplay community?
TSGC: Awww man, that's hard to say because I've experienced a lot of nice things about it… But if anything, I don't like how people want to make Black cosplayers feel as if they can't cosplay a character at all because they're not light-skinned. That's not true, and don't make people feel bad about that. Let them express themselves through that character. And I think one more thing I don't get are those cosplayers who kind of brush off others who aren't as good as them. If someone is starting out cosplaying and they admire your work, don't be rude. That admiration is a compliment, and they worked up the nerve to come and make it known.
BNP: Name five comic book characters to have your back in a fight?
TSGC: Jason Todd, Wolverine, Groot, Wally West, Peter Quill
BNP: Lastly, what are your future goals? What cons or events might you attend?
TSGC: My future goals are definitely to be the very best in the Johto League!
Nah, I would like to see if I can make my way into the military, honestly.
I will definitely be at Heroes and Villains Fan Fest in November in Atlanta, I will be at Katsucon, and then I will be at Megacon in May. I want to say Dragoncon, but I will have to wait and see. I usually post on my IG or cosplay page where I'm going to be. So keep a look out. I'm looking forward to a couple of new cosplays, too!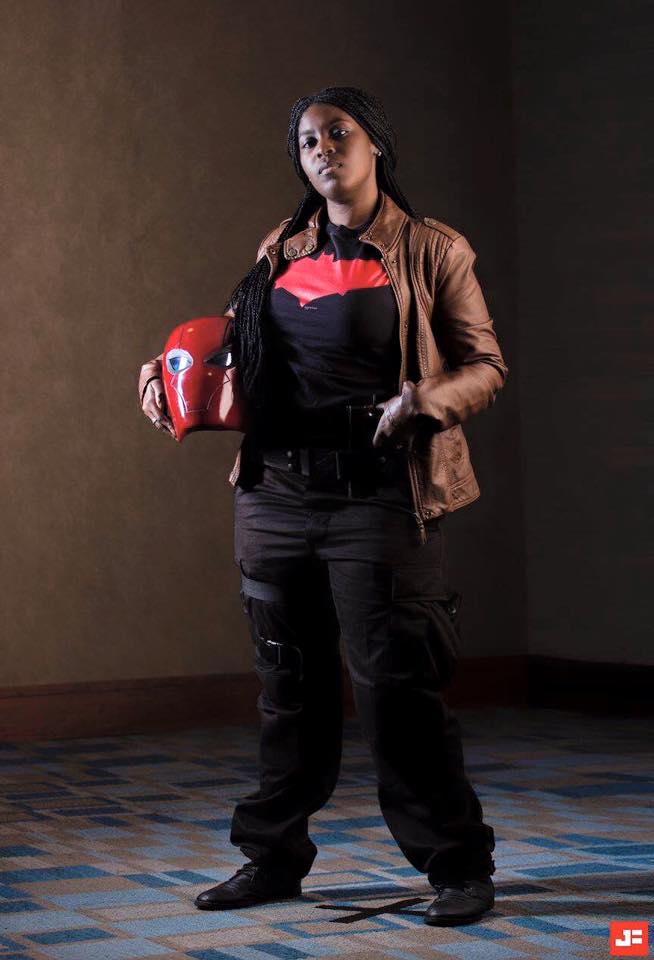 Catch this cosplayer on her official Facebook page, see more updates on future cosplay on Instagram and follow her on Twitch playing Destiny.
Are you following Black Nerd Problems on Twitter, Facebook, Tumblr or Google+?