Winter Anime Season is upon us, and we're getting what hopefully is more than just a fresh coat of paint on a classic that I grew up with. Perhaps, you've seen the anime community trading bars about this Trigun Stampede, and you're wondering what all the fuss is about? I got you, fam. Here's a mostly spoiler free guide for anyone who wants to know the details on one of the most anticipated anime series coming this January!
---
Log line:
Vash the Stampede, a gunman on the run with a "60 billion double dollar" bounty on his head, wreaks havoc and mayhem everywhere he goes.
Who Created it:
Yasuhiro Nightow, a manga artist whose major work Trigun was adapted into an hugely successful anime series and film. He is also responsible for designing the characters for the video game and anime series Gungrave. His more recent work, the manga Blood Blockade Battlefront has inspired two stage plays. He's fairly active on Twitter and according to Anime News Network, some of his favorite creatives in comics include Rumiko Takahashi to Jean Giraud (Moebius) to Peanuts (Charles Schulz.).
What is it About:
The "Humanoid Typhoon" is estimated to be about twenty-four years old. His birthplace and current residence are unknown. He's suspected in the murders of multiple criminals and gangs, and he is yet still a suspect at large. He's a madman who, on paper, wouldn't have any allies or a home base because of the mayhem he causes.
Worth 60 billion double dollars, Vash the Stampede has the largest bounty on record placed on his head, and it's yours if you bring him in–dead or alive. But there's one thing: Vash is actually a pacifist, and he's not keen on hurting others. Confused, yet? Stick around for the wild ride in the not-so-distant future on a not-so-distant place that's not Earth where Vash searches for one person for answers.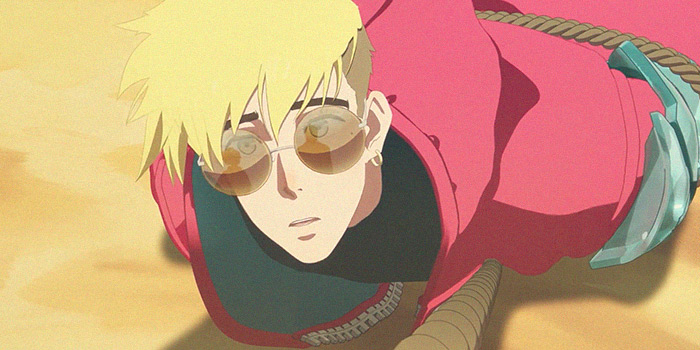 Who Would this Appeal to:
Fans of the original manga and anime series, of course
Newer fans of anime who want to be introduced to Yasuhiro Nightow's work 
Fans of the action, science fiction, and even space western genres
Folks who love a goofy character and will be looking forward to laughing
Where Can I Read it:
Keep in mind that the first volume of the manga was released back in…wow…January of 2003. So while the books are not impossible to find, you'll need some patience in hunting some volumes down. The original Trigun manga ran from 1995-1997, with the continuation titled Trigun Maximum running from 1997-2007. Dark Horse released the English edition of the series.
If you want physical copies, the site that I've found the most listings available is (as of writing- January 2023) is Amazon. I am a big fan of finding older and of print manga on apps and sites like eBay and Mercari, so check there if you're set on finding physical printed volumes. I'd also check your local comic book shop just because I've found older manga in discount bins over the years from time to time.
If you are looking to read and purchase it digitally, try the Dark Horse website where you can purchase the entire series.
Can My Kid(s) Read the Source Material:
According to the Dark Horse website the rating is for ages: 14+. I'd suggest leaving this series for the older teens who are manga readers in your life and finding some all-ages appropriate manga for the younger ones you know.
Important Info You Need to Know:
This isn't a prequel, this is a reboot.
This new anime originally raising some eyebrows earlier this year with the news that this new entry in the Trigun universe has a very different look than its original counterpart, as it will be 3-D animated. Handled by animation studio Orange who has handled some standout faves like Land of The Lustrous and Beastars, I will admit that the visuals at first threw me for a loop, but I'm going to still watch and give it a go. Not all reboots are created equal, surely. Yet just as I urged folks to watch the newer version of Urusei Yatsura, I want my fellow anime watchers to at least try the first episode.
The original Trigun will forever, in my heart, be a part of the crop of 90's anime that rode to wave to my generation growing up in the early 2000's (related twitter thread of interest here!) According to Anime News Network, the original anime adaptation aired for 26 episodes in Japan in 1998. The anime launched in North America for home video back in 2000. Geneon Entertainment (formerly Pioneer) originally released the series on DVD, but Funimation has since licensed the series and released it on Blu-ray Disc and DVD. The series is now streaming on Crunchyroll following Sony's Funimation Global Group's acquisition of Crunchyroll from AT&T. Cartoon Network's Adult Swim programming block aired the anime in 2003 which is when I remember coming across it as a teen.
Who are Some Important Characters I Should Know About:
Vash The Stampede: The Man, The Myth and not the legend–Vash is an actual goofball of a guy who is being chased and hunted by everyone and they mama. How he amassed such a incredible bounty is hinted towards his unique nickname: "The Human Typhoon." There's no where he doesn't go where things pop off and whole towns and cities are damaged in the process due to folks trying their hand at capturing him for the reward.
Meryl Stryfe: In this new series, it looks like Meryl is a journalist versus the job she held in the original working for a insurance company. So far it looks like she's a rookie reporter who'll stop at nothing to get a scoop and paired with another person, possibly a veteran in her field. Meryl in the original series was known to be hot-headed, impatient, and not at all trusting of Vash. It looks like that has carried over to this rebooted series.
Nicholas D. Wolfwood: In the original, Nicholas cut an imposing figure on traveling with a giant cross with a really cool reveal. As a fellow gunman, he crossed paths with Vash and the gang several times, and eventually join them as a companion in their travels. He, like Vash, has a complicated backstory involving his childhood and audiences will once again hopefully be able to see how he acts as foil to Vash's character.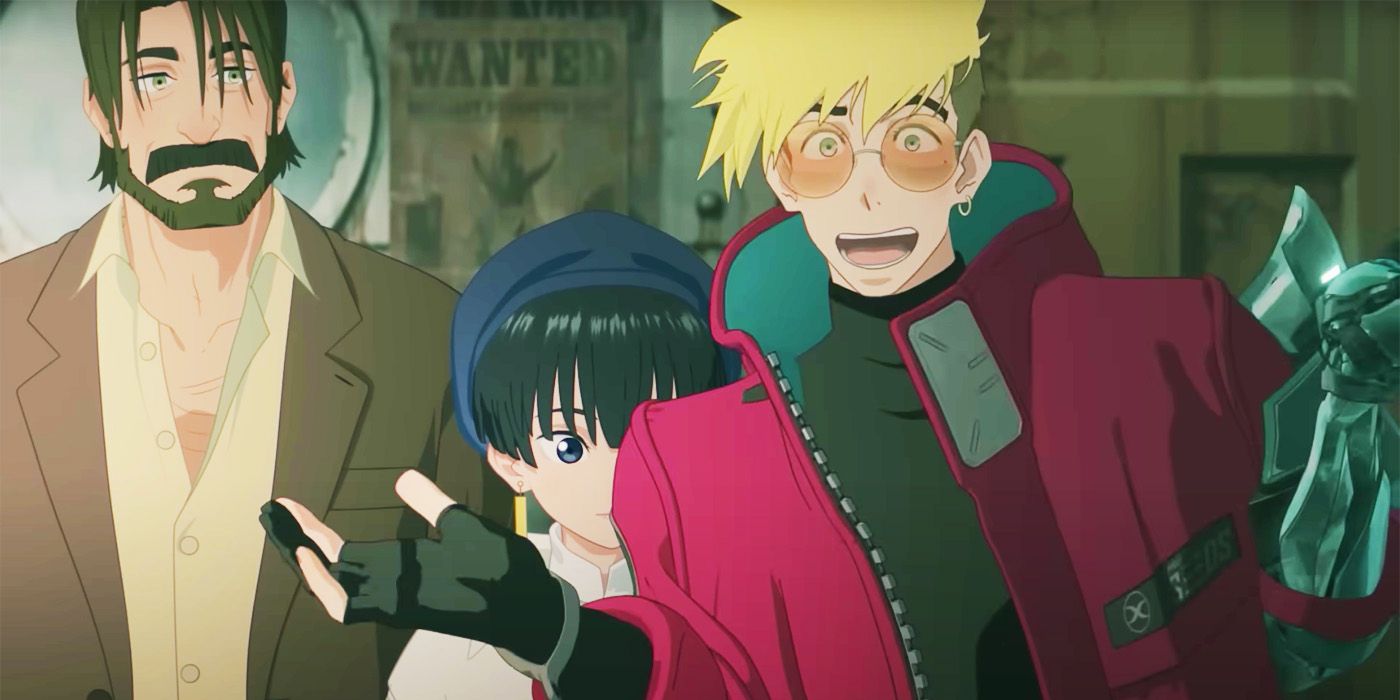 What to expect:
When I was a teenager, I'd tell you that Trigun is an anime about family, responsibility and yearning to…save whatever planet in which we call home. Lost technologies, longing for the past and crumbling hope and dreams on a barren land also complicate the plot.
I've looked through all the trailers and teaser videos and while the animation looks amazing, I wonder if this Trigun Stampede will capture the fun and charm of the original, or if it will create a new formula that makes its own while paying homage to the foundation of yesteryear. In watching the trailers, I'm startled that I did not see two beloved characters of the original series. One of them who really felt like the heart of the gang that ended up befriending Vash.
There looks to be an introduction of a new character that switches up the dynamic of the folks that end up allies of the man on the run. But it is too early to make assumptions and I'll just have to put those reservations on hold and tune it to watch. I'll be watching come January to see what this newest vision of Trigun and if it shakes up the first batch of new anime in the new year.
---
The original Trigun series is currently available to stream on Crunchyroll.
The new Trigun Stampede anime will premiere on January 7, 2023.
Trigun Stampede will stream on Crunchyroll as it airs when the series premieres in January 2023 worldwide excluding Asia, but including the Philippines, Singapore, India, Pakistan, Bhutan, Sri Lanka, Bangladesh, Nepal, Kazakhstan and Kyrgyzstan.
Crunchyroll reports that: Kenji Muto (Land of the Lustrous episode director) is directing TRIGUN STAMPEDE at studio Orange with Kouji Tajima (GANTZ:0 character artist) drawing the concept designs and character concepts based on the original manga by Yasuhiro Nightow.
The anime will star:
Cover Image via Crunchyroll
Want to get Black Nerd Problems updates sent directly to you? Sign up here! Follow us on Twitter, Facebook, Youtube, and Instagram!