Words: Jordan Clark/ Art: Ahmara Smith
I read that the synopsis for this mini comic is: "A first person look at being Black in America. Each choice you make has a huge impact on the rest of your day. From the clothes you wear, to how you interact with others, all these things decide whether you'll make it to the next day."
Welcome to America, hope you survive the experience.
Jordan Clark, writer of one of my favorite stories in the batch of Bitch Planet: Triple Features stories (and also featured in Puerto Rico Strong from Lion Forge) penned this short comic about daily life being Black in America.
"The Black Experience" is both a comfort and a stark reminder for me as I reflect on the perils of being Black in America. Just today a (non-Black) friend suggested that I move out of California upon hearing the news of the death of Nia Wilson. To which I replied that Blacks folks, especially Black women face death everywhere in this fine country, in every nook and cranny. Every corner. (It's not a new thing historically.) I could tell him but truly, how could he know? To quote my brother Bryant, how could my friend know that every day we live past twenty-four hours, that we as Black People cheat death?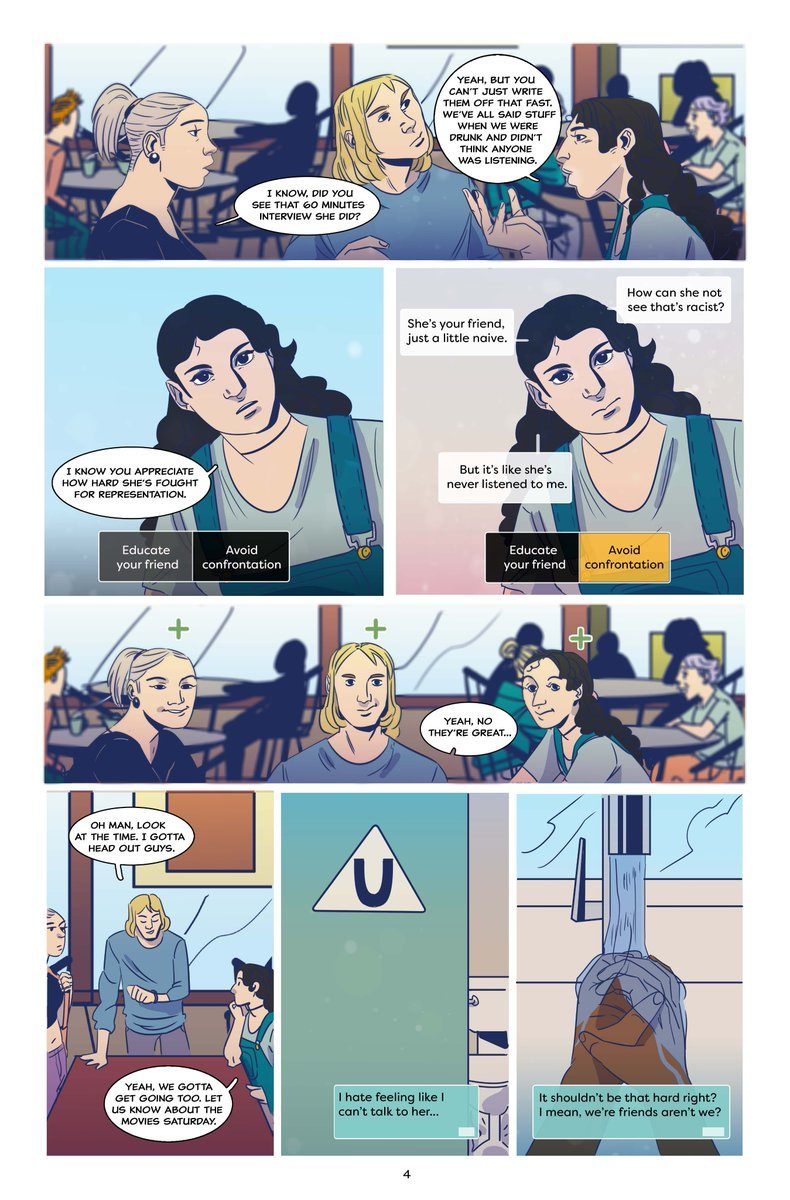 Each choice you make has a huge impact on the rest of your day.
Ahmara Smith, an award winning Atlanta-based comic artist and illustrator does marvelous work creating the visuals here. The first person perspective allows us the lens of blackness, simulated with the tell tale sign of technology: the notifications and icons that pop up. I especially like how they have adapted real life places where Black people have experienced uncomfortable moments. Such as right outside where you live. And coffee shops. You know places. Ordinary places in the world where you have to use that situational awareness that comes with being Black in America.
My one true criticism of this work is the lack of clarity in the conversation between the white friends and the viewer that made the viewer (and us, the readers) uncomfortable due to a racist undertone. In hindsight, I realize that we're supposed to get snippets of this person's day and that extends to conversations. Yet in this specific area, I was left feeling a bit disconnected. It felt like a misstep in the narrative. On another reread, I realize the subject of interest may be from a conversation to which we(the viewer/main character) are just not privy. A little more context narrative however, would have saved me from scratching my head and reading back for clues.
I'm always amazed to see what narratives creative teams can bring to life through the medium of comics in such short bursts. This mini comic is short–much shorter than your average 24-28 page floppy you'd buy in a comic book store and really more akin to a zine in length. Still, the conciseness doesn't prevent "The Black Experience" from nailing it: story-wise.
Art is political, all art. And comics can, have been in the past and will hopefully always be, a medium to give social commentary on the world we live in: especially for people of the African diaspora, or at least for those who identify as Black. The ending of this one is as ironically hilarious but also enough as a surprise to sucker punch you when you think of the weight that having Black skin holds.
Can't expect everyone to understand The Black Experience, can we?
9 Books By Ta-Nehisi Coates Out Of 10
Buy a digital copy of "The Black Experience" here.
New comic "The Black Experience ©️" by @ahmarasmithart and me is out now. It's a short comic about being black in America and how each choice can have big consequences. #comics #indiecomics #BlackLivesMatter #RepresentationMatters #policebrutality https://t.co/6IPIaXt3vd

— Jordan Clark (@Jrsosa18) July 23, 2018
Follow us on Twitter, Facebook,Instagram, Tumblr, YouTube and Google+?