So I pull up on my BNP fam like, "Yo everybody, I just ranked top 5 Black sitcoms ever just because it's Sunday." Light work, right? Then cats start disrespecting the culture with some non-legendary, never-had-a-series-finale, unoriginal sitcoms that are all straight lightweight. [quote_right]I thought we were a team. I thought we had an understanding. I thought we were family.[/quote_right]I thought we were a team. I thought we had an understanding. I thought we were family. But someone gon' sit there and tell me, with a straight face, that Black-ish is in the Top 5!? Someone had the nerve!? Someone tryna tell me My Wife and Kids is in the GOAT conversation when all the jokes on the show were from In Living Color? Nah, son. On wax, on Gawd, on everything I love, these right here? Top 5 Best Black Sitcoms of all time.
[title type="h2″]5. Good Times[/title]
If you were born before the year 2000 and haven't seen at least 68% of Good Times, your black card is gonna look like a New Jersey student drivers license, vertical, with the blue line on it and everything, until your grandmother kisses you on the forehead, clicks her good heels 3 times and convinces you that Drake ain't got nothing on Chuck Berry. It's fundamental, as in, the show's whole coming of age was the Blackest thing to happen to television. A spin-off of a spin-off becomes one of the highest-rated shows of it's time!? That's like taking the leftovers from leftovers and making a southern holiday dinner for a family of 47 that puts everyone to sleep by 6pm. Good Times was the realest representation of the Black experience in America to ever hit a home screen, and even in that defeating reality, they still gave us laughs.

C'mon now. James was the hardest working man in the 70's. My dude was the original Terry Cruz in Everybody Hates Chris. "My man got two jobs." We had JJ reppin' for Black nerd artist all over the world season after season and they gave us quotable's for days — I'll still put "Dyn-o-mite", "Damn Damn Damnn", and "Where ya been, Penny?" against your favorite WWE catchphrases any day of the week. We're not going to sit here and pretend Florida not the gawd, or that James didn't put the team on his back, or that Good Times doesn't dunk anyone's Top 5 that doesn't include this show. Get that wack noise outta here! [Matumbo finger]
[quote_simple]
Chef Florida wit tha pot boi / Jimmie Walker on tha wrist boi
-Drake X Michael Evans[/quote_simple]
[title type="h2″]4. Moesha[/title]
Do you understand how tight Mo-to-the-E-to-the had the 90's on lock though? Black Girl Magic coming in from the left! Black Girl Magic coming in from the right! Black Girl Magic all up in yuh face for 6 seasons! Swear to gawd Moesha was the undisputed champion for Black hair style tutorials from the mid 90's to early 2000's. I mean, they gave Brandy her own doll for goodness sakes. Remember when the fam found out their cousin was actually their half brother? Crazy!
And they had the best musical guest stars in the game. The show was beyond influential. I'm talking representation, content, and if the theme song came on right now you wouldn't be able to not do your favorite 90s dance move. Moesha busted down the door for every Black TV show on UPN. Yeah, UPN was a thing, and without Mo we would've never gotten The Parkers, Girlfriends, or The Game! Moesha was the trailblazing, eyebrow raising, most electrifying show of UPN's entertainment.
[title type="h2″]3. A Different World[/title]
A Different World gave us the real rap raw. Hands down, one of the best to ever do it. We up in this HBCU talm 'bout race relations, HIV, domestic violence, war politics, basically errythang any other prime time television show gave the Drake hand to. A Different World was in the living room like they were Diddy in the booth doing ad libs… even without Lisa Bonet! The level of informative importance this show held for the Black community is unmatched. They had culturally and politically relevant content back to back to back. I'd bet easy money A Different World had a major, measurable influence on Black youth's decision making as to whether or not they wanted to go to college. Po-si-tive re-pre-sen-ta-tion, people!
Most importantly it's memorable. You can run off a list of your favorite A Different World episodes like it's nothing. The one where Pac came to campus; the episode where Dwayne had "Nigger" spray painted on his car; the one where they found out Black people owned slaves too; the date rape episode where Dwayne had to go talk to Sinbad real quick — you mean to tell me this ain't required Black television viewing? Is this not historic? Are you not entertained? Debbie Allen made sure she gave us pure crack with this one. And even with the heavy talking points they still made you laugh. This show was all facts. All day. Everyday!
[title type="h2″]2. The Cosby Show[/title]
The Cosby Show was Black people's shining light. The holy grail. The physical manifestation of "Ninja We Made It!" I don't even think I can properly articulate what this show did for Black people while it was on the air, giving us classic after classic after classic. I know folks that can quote full episodes of this joint word for word. There's a family in Michigan that could reenact all of season three with 6 iPhones and light from a ceiling fan. What this show represented and stood for can never be recreated. There are too many points that could possibly be made as to why this was such an amazing thing to watch.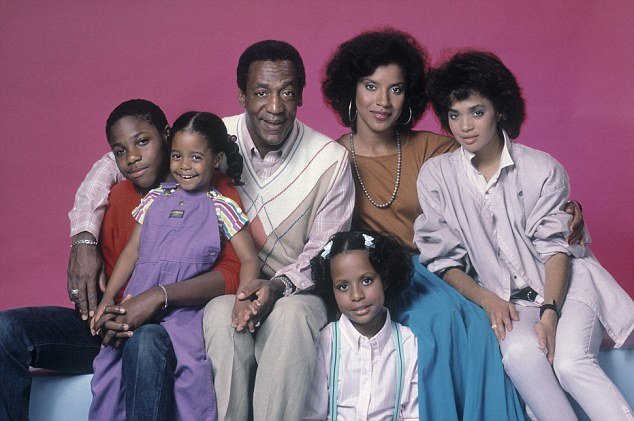 Most Black sitcoms start off strong, then get progressively worse, which ultimately leads to the show being canceled without a series finale. The Cosby Show stood the test of time and was just handing out lessons on lessons while also keeping it hilarious, making it the best family comedy ever, and not just for Black people. The Cosby Show is dunking on Full House, All in the Family, Malcolm in the Middle, everybody! And they gave us Phylicia Rashad? Dassit. It's over. Nothing else needs to be said. Why are we still talking about this, because she's the GOAT herself. She is the most important woman figure in television history.
You wanna talk trophies? The most decorated Black sitcom ever. The entire core cast has Emmy wins or nominations under their belt. The whole cast. There was no one putting the team on their back, everybody on the show was giving you straight work. Bar for bar. The anniversary episode? Flames. The Thanksgiving episode? Bananas. The pilot has one of the most recognizable, most historic monologues in existence! Stop playing games with me. This is bulletproof real rap raw. You not moving this show, son. It has to be on the list. Has to!
[title type="h2″]1. The Fresh Prince of Bel-Air[/title]
[quote_simple]"First things first, rest in peace Uncle Phil / For Real" -J. Cole[/quote_simple]
I shouldn't even have to explain myself. I'm not going to. Ya'll already know what it is. Do I need to say it? You want me to? Because I will. Bet. I ain't scared. Whatever. Watch. Boom. Here we go.
The Fresh Prince of Bel-Air is the greatest Black sitcom of all time. I can't believe I even have to go in with this right now. The Fresh Prince can't even be confined to just Black sitcoms — this is Top 3 of all time if we really wanna keep 3 hunna. The theme song alone changed the game. I was in a karaoke bar in East London last week — they had free chicken, Sega Genesis, ping pong, everything. Someone got on stage and started singing the Fresh Prince intro, the whole 3 floors worth of people stopped what they were doing and shouted the whole song. The show transcended race, age, gender, countries, you name it. I have never met anyone in my life who hasn't seen or doesn't like the Fresh Prince. Swear to gawd you break out the Carlton dance at least once every family reunion. Swear ta gawd that show launched Nia Long's career. Swear to gawd you don't cry any time you see that one episode. Swear to gawd you know exactly what episode I'm talking about. Swear to gawd like this isn't the funniest show on this whole list. Swear to gawd you never not once ever declined to watch a full episode of the this show. I can't believe I'm still talking. This is crazy.
On my right hand, this is the greatest Black sitcom of all time. Not One on One, not My Wife and Kids, not Sister Sister, not Smart Guy, not Keanan and Kel, not anything else. It's the Fresh Ruler of Black sitcoms. Since folks wanna pop off.
Are you following Black Nerd Problems on Twitter, Facebook, Tumblr or Google+?