Writer: Eric Stephenson / Artists: Simon Gane & Jordie Bellaire / Image

Through its first eight issues, They're Not Like Us provided us with a captivating story inside of a stable universe – very similar to our own – where physics isn't just a fantasy. But one thing that it could've done to be even better was make characters more relatable. That was resolved in this issue.
Don't get me wrong, characters have had really strong moments, such as Syd/Tabitha finding out the truth of The Voice's past and struggling with the idea of murdering her own parents. But there's a reason that I still refer to the characters by their code names, if I remember them at all. While it was well-established that the characters in the book had tumultuous and chaotic lives full of conflict, we hadn't really seen them just be normal for once.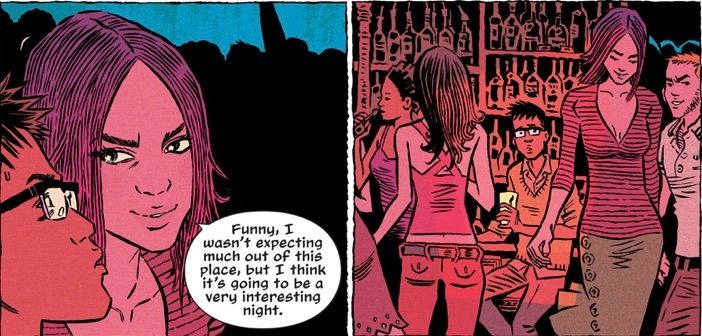 That is until the group heads to an Oakland bar for a good time. We see them (awkwardly) flirt and even stumble across the dance floor after having one too many at the bar. But it would be a pretty boring comic if that's all that happened. So, of course, shit hits the fan.
We also check-in on The Voice and Maisie, who we haven't seen since they burned down the old house, and see them getting ready to start a new life [and probably another power move]. Seeing the new situation that Tabitha and her friends are in makes me wonder if The Voice was actually protecting them from more than they thought.
It'll be a hard month waiting to see who this new group is and what their story is, but it'll most likely be worth it.
8.0 out of 10
Are you reading They're Not Like Us? Check our other reviews of the series!
Are you following Black Nerd Problems on Twitter, Facebook, Tumblr or Google+?