Neon Genesis Evangelion (1995) is the esoteric laced, adolescent pscyhodrama and coming of age story that Ingmar Bergman would have made with Alejandro Jordowosky in an alternate reality where they were born as Japanese twins in 2099. Fortunately, Hideaki Anno crafted this series in the early 1990's as a Mecha series with heart and soul, basing much of it on his own struggles with clinical depression.
For the uninitiated, Wikia Evangelion Fandom provides –
" – the Evangelion series revolves around the organization NERV, using large mechas called Evangelions to combat monstrous beings called Angels. They are piloted by several of the main characters, including Shinji Ikari, Asuka Sohryu, and Rei Ayanami. While the initial episodes focus largely on religious symbols and specific references to the Bible, the later episodes tend to go deeper into the psyches of the characters, where it is learned that many of them have deep seated emotional and mental issues. Through the exploration of these issues, the show begins to question reality and the existences therein.
If you choose to enter from there, you will discover so much more…
I.  "Back in the days when I was a teenager . . ."
Amongst us walk people who, believe it or not, had the best time of their lives in high school and during their teenage years.  They attend every five, ten, twenty, and fifty-year reunion function, every class meeting, every cookout.  Then there are the rest of us – disinterested, uninvited, or often obstructed from the Generation X/Y/Z Saved by the Bell, Boy Meets World, Degrassi high school tropes. Arguably, up until the past decade, geekdom was still fringe culture. The freaks fended for themselves, finding kindred spirits amongst the fanboys/girls, otaku, and gamers.  Far from perfect, they found community in adversity. For them…for us…Shinji Ikari, pilot of Evangelion Unit 01 in Hideaki Anno's "Neon Genesis Evangelion" may as well be our High School mascot.
II.  Everybody Hates Shinji
The award for the lowest self-esteem ever goes to Shinji Ikari. For the better of the series, Shinji takes a lot of abuse, some deserved, but more often than not, he is bullied and succumbs to pressure. The bulk of his abuse comes from his NERV teammate, classmate, and coquettish tease Asuka Langley.  Both as a reflection of her own sadness and Shinji's indecisiveness, Asuka literally beats and berates Shinji for what she perceives as weakness.  Shinji, however, does adapt and even begins to make meaningful friendships. Both by design and from his own 'hedgehog's dilemma," Shinji always loses what he loves once he chooses to actually accept love.
Most of all, Shinji hates himself. He hates himself for always running away and for letting people walk all over him. Every time he makes a stand, life, or a 75-foot tall creature, knocks him back to sobering reality.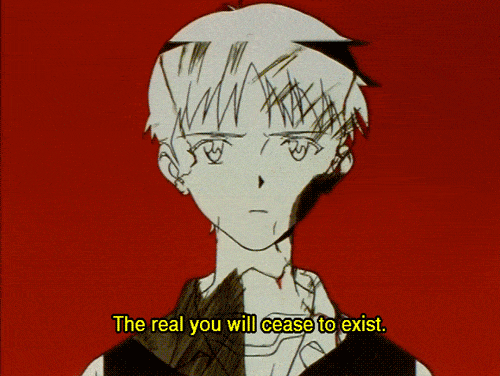 With all of that, he still has to face his own shadow, his father – Gendo Ikari, director of NERV.
III.  "I just wanna know if my father would ever like me
But I don't give a fuck, so he's probably just like me."
The first episodes of the original Evangelion series begin with  Gendo Ikari reaching out to his son, who he has not seen in approximately ten years. Initially, Shinji believes his father wants to unite with him, but instead he learns that his father merely needs him to serve the purpose of piloting his creation, the Eva Unit-01. Coincidentally, the Eva-01 is the most temperamental and experimental of the units as it is believed to made of the same material as their enemies, the Angels. Gendo Ikari sees no purpose for others outside of what they role they can play in his ultimate obsession – destroying humanity to unite it as one, united, inseparable entity.  Completely reasonable…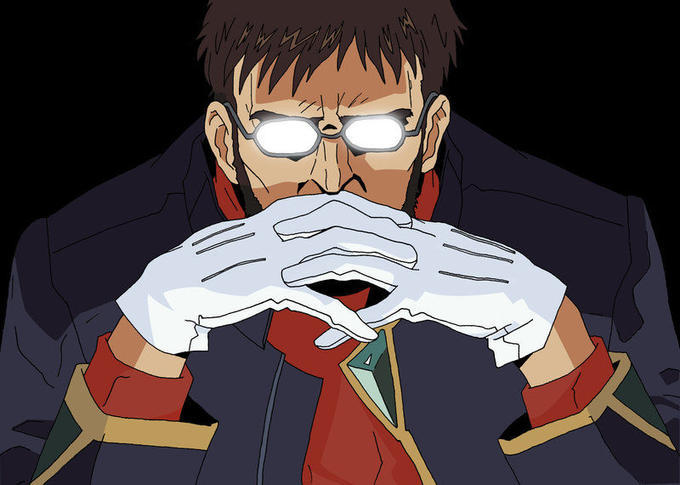 The elder Ikari not only knowingly puts his son's life at risk daily, but has had a tendency to intertwine himself (physically and emotionally) in the lives of collaborators and employees. He carried on an affair with the mother of head scientist Dr. Ikagi, and then proceeded to do the same with her. Even more damaging to his own son, he used the consciousness of his dead wife to create a clone in the form of Rei Ayanami. This gets weirder when Shinji develops feelings for Rei, and has several awkward, teenage sexual mishaps with her. Then there is the small incident where Gendo orders Shinji to murder his best friend to save the world…
IV.  "My headphones
They saved my life
Your tape
It lulled me to sleep
To sleep, to sleep"

Like many of us, high school is the time where we discovered the most perfect songs, and the most perfect albums that seemed to define us and speak our own emotions in ways that we had not yet learned. Music saves lives every day, and if you were born before 1990, then you know the pure pleasure of making a mixtape either for yourself, your friends, or the new love whom you're trying to send the right vibrations.  For Shinji, that SDAT and that mystery mixtape were the most consistent friends he had.  Often unable to communicate his feelings for the fear of being rejected or taunted, he retreated to his room and with his music.  If you're reading this far, then you already relate to the intimacy of music and headphones when the rest of the world is noise around you.
Was Shinji just being 100% meta and listening to the Evangelion soundtrack, or did he have some other neon soul evangelical beats spinning? Late nights alone and pensive moments in transit were made for personal listening devices. Something tells me Shinji was bumping everything from Korn to Cardigans by the time the run ended.
V. "But the people highest up got the lowest self esteem /
The prettiest people do the ugliest things"
At one point in the series, Shinji really misfires when he tries to overcompensate the criticisms of his peers, namely Asuka. After being taunted by words like, "Act like a boy!" and "Stand up for yourself! he takes on an aggression to leads to him mortally wounding his best friend Suzuhara.  As Shinji matures and seems to ascend, at the same time he becomes more unstable and more dangerous. By the end of Shinji's journey in the original continuity in End of Evangelion, his final acts are some of the most questionable and complex acts of his arc.  Well, as the old folks say, What happens on the beach at the end of reality stays at the beach at the end of reality.
Okay, no one says that yet, but it is officially available to incept into the culture…starting now.
As the Evangelion fans know, we are currently standing by the fourth and final film in the "Rebuild of Evangelion" series, A retelling of original anime series and two films, Death and Rebirth and End of Evangelion. The upcoming film Evangelion: 3.0 + 1.0 is still without a release date after the previous entries debuted in 2007, 2009, and 2012. Now at six years since the third film, now is as good a time as any to dig into the mythology for the first time or revisit it a fresh eye.
See our site's other entries in the Top 5 Dead Or Alive series here.
Want to get Black Nerd Problems updates sent directly to you? Sign up here!
---
Follow us on Twitter, Facebook,Instagram, Tumblr, YouTube and Google+?